In searching for the best fleet card for your business, you've likely run across Comdata—and no surprise there. This company came out with the first universally accepted fuel card in the transport industry, which is probably why you've heard of them and may also be considering Comdata as an option.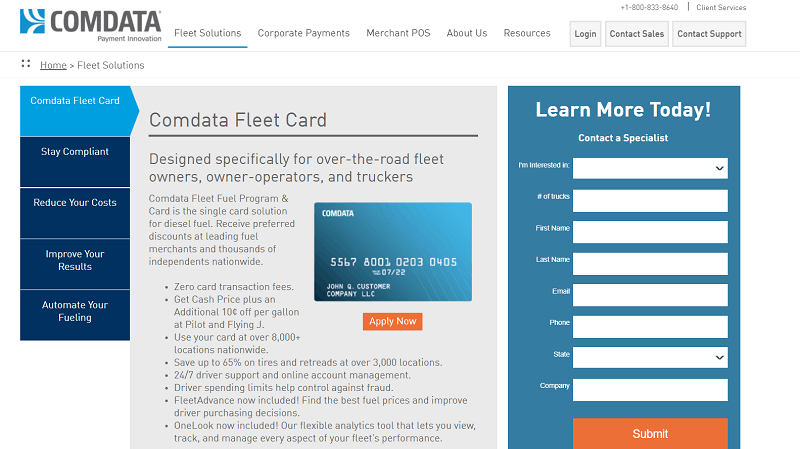 But is a Comdata fleet card the right solution for your business? Do we recommend these fleet cards? We'll cover these questions and more in this Comdata Fuel and Fleet Card review.
What Is the Comdata Fuel Card?
The Comdata fuel card is a widely recognized and accepted fleet payment method. Drivers can use it to pay at any of the more than 160,000 stations nationwide that accept the Comdata MasterCard.
Here are just a few of the things you can expect when you sign up for this fleet card:
24/7 account and driver support
Access to real-time reporting tools
An online portal for account management
Customized fuel discounts for fleets of all sizes
Savings of up to 10 cents per gallon and up to six cents off the cash price per gallon
Access to cash price
Additionally, fleet managers receive access to FleetAdvance, a proprietary Comdata product that provides real-time transaction data and reporting. FleetAdvance helps fuel managers make the best fuel purchase choices, while drivers receive access to FleetAdvance Mobile, which allows them to find the lowest fuel prices in their area and help manage their spending.
And when it comes to rebates, Comdata stands out in this area. With other cards, it's vital to read the fine print to ensure you are getting what you think you are, as some are only available for short periods. But Comdata has set up a system with its accepting locations that allow users to save every time you use your card to purchase fuel.
Types of Comdata Fuel Cards
So is a Comdata fuel card right for you? Let's talk about the types of Comdata fuel cards available—which is where things become a bit confusing.
According to Comdata's website, it would appear that there are two types of fuel cards: the Comdata OnRoad Card and the Comdata Universal FleetCard Mastercard. But when you take a closer look, the company only provides comprehensive information about the Comdata OnRoad Card.
They call it your "single-source solution for managing fleet spending and driver funding." Comdata says that this card takes advantage of the Comdata Proprietary Network alongside zero-fee MasterCard acceptance for drivers. It also allows drivers dual setup capabilities to manage both their company and work funds.
When you try to learn more about the Comdata Universal FleetCard Mastercard, however, the story changes. The website calls it "a more comprehensive solution that allows you to manage your fleet effectively," but when you click on the link to learn more, information is incredibly scarce. "Fuel at thousands of locations nationwide with the universal acceptance of Mastercard and Comdata's own proprietary network," is all that the company offers.
While you can fill out the form on the website to learn more, it seems strange that Comdata doesn't include any particulars about this card for potential customers.
What Comdata Customers Say
Now that you have some information about the Comdata fuel cards, it's time to explore another critical component of this review: what people say about their experience with this company.
We took to online forums to get an idea of what reviewers thought, and the results were lackluster.
There were plenty of complaints on both Comdata's Better Business Bureau and Yelp pages, mostly by employees who had received Comdata cards to use as part of their jobs. Of the 40 reviews on their Yelp page, for example, just one of those is positive.
And though not all the reviews spoke explicitly about the fuel cards, several general themes emerged: namely terrible customer service, hidden fees, and funds being withheld.
The Bottom Line?
So do we recommend Comdata fleet cards for business owners?
It's hard to deny that Comdata's fleet cards have plenty of advantages, like making it simple for business owners to manage their fleet and easy for drivers to find low fuel prices. They also seem to have some good benefits and are accepted at lots of points around the nation.
However, the overwhelming amount of negative reviews makes it hard to endorse Comdata fully. Although many of the complaints were not specifically about the fuel cards, all the talk about terrible customer service and hidden fees does not inspire a lot of confidence in the company.