Searching for the perfect fuel card for your business? Today, we're going to be reviewing Fuelman, a FLEETCOR subsidiary that offers various types of fuel cards.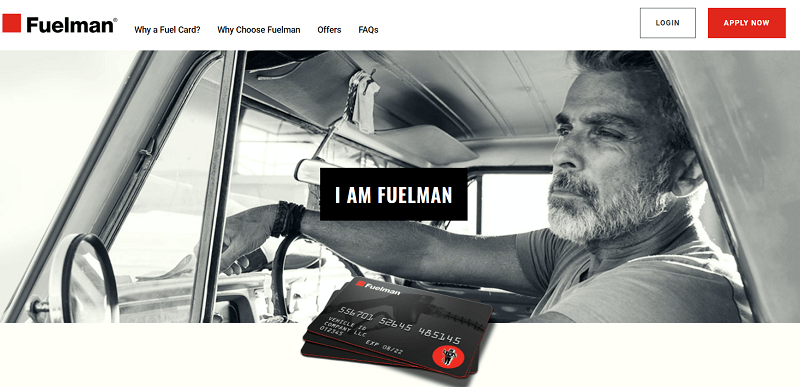 You may be considering Fuelman because of the extensive coverage and range of flexible fleet cards they offer customers. You may also be tempted by the fact that both local commercial fuel stations and national level retail gas stations and truck stops accept the cards. But is Fuelman worth it for your business?
Keep reading to find out.
What Is the Fuelman Fleet Card?
With any of the Fuelman fleet cards, you can pay for gas, repair services, and supplies in the Fuelman network of gas stations and convenience stores across the US. Cards can be topped up with regular money, and they offer you plenty of control—customize spending limits and restrict access control as much or as little as you want.
Fuelman fleet cards are accepted at 50,000 locations. At first glance, this number may seem high, but if we take a look at Fuelman's competitors, they actually offer less coverage. However, what they lack in this area, they make up for in the fact that over 20,000 maintenance stations accept Fuelman cards. Most other fleet card companies don't offer this feature. 
Who Is the Fuelman Fleet Card for?
Fuelman fleet cards are ideal for anyone with a fleet of vehicles that pump between 1,000 and 5,000 gallons per month.
Types of Fuelman Cards
Do you think that you sound like the ideal Fuelman customer? If so, you're probably wondering which of Fuelman's fleet cards is right for you. Let's take a brief look at each of the four types: 
Deep Saver Fleet Card: Best for mixed fleets that pump gas in cities. Users save 8 cents per gallon on diesel and 5 cents per gallon on unleaded when they pump at any of the 40,000 sites in Fuelman's Discount Network.
Simple Saver: Best for interstate freight businesses, especially if you have a heavy fleet pumping diesel at truck stops. Save 10 cents on purchases at Pilot, Speedway, and Kwik Trip, and 2 cents at other locations.
Universal Premium Mastercard: Best for businesses that need a universally accepted fuel card. This card is accepted wherever Mastercard is—in other words, at roughly 160,000 stations across the nation.
Public Sector Fleet Card: Best for non-profit fleets and businesses in government sectors. It offers rebates, special tax reporting, simplified accounting, and added control over fuel spending. Receive up to a 5-cent rebate per gallon depending on the number of monthly gallons pumped.
What Fuelman Customers Say
This Fuelman review wouldn't be complete without looking at the opinions of people who use the cards—whether positive or negative. So what do actual Fuelman customers say?
Unfortunately, customers are less than pleased with their experience using Fuelman cards. Reviews on Fleetcor's Trustpilot page are far from stellar—and are far too numerous for our liking.
It's plain to see why the company only has a 1.4/5 TrustScore. Ninety-eight percent of the reviews are negative, with customers highlighting shady business practices. Some of the most common complaints are that it's impossible to speak to a Fuelman agent on the phone and that the company cancels credit cards for no reason.
But perhaps the most egregious complaint—that appears repeatedly—is the hidden fees that the company charges. For example, some reviewers report that Fuelman charges a minimum quantity for "account maintenance" if gas prices fall under a certain amount. This fee is never mentioned when you sign up for the service, showing a concerning lack of transparency from the company.
Their Better Business Bureau page isn't much better, with 219 complaints. And of course, the fact that Fleetcor has recently been made the subject of a class-action lawsuit for predatory fee practices speaks volumes about its business ethics. 
The Bottom Line?
So do we recommend Fuelman fleet cards for businesses?
We can't deny that these cards do come with some excellent advantages. We also like that Fuelman offers a wide range of options that satisfy the needs of any fleet. Plus, the rebates are fantastic, and features like the 10 cents off purchases at Kwik City can quickly add up if your fleet is large.
But any potential excitement about these offerings quickly disappeared when we took a closer look at the overwhelmingly negative customer reviews. It's difficult to recommend them given the amount of criticism they receive for severe issues like predatory fees.