The Universal Premium Fuel and Fleet Card provides you with a way to control rising costs while ensuring your employees have access to fuel and service stations no matter where they are. Let's take a look at this fuel and fleet option to find out if it's right for you.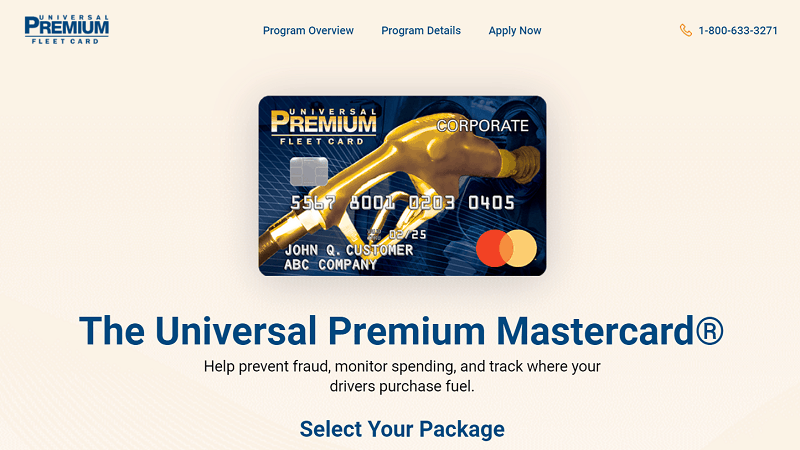 The Overview
The Universal Premium Fuel and Fleet card offers security controls and flexibility for managing your vehicles' fuel and service needs. You'll get up to six cents per gallon off depending on the package level you choose, and it's available anywhere Mastercard is accepted. 
It provides security and safety controls and makes reporting easier with customized sheets to help with tax and fuel reports. It uses a simple tier system for usage and facilitates all required tracking.
Three different tiers of benefits deliver some flexibility:
Regular
The basic tier offered by Universal Premium costs $4 per month per card. It provides detailed fuel and tax reporting and ensures that alerts you to potential fraud through your individual settings. You can save up to six cents per gallon on fuel, and each fill-up earns you additional rebates towards additional fuel savings.
Plus
Upgrade to the middle tier per month for an $8 per month per card fee. It offers everything in the regular tier plus a customizable spend dashboard to put all your data right at your fingertips. It provides priority maintenance through "skip the line" features and offers a late payment forgiveness incentive.
Protect your business identity through Experian and take advantage of up to $25,000 in fraud loss coverage. The fraud coverage is more comprehensive, and your reporting takes on a whole new level.
Premium
The final tier is $12 per month per card and provides you with even more reporting and fraud protection options for large fleets. You receive everything in tiers above plus detailed reporting with a state by state breakdown in spend, driver scoring, and full analytics.
It has expanded late payment forgiveness and a $100 annual loyalty bonus for sticking with the program.
The Benefits
The tiers are comprehensive enough that you should be able to find what you need. With customizable fraud protections and real-time activation or deactivation of cards, you'll have tons of control over who can spend with the card and how.
You're eligible for cashback and incentives to help reduce the cost of fuel and maintenance. Upgrading tiers equips you with increased fraud protection as well as customized dashboards for all your analytics needs.
It's this reporting that makes life a lot easier when measuring costs or comparing drivers across states. It has universal acceptance wherever Mastercard is taken, so drivers don't waste valuable time searching for an eligible service station.
It's a good option for someone who may not have excellent credit, allowing all manner of business owners to get into the game. Plus, with a low-ish fee structure, it's a pretty solid budget choice.
The Downsides
There aren't many perks for this particular card aside from the fraud features. You get simple money-back rewards based on how much you spend and priority treatment at some service centers. Add in up to six cents off per gallon depending on the circumstances, and you have a straightforward if a little bare, perks option.
If you're looking for robust rewards, this could be a good option for you. However, if your credit is excellent, you may want to keep looking for something with more rewards options like miles or more substantial point-based offerings.
What Users Say
Most users are satisfied with the card's ease of use and the wealth of fraud protections, including real-time discontinuation. The Universal Premium Fuel & Fleet card works with lower credit, giving quite a few users a real fleet option. 
They don't like the higher fees or the lack of real rewards, citing the desire to earn miles as a common wish. However, most have pretty good experiences using this particular fuel and fleet card option.
A Quick Look
The required credit score is lower than other options
Customized reporting and analysis for higher tiers
Three package choices
Simple cents-off model for cards
Head of the line service at fuel stations
Accepted wherever Mastercard is accepted
The Final Verdict
The Universal Premium Fuel and Fleet card is a good option for small to large fleets and businesses requiring fuel and service cards. It provides customized options for preventing use at places other than fuel or service centers and facilitates tax and fuel reporting.
The simple fee structure and fraud protection make it a good choice, but it doesn't offer much in terms of rewards. If you need a rewards card in addition, you may want to look elsewhere for that service. Otherwise, it's a good option and a straightforward application.