When you need to control spending and put in security features, but don't want to keep your drivers off-road longer than necessary, a comprehensive fuel and fleet card is in order. The right one for you will depend on your organization and your usage numbers.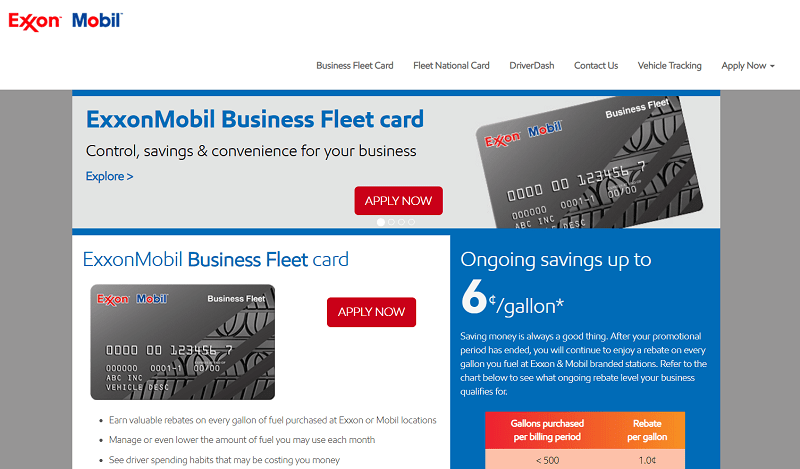 The ExxonMobil Fuel and Fleet card is one option available for drivers with access to Exxon's vast fueling stations network. It offers a wide range of compatibility with extensive reporting and fraud detection. Here's what you need to know.
The Overview
ExxonMobil offers two separate cards designed to help get your drivers back on the road. The cards have a wide range of acceptance, and you can manage each through a secure driver app.
The Business Fleet Card
This option offers up to six cents off gas purchased at ExxonMobil stations. It ensures that your drivers input driver ID and odometer readings with simple prompts and is accepted at all ExxonMobil stations — around 11,000 locations.
The card has simple reporting and data analysis, making tax-exempt status easy to record. It also lets you track driver usage and prevents skimming with secure payment. There are no monthly fees or membership fees associated with the card.
The Fleet National Card
This option includes all the business card perks, including up to six cents per gallon off at ExxonMobil stations, but the card is also accepted at over 95% of gas stations in the USA. This allows you to set limits and secure payments while ensuring your drivers never get caught without a fuel station.
The benefits here include near-universal acceptance, a perk for those that operate nationwide and run into Exxon gaps. It's issued by Wex bank, a well-known fleet management company with healthy ties to service stations around the country.
The Benefits
The ExxonMobil options provide enough locations that your drivers won't ever end up somewhere without a fueling option. These cards are an excellent way for fleet managers to handle a wide range of locations.
The fueling perks prioritize larger fleets with the most significant savings coming in for those who purchase the highest tier amount of gasoline at ExxonMobile. With card limitation options and security features, this is good news for big fleets.
And for those looking to scale, the nationwide card can give the most flexibility for drivers who run all over the country as well as owner-operators who tend to make coast to coast runs. It's an excellent choice to have for small businesses as one of several fuel card options because there are no associated fees for having one.
In fact, no one pays fees at all, making it suitable for anyone to keep around just in case. The card is simple to acquire and offer up to 10 cents off a gallon for the first six months and up to six cents after that.
The Downsides
One of the most significant downsides of this option is that neither card offers a service choice. You drivers will have to provide other payment choices for things like maintenance, tires, and repairs. That may not be convenient if this is for fleet use.
The other downside is the small gap in Exxon coverage. If you operate primarily outside the east coast, you won't have as many options to get your rebates and savings. Several states in the midwest have no coverage at all. Consider this carefully as you make your decision.
What Others Say
There aren't a lot of reviews online specifically for the fleet cards. Most reviews are based around the consumer-facing rewards or credit cards. Overall, ExxonMobile has relatively good reviews and satisfied customers, whether it's the fleet card or consumer-facing options. 
Some reviewers were disappointed in smaller businesses' options, stating that bigger fleets would get most of the rewards. However, with no fees and no memberships, some users choose to keep it in their wallet for when they happen on an Exxon station.
The Quick View
Two options available
A wide network of Exxon stations
Available mostly on the East coast
One card pays for gas at over 90% of fueling stations
No service or repair options
Comprehensive reporting and limitations choices
The Final Verdict
If you operate east of the Mississippi, either of these cards would be an excellent choice to keep in your wallet. If you don't, you'll have to weigh the options before deciding to apply.
With no fees but a tendency toward fleet benefits, this card will depend a lot on your circumstances. It offers one of the most expansive networks and acceptance locations of the cards, but there's no service option for when your drivers need maintenance and repairs.