If your business utilizes a fleet of any kind, a fuel card is an absolute must-have. Fuel cards are one of the best ways for businesses to save money while providing administrative benefits and increased security relative to credit cards.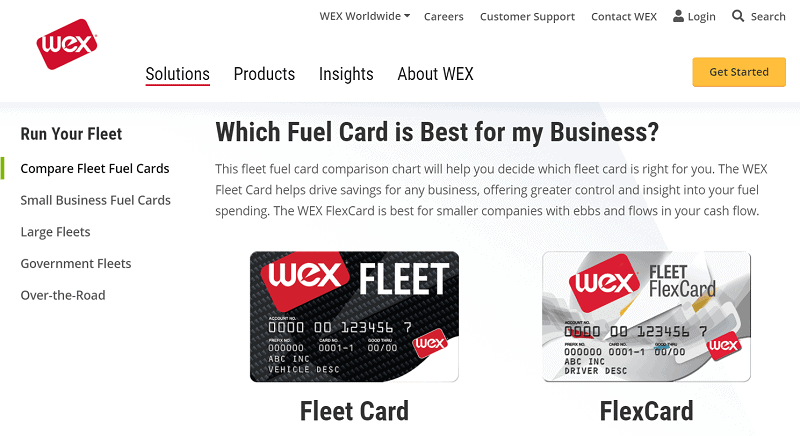 With a reliable fuel card, you'll no longer need your drivers to carry cash. They can dramatically reduce your administration time, as you'll only have one extensive invoice to deal with regarding fuel costs, rather than copious paper receipts. Best of all, you'll get consistent wholesale pricing—that can add up to tons of savings, no matter how big or small your company.
But there are countless fuel and fleet cards from which to choose. They all have different strengths and weaknesses. How do you know which is the right one for your company?  
Don't worry, we've got you covered. We've explored numerous fleet and fuel cards in-depth to give you what you need to know to make an educated decision. Today, we dive into Wex Fuel and Fleet cards—a group that offers many interesting benefits, but some quite significant drawbacks to consider as well. Follow along to learn everything you need to know about Wex.
Wex Inc Company Background
Wex Inc, originally known as Wright Express, began as a fleet card provider in 1983. They've since grown into much more, but they've never left their roots.  
Wex has developed into a holistic fleet-support company. They've expanded to provide data support for drivers as well as multiple telematics programs. Their travel program helps expedite cross-border payments and partners with travel agencies to facilitate accounting and even provide lodging for employees. 
Further, Wex has acquired a cloud-based health payment provider, formerly called Evolution1, now called Wex Health. This helps clients administer HSAs, COBRAs, HRAs, FSAs, and much more.
But in the end, Wex's defining feature remains their fuel cards. Wex Inc has acquired other fuel card companies like Fleet One and eNett. That provides clients with some impeccable flexibility and coverage options. However, interest rates are quite high, and some clients have complained about their billing and collection practices. Let's take a deeper look.
Wex Fuel Card Options
Wex tailors their fuel card options based on whether you are a small business or a large fleet, so you have the flexibility to choose specific features that are right for your business.  
Each option is accepted at least 95% of all retail fueling locations as well as upwards of 45,000 maintenance locations, so no matter where your team is going, you're covered. All levels also offer high-powered analytics to allow you to know exactly where your money is going and make better-informed decisions to increase your efficiency. And of course, they all offer opportunities for rebates and significant savings.
However, the cards that allow you to carry a balance feature interest rates that come in at a significant 6.77% per period, making the APR a substantial 83%. That will (rightfully) be a dealbreaker for some.
While those qualities are true of all of Wex's fuel and fleet cards, other features vary significantly amongst the different options. Let's take a look at the most popular cards one by one:
Wex Fleet Card
The Wex Fleet Card is the standard level for small businesses. It offers access to all the basic features listed above, as well as the Wex Edge Savings Network, which offers savings opportunities for tires, lodging, and wireless services in addition to fuel.
You'll also receive detailed spending controls, an alert system, and more, which gives you complete control over how your fleet uses the card.
Wex FlexCard
As the name suggests, the Wex FlexCard is designed to offer more flexibility. In addition to a 3 cent per gallon rebate, the FlexCard provides the option to carry a monthly balance on your card.
That can be a benefit if cash flow is tight. However, you'll need to be extremely careful with this, given the high interest rate. We typically recommend against the FlexCard outside of certain unique circumstances.
Wex Large Fleet Card
The Wex Large Fleet Card is perfect for larger organizations that want super-powered data. It offers the same savings as the standard Fleet Card, but with significantly more data capture and analytics available. No matter the size of your fleet, the Wex Large Fleet Card keeps things streamlined and allows you to make the right decisions to maximize savings and efficiency.
Wex Fleet Cross Roads Card
The Cross Roads fuel card features all the benefits of the standard Wex Fleet card, plus acceptance at truck stops like Pilot, Love's TA, and Flying J. If your fleet is often on the long haul, the Cross Roads Card is certainly one to consider.
User Reviews
Okay, so now you know the main features of Wex Fuel & Fleet Cards. But what about the experience of customers who have actually used them? It's a mixed bag, with plenty of good and plenty of bad.
Users who haven't had any complaints focus on the excellent versatility of the cards, and the holistic fleet support network that Wex offers. Not only did they manage to save on fuel, they found myriad other savings for their business, and made great use of the advanced analytics.
However, when users had a negative experience, that experience tended to be very negative—compounded by what was frequently described as an unhelpful and unsympathetic customer support network. Customers also complained about surprise bills, and terms of service that were automatically signed without their knowledge when they first used the card. Most of these complaints came from small business owners.
The overall picture is of a company that, when things go smooth, provides excellent benefits to a growing business. But when things went south, so did they.
The Bottom Line
As you can see, Wex Fuel & Fleet Cards offer plenty of good and plenty of bad. Their savings and data analysis are nearly unmatched.