Are you in the market for a fleet card for your business? Today, we're going to be taking a look at an option that just debuted in May this year: the Pilot fuel card. The main advantages that this new card offers business owners include plenty of rewards, loyalty benefits, and discounts on services.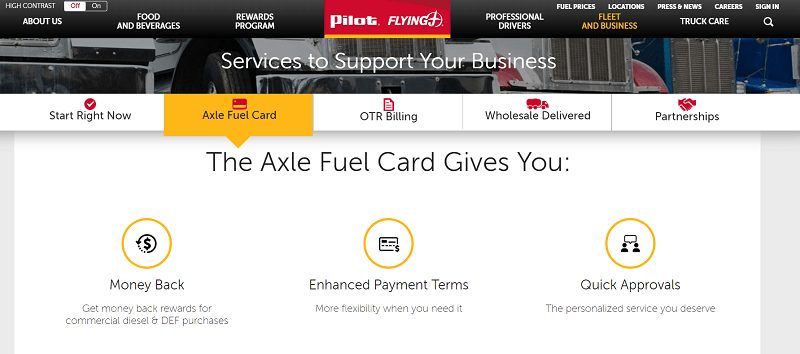 But is it worth it? We'll discuss everything you need to know about Pilot's fleet card, including benefits, what customers think, and who it's best for. Keep reading for our unbiased review.
What Is the Pilot Fuel Card?
The Pilot fuel card can be used to make multiple purchases, such as fuel, truck care, and some truck merchandise. Pilot fuel cards are accepted at Pilot and Flying J Travel Centers, the One9 Fuel Network, and Pilot Flying J Truck Care Service Centers.
Types of Pilot Fuel Cards
Unlike other fleet card companies, Pilot has just one type of card option available to business owners: the Axle Fuel Card. The Axle Fuel Card replaced the original yellow fleet option earlier this year, though it's worth mentioning that those customers gained access to all the new benefits that were introduced.
Pilot distinguishes itself from its competitors in more ways than this one, however. Unlike with other companies, getting an Axle Fuel card is relatively quick and painless. Once you're approved, you can get access to lines of credit in a flash.
The idea was to make this process for truck drivers, who are facing difficulties while working to supply our country in these challenging times, as easy as possible.
The company notes that more than 950 locations across the United States and Canada accept their fleet cards. While this number may seem high, it's actually a lot less than what many fuel card competitors offer, which is something to keep in mind.
Who Is the Pilot Fuel Card for?
Pilot created this fuel card for smaller companies and owner-operators who are often underserved by truck stop companies. They wanted to create conditions that would help these oft-ignored businesses get their foot in the door—and then flourish.
The best way to do that? By giving them access to the credit they need without dealing with lots of fees and hoops to jump through, all of which can be tricky for a growing company.
Benefits of the Pilot Axle Fuel Card
One of the primary benefits is that business owners decide what things employees can buy with the card. Another advantage to the Pilot fleet card is that there are no hidden fees—whether transaction, account management, annual, or otherwise—which several other companies have.
Some other perks make Pilot a tempting option, such as:
Access to an improved online account portal and both a personal credit and sales representative
Enhanced payment terms
Cash-back rewards for commercial diesel and DEF purchases
Drivers receive some perks, too, like one extra loyalty point/gallon at Pilot and Flying J locations, or two extra loyalty points/gallon at One9 Fuel Network locations.
Of course, there are savings at Pilot Flying J Truck Care to mention, too. You can get a $30 discount on tires and service, a ten percent discount on Service Center fees, and a waived callout fee on roadside service.
What Do Customers Say About the Axle Fuel Card?
Knowing the particulars of what this fleet card offers is an excellent starting point, but another vital component of this review is hearing actual customer reviews. So what do customers have to say about their experience with the Axle Fuel Card?
But because the card is so new, there's still not a ton of customer feedback on online forums. Another issue that made finding customer feedback difficult is that Pilot is not just a credit card company—it's a gas company that owns lots of truck stops. Most of the reviews we found centered on customer service issues at these truck stops and not on the cards themselves.
The Bottom Line?
Now let's get to what you came here for: our opinion on the Axle Fuel Card. So what's the bottom line—do we recommend this Pilot option for business owners?
There are certainly a lot of positives that come with the Pilot fleet card. They make it easy for business owners to access the cards and have their fleets using them in hardly any time, which makes up for the fact that they have comparatively fewer locations that accept the cards as their competitors do.
We also appreciate the fact that they are transparent about their fees, which so many other fleet card companies are not. You won't have to worry about being subject to shady "account maintenance" fees or additional unexplained charges.
So despite the lack of reviews, we think they're a good option—especially if you are part of their target small business demographic.