TCS provides trucking fleets with massive rewards through a controlled and secure fuel card. It's suitable for trucking enterprises and small business owners alike, with fee structures and comprehensive rewards systems in place.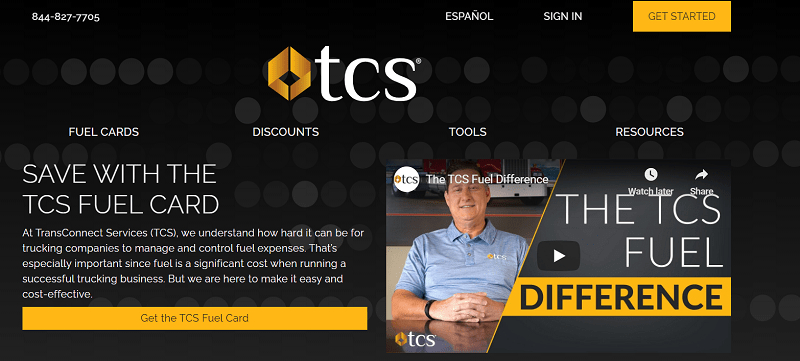 Let's take a look to see if the TCS Fuel and Fleet card could be the right option for you to ensure your finances stay safe, and you're in compliance with reporting and analytics. Here's what you need to know about this fuel card option and its offerings.
The Overview
The fuel and fleet card helps you save lots of money on diesel fill-ups and makes service visits easier to manage. The owner or operator sets up parameters for the card's use, ensuring drivers always have what they need with far fewer chances for misuse. 
There's one card available, and it provides the same discounts and rewards, whether you're an owner-operator or a fleet owner. To use the card, simply swipe it at a fueling center and enter the required information.
You can set up your exact parameters or work with the company to design a plan that works for your circumstances. There are no hidden fees, and extra cards are free, no matter how many you need.
The company wants to level the playing field for the little guys, so it offers solutions no matter the size of your fleet. One truck or a hundred — the savings will still happen across the board.
The Benefits
The TCS card saves you money at the pump by working with over 1,000 in-network fuel stations. The convenient app makes it simple for your drivers to find an in-network center and get directions.
The average savings for drivers that stick to these approved fueling stations is up to 63 cents per gallon. This passes on massive savings to the company while the card also facilitates reports and analysis.
The savings discounts work through what the company calls "better of" pricing. Whether it's retail-minus or cost-plus, your drivers will receive the better of the two discounts when filling up at an in-network service center.
Maintenance comes with cost savings as well. Service and tire purchases made at TA Service Stations also offer serious discounts on many brand name and well-known tire and parts companies.
These are full-service stations as well as places for truckers to stop and grab a bite to eat, among other comforts, as they fuel up or receive service. It's convenient and easy to manage through the website or mobile app access.
The Downsides
The card is specifically for trucking fleets, so if you operate a different kind of fleet company, it may not be as good for you. Most savings happen on diesel fuel at specific fueling centers with in-network status.
If your driver doesn't make it to an in-network service center or find a TA maintenance center, the cost savings are significantly reduced. This requires your drivers to keep track of where they are and how close individual fueling stations are to receive the full benefit. 
The app makes it easy for drivers to find those service centers, provided they have access to an app while out on the road. 
What People Say
Most trucking companies find the card easy to use, and drivers enjoy the savings…when they can get to in-network service centers. The card does make setting limits easier, but you'll have to set it up to load through ACH transactions to avoid loading fees.
This may be a deal-breaker for some who want something that operates more like a credit card. However, most people have had a good experience with the process from start to finish and would continue using the card according to the Facebook and Better Business Bureau reviews.
A Quick Look
Load the card through a variety of transaction types
In-network fueling savings of up to 63 cents per gallon
Easy options for owner-operators to fleets
The company will work with you to customize your card
Service discounts at TA centers
No fees and cards are free for any number of users
The Final Verdict
The TCS card is a simple to use option for saving a ton of money on fuel if your truckers are prepared to search for in-network fueling stations. The savings are definitely worth it; you'll just have to bring your fleet on board.
The maintenance centers make it easy to receiver service, but it only happens at TA centers. Again, your drivers will have to plan ahead and seek out these service centers to ensure maximum discounts. 
The cards are customizable and provide you with answers for fueling whether you're an owner-operator or a fleet manager. It's easier to find these solutions when the company exists to level the playing field for both big and small organizations. Overall, the TCS Fuel and Fleet card is a reliable and money-saving option no matter the size of your company or fleet.