When it comes to providing excellent coverage, one name that comes to mind is Voyager—but will the Voyager fleet card give the coverage that your business needs? Outfitting your drivers with the right fuel card is not a one-size-fits-all choice, so today, we're going to go over everything you need to know to make the right decision.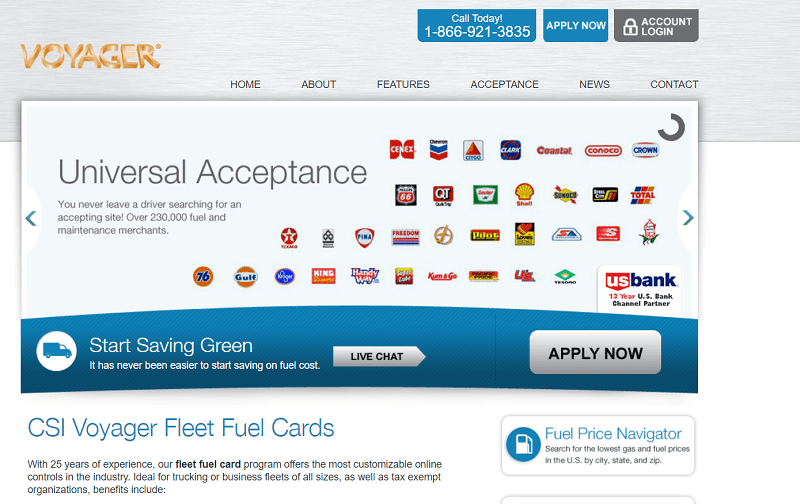 What Is the Voyager Fuel Card?
The Voyager Fuel Card is a U.S. Bank product, although Voyager Channel Partners distributes it—which means you get the benefits of being affiliated with a smaller fuel management company. It's one of the most universal fuel cards available, and drivers can use it for fuel purchases at hundreds of thousands of gas and maintenance stations across the United States.
Who Is the Voyager Fuel Card for?
The beauty of the Voyager Fuel Card is its versatility; fleets of all sizes will find that this card can work for them, though it's especially popular with large fleets.
We would recommend the Voyager Fuel Card for any business owner who wants to
Control fuel costs
Eradicate fleet card misuse
Cut down time spend creating end of month fuel reports
Partner with a smaller fleet card provider
You may want to search for a different option if you are searching for a card with lots of
Discounts
Rewards points
Airline miles
It's worth mentioning that Voyager Fuel Cards are also available to qualified tax-exempt organizations.
Pros of Voyager Fuel Cards
While Voyager may not offer several types of card options like other big names, their sole fuel card does provide plenty of benefits.
Universal acceptance. We mentioned that the Voyager Fleet Fuel Card is accepted at hundreds of thousands of stations across the country—that's 230,000, to be precise.
Advanced spending controls. Business owners receive unparalleled spending control that goes beyond blanket spending limits. Choose separate limits for individual cards and manage your spending as needed.
Customizable reporting. Available through Voyager's online portal, it's simple for managers to track invoices and transaction details.
Secure purchase authorization. Make purchases as safe as you want by deciding what information drivers must provide to make payment. You can ask for information like ID numbers, trip numbers, vehicle numbers, and more—plus combinations of these things.
Mobile app. You probably won't ever need to given the sheer size of its network, but Voyager's mobile app is available to help you find a nearby station.
24/7 customer service. Should you need assistance, it's each to reach a Voyager Fleet Partner in the US around the clock, and not an out-of-country call center.
No hidden fees. Voyager has a transparent pricing structure, which means you won't be surprised by any hidden fees—something that's all too common in other fleet card companies. 
Cons of Voyager Fuel Cards
Unfortunately, as is to be expected, there are a few negatives to report about this card.
We'll start with the most significant negative to Voyager fuel cards—the lack of rebates (money back on fuel purchased) that we mentioned above. Considering the vast number of other fleet card providers that offer excellent rebates, many would consider this a significant drawback.
However, one might consider that you may be able to save enough money with the card's strict purchase control settings to offset not having rebates, but that's a business decision every fleet owner has to make for themselves.
Finally, this fleet card option has short payment terms, with bills due every week. Depending on how you prefer to pay, shorter billing cycles may be positive or negative. Many business owners prefer longer billing cycles and would consider this feature a con.
What Voyager Fuel Card Customers Say
Hearing what customers say is a critical part of any review, so we took a look at P-Fleet, one of the major fuel card companies that manage Voyager.
Their Facebook page was full of plenty of positive TrustPilot reviews, mostly highlighting how pleased clients were with P-Fleet's customer service. Of course, P-Fleet does handle a couple of other fleet cards, but we think it speaks highly of both the company and Voyager that the reviews were overwhelmingly positive.
The Bottom Line?
There are plenty of reasons to like Voyager, whether your fleet is mostly local or if your drivers are driving cross-country. Things like universal acceptance, unparalleled security controls, and a lack of predatory fees make the Voyager fleet card a popular option—not to mention the fact that its customers seem to be pleased with the service.
Our only genuine gripe would be the lack of rebates on fuel costs, which can be a deal-breaker for some business owners. But despite this drawback, we still feel that the Voyager Fuel Fleet Card is a sound option for companies of all sizes, and it has the potential to help slash fuel costs considerably.