If you're searching for the best fleet card for your business, chances are you've run across the Multi Service fuel card. This provider has been around for a long time, and you might be wondering whether they are the perfect solution for your fleet.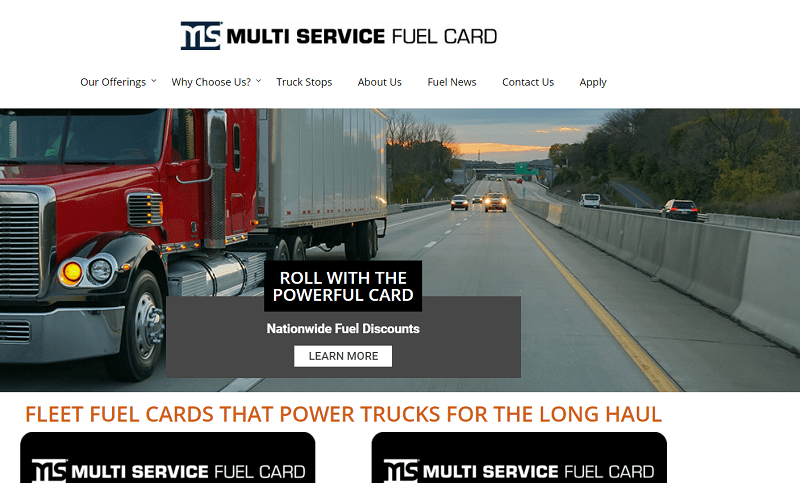 To help answer that question, we're going to break down everything you need to know about Multi Service fuel and fleet cards. Keep reading to find out our opinion. 
What Is the Multi Service Fuel & Fleet Card?
The Multi Service fuel and fleet card has provided fuel payment solutions to businesses for quite a few years now.
It's been around since 1978 when a former truck driver and fleet manager searching for a better way to pay for fuel on the road created it. You might even call this company the pioneer of fleet cards.
Today, fleet owners choose Multi Service to pay for fuel and receive discounts across the nation.
Who Is the Multi Service Fleet Card for?
The Multi Service fleet card is ideal for mixed fleets. Regardless of whether you have a local, OTR, or combination fleet, a Multi Service membership can help keep you moving.
Types of Multi Service Fuel Cards
There are two types of Multi Service fuel cards:
Over the Road Fleet Fuel Card
Universal Fleet Fuel Card
Typically, this section is where we would break down the differences between these two cards. However, finding firsthand information about them is challenging, seeing as Multi Service's website is incomplete. Both of the pages that should have details about each card still have holder text.
Instead, the only info we can glean from the website is that the Over the Road Fleet Fuel Card gets you cash prices at more than 6,000 truck stops and that the Universal Fleet Fuel Card is accepted at over 300,000 locations.
About Multi Service Fuel Cards
While we can't give you the particulars about each card, we can give you some general information about the membership program. Here are some benefits you can expect when you use Multi Service to manage your fleet's fuel needs.
Fuel card management tools. Users receive access to Multi Service's online interface, where you can find all the relevant account information and management tools you need daily.
24/7 customer service. Multi Service promises to provide excellent service by offering round-the-clock real-time support with its expert staff. Whether you're a driver, merchant, or manager, you can always get in touch with someone for help when you need it. Additionally, users won't be charged for calls or run into any voice prompts.
Fuel discounts. Multi Service has negotiated deals with merchant partners, which gives members several discounts throughout the fueling network—though it's not exactly clear what kind of discounts you get or where. But one interesting thing to note is that Multi Service will work with you to identify discount opportunities according to your fueling activity. They analyze where you fuel and then help negotiate fuel discounts for you.
Zero fee network. Finally, the zero-fee system is perhaps the most significant advantage when using these fuel cards—users don't pay any additional cost to fuel.
What Multi Service Customers Say
Now that we've gone over relevant details about the fuel cards, it's time for another critical component of this review—customer reviews. We took to the web to find out what Multi Service users said about their experience with this company.
Their Facebook page was the best source of customer reviews that we could find. While it wasn't overflowing with comments by any means, all of the reviews were positive. One customer mentioned that the fuel card is awesome and that he uses it daily. Another spoke about the excellent customer service they receive with Multi Service.
In keeping with the scant information that seems to be a theme with Multi Service, we could not locate a TrustPilot page for them. Depending on how you look at it, this fact could be positive or negative. But one thing is for sure—this company could stand to work on its presence on the web.
Our Advice?
It's time to wrap up this Multi Service fuel and fleet card review by answering one vital question—do we think this option is worth it?
Multi Service does seem to have some advantages, such as its zero-fee network, excellent (if rather unspecified) discounts, and a committed customer service team. But we did find it highly unusual that their website offered scarce information about services and was incomplete in places.
However, Multi Service's longevity and lack of negative reviews on the web speak to the fact that it must be doing something right. If you are a target user of theirs, it may be worth contacting Multi Service to learn more about their services.