Finding the right fuel card for your fleet drivers is a critical task—and one that can feel downright daunting given the vast number of options available. Today, we're going to be taking an in-depth look at one of the options you may have run across in your search: RTS fuel cards.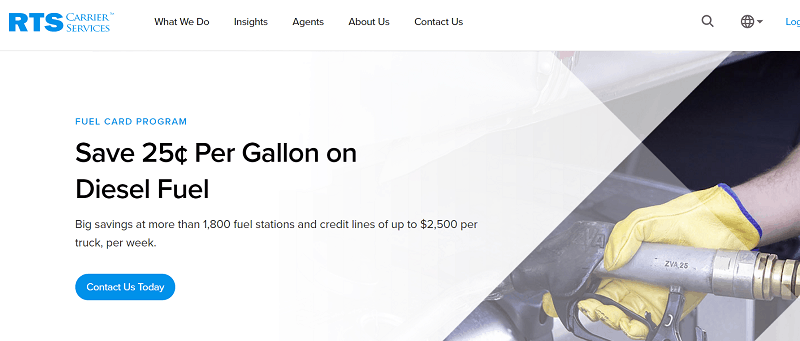 Curious whether this fleet card is right for your business? Keep reading to find out.
What Is the RTS Fuel & Fleet Card?
RTS Financial is a factoring company that offers working capital solutions to enterprises across multiple industries, most notably trucking and oilfield services. They're responsible for the RTS fuel card, which offers fuel and maintenance savings programs for trucking companies.
Who Is the RTS Fuel & Fleet Card for?
RTS is a bit different from other more major fleet card companies in that they aim to help get small businesses the cash they need. For this reason, the RTS fuel and fleet card is best suited to a particular type of business owner—mostly those with a small trucking enterprise or owner-operators who want to save on fuel costs.
About the RTS Fuel Card
Now let's talk about all you need to know about the RTS fuel card, which promises to deliver users the same type of savings that they would get with other large carriers.
The program allows for an average savings of 25 cents per gallon at over 1800 fuel stations. While the savings are good, the card network is relatively small compared to its competitors, which is certainly something to keep in mind when making a decision. But otherwise, fleet owners can also get as much as a $2500 line of credit per truck per week. And one of the best parts is that there are no annual fees, and you don't have to sign any contracts.
Additionally, users can expect the following advantages:
Access to useful trucking-related software Pro Transport. Pro Transport allows you to carry out everything you need to manage your fleet, with vital functions such as safety, dispatch, accounting, reporting, and more.
Access to the RTS Pro Mobile App. The RTS Pro Mobile app allows you and your drivers to find the lowest fuel prices wherever you are.
Free credit reports. Unlimited access to RTS Credit is included with fuel card membership, where members can find credit reports and days-to-pay information on brokers and shippers across the nation.
Pilot Flying J discounts. Fuel card members receive significant point-of-sale fuel discounts at Pilot Flying J and Speedway locations around the United States—over 700, to be precise. Plus, they pay less at other places in the RTS Plus Network, including Sapp. Bros., Sunoco, and others.  
Other discounts. With the fuel card membership, trucking companies can also save on other fleet-related expenses; they receive additional discounts on tires, maintenance, lodging, tax services, document scanning, and more.
What RTS Customers Say
An essential part of any review is hearing what actual RTS customers have to say about their experience—whether good or bad. So we took to both RTS's TrustPilot and Facebook pages to learn about these experiences.
The reviews were quite a mixed bag.
Some people liked how easy and fast it was to sign up, and others mentioned that the support staff is knowledgeable and gives good advice. Others highlighted issues like having difficulty closing accounts, problems with money being held back, and non refunded overpayments. There were also some complaints about fuel discounts not matching up with what's listed on the app.
When it comes to customer service, one of the areas the company highlights as exceptional, there was a little bit of everything. Some customers reported that they were quite pleased with the service, noting that the assistance felt entirely personalized even for smaller fleets.
However, others had more negative things to say about the customer service, one common complaint being a lack of response from the support team.
Our Advice?
So, what's our take—do we recommend the RTS fleet card?
There's no doubt in our mind that RTS Financial provides trucking companies with some pretty excellent advantages. We like their commitment to helping smaller enterprises access the capital they need, and some of the best benefits are things like same-day funding, zero hidden fees, fuel discounts, and high advance rates.
On the other hand, there are some significant drawbacks to consider. For one, we find the RTS network to be quite limited, especially when you compare it to other major fleet card players. Additionally, we weren't particularly impressed with what customers had to say on RTS Financial's Facebook and TrustPilot pages, mainly where those complaints had to do with difficulty canceling memberships.
Overall, we'd give the RTS fleet card an average rating. You'll probably be fine, but there may be something better out there for you.