User Reviews
Review Summary
0.0 out of 5 stars (based on 0 reviews)
Recent Reviews
There are no reviews yet. Be the first one to write one.
Submit a Review
Trucker Path is a navigational assistance and freight matching service for the trucking industry and has one of the fastest growing platforms in America. They claim that their Trucker Path app is one of America's most popular apps for truckers.
They offer a range of tools to support both carriers and brokers. Their load boards cater for carriers and brokers. They also offer truck navigation for drivers and fleets, fleet management software and discounted fuel deals.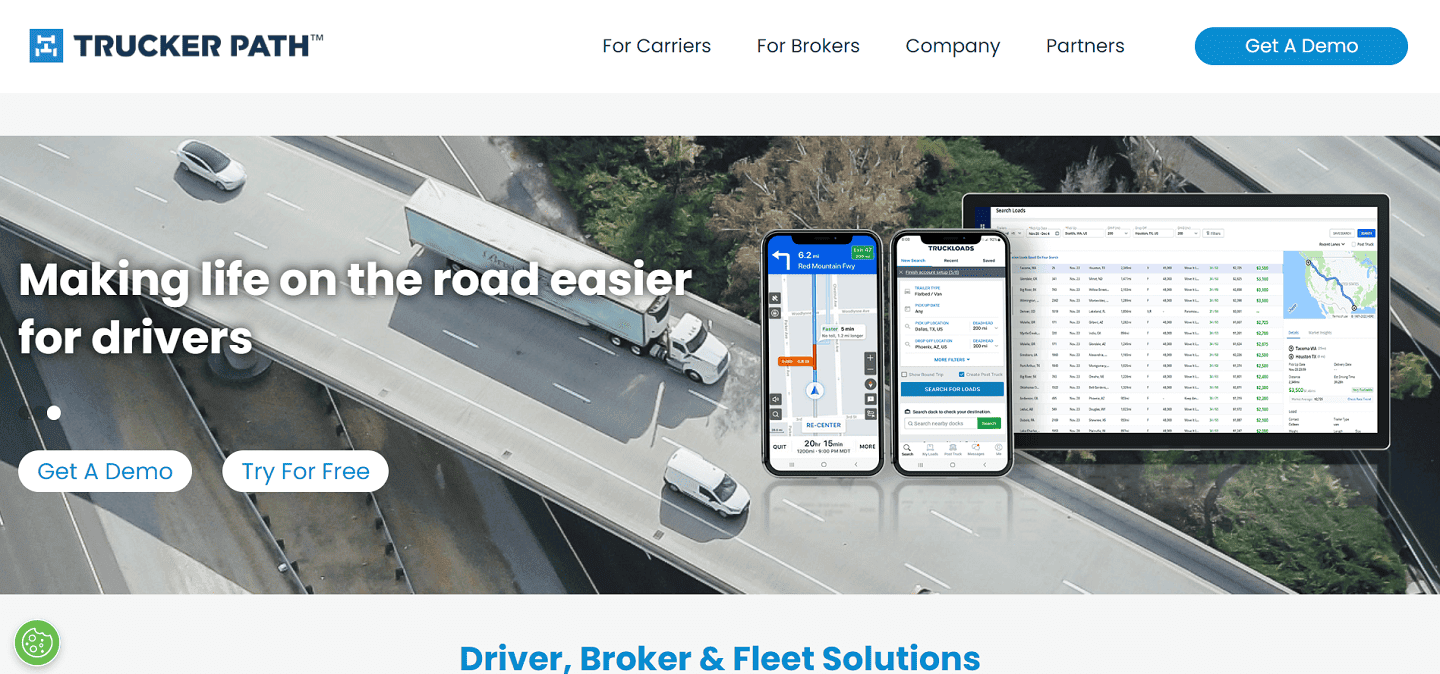 Trucker Path Services
Truck navigation
Load boards
Fleet management
ELD devices
Truck navigation
Trucker Path offers two categories of truck navigation – truck driver navigation and truck navigation for fleets. Both options use their Trucker Path app which includes millions of crowd-sourced contributions from their drivers to improve the mapping and navigation.
The app recommends the safest routes to avoid low overpasses, sharp turns and poor roads. It includes features such as using GPS to find the best places to stop for fuel, repairs, rest areas, parking, restaurants and weigh stations. It allows the driver to customise their routes with points of interest to better plan your routes. You can also enter your truck's MPG and tank volume so that it can help predetermine fuel stops and assist with purchasing the cheapest fuel on your route.
Trucker Path for drivers enables them to plan trips to save time and money by creating customised routes. Their fleet offering provides Trucker Path for all drivers which can help make them more efficient, safe and productive. For fleets, the app can branded for your company as well.
Load boards
Trucker Path provides free unlimited access to their load boards to carriers with over 150,000 loads per day. They have over 800 brokers and over 100,000 carriers which cover over 10 trailer types including flatbeds, dry vans and reefers.
Their platform provides an industry leading toolkit that can give you leverage when negotiating with a broker or shipper. They provide a highly-rated app that allows you to access their services from anywhere which is great for owner-operators. They also offer additional features that allow you to use other Trucker Path services such as trip planning within one ecosystem.
They offer three plans starting with the Essential plan which enables unlimited views, toll charge estimates, fuel surcharge calculator, drive time and backhaul. The Preferred plan also offers credit scores and day rate checks. The third plan is Ultimate which additional includes load density reports, capacity indicators and historical trends.
Fleet management
They offer Trucker Path Command which is an operator and driver relationship (ODR) platform. Drivers can utilise the Trucker Path app for truck navigation, find parking, and check fuel prices. Fleets can have a customised and branded version of the app. You can create an account and trial the software for seven days for free.
Their software enables businesses to increase their operational efficiency by improving day-to-day tasks such as sourcing loads, dispatching, tracking and tracing, and scanning and managing documents all in one software/app. It allows you to plan routes avoiding low clearance and add points of interest.
Trucker Path also enables you to manage your drivers through their centralised platform which allows you to communicate and manage driver activity, productivity and compliance. It can also handle settlements and accounting. It can integrate with existing systems, ELD and tracking platforms for a single solution.
ELD devices
Trucker Path offers ELD and fleet telematics hardware that is high-quality and easy to install in minutes. The devices can help you to stay compliant, informed, efficient and safe. They offer ELD and hours of service tracking with reports and alerts, electronic DVIR, and IFTA miles recording and reporting.
Their device provides instant and accurate GPS tracking for your fleet to keep you informed and allow you to share information with customers. It will allow you to monitor driver behaviour including vehicle speeds, hard braking (including alerts and reports), and idle time (tracking, alerts and reports).
Through Trucker Path you can also monitor fuel consumption, manage vehicle maintenance including reminders, and receive instant visibility and interpretation of fault codes and defects identified during DVIRs. This allows you to keep your fleet healthy and optimise its usage and efficiency.
Trucker Path Reviews and Ratings
There are no customer reviews available for Trucker Path on most of the review sites listed below except for Facebook where there are a fairly large number of customer reviews. Some of the reviews don't appear to be related to the products and services that Trucker Path offers and may be unrelated as they refer to investments and cryptocurrencies. Although the overall score from Facebook reviews is high at 4.6, a lot of the most current reviews are negative.
Positive comments include easy to use, has lots of features on the ELD, is useful for adding points of interest on routes, is good for finding parking and what is available at truck stops, driver friendly app, and has great combined functionality.
Negative comments include unable to cancel the app, poor customer support, lack of aftercare, no way to communicate with them other than email, issues tracking miles on ELDs, billing discrepancy, routing issues, problems with navigation crashing or freezing, lost orders, and issues with the video ads/popups being disruptive.
G2 has a listing for Trucker Path but there are no reviews.
Trustpilot – no reviews
Capterra – no reviews
G2 – no reviews
Featured Customers – no reviews
Facebook – 4.6/5 (based on 1,401 reviews)
Pros
A single solution that integrates with other software and apps
Offers a variety of fleet management software and tools
Free load board access
Cons
Although the customer review score is high, the most recent reviews are largely negative
There appear to be issues with recent changes in the app
Website: https://truckerpath.com/
Disclaimer: Fleetlogging.com is a general business information website only. The material and information on this website should not be relied upon for making any business or legal decisions. We cannot recommend any company and/or product, nor assess your suitability for any product and/or company listed here.