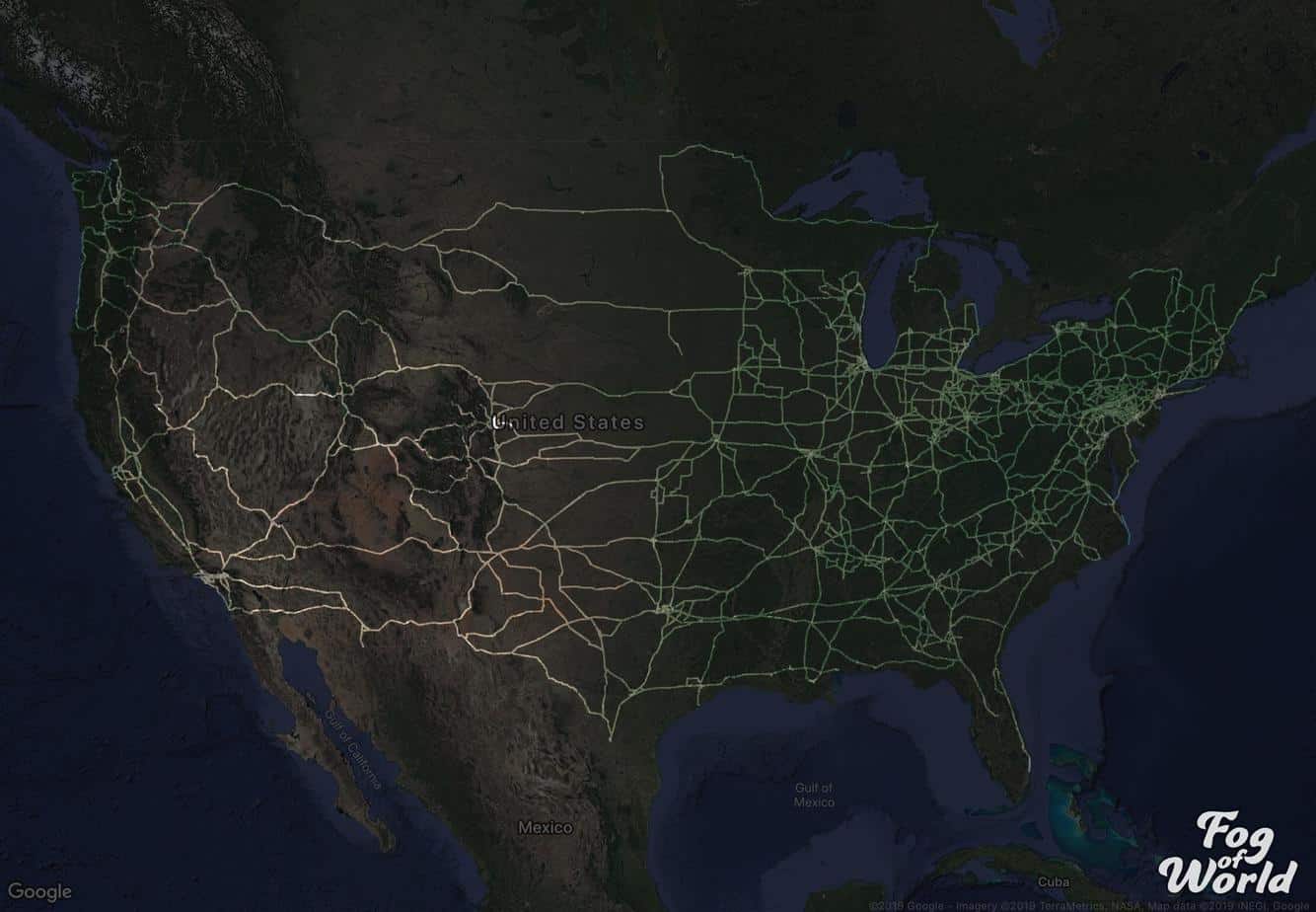 Map created by reddit user dancingchopstix
The map above shows the incredible 750,000 miles (1.2 million KM) driven by reddit user dancingchopstix, a US truck driver, over a period of 7 years. Based in South Central, PA he's managed to go from coast to coast and from north to south.
In terms of tracking the data and creating the map he says that:
I use an app called Fog of World to record my GPS tracks. The app allows you to generate a custom image such as this. This map accounts for roughly 750,000 miles. I have traveled many of these roads multiple times.

I've added a link to some more in-depth maps if anyone is interested! I can make custom maps of pretty much anywhere.
Unfortunately, the app does not currently allow heat maps so it's not possible to see which routes he drives most often.
Given all this driving experience many users on reddit were keen to ask some questions. Here are a few of the best:
Q: Which state takes the best care of its roads in your view? (user decitertiember)
A: Texas has nice roads, but then they really dont have nasty winters either.
Q: Which road do you hate the most? (user: KevinTrollbert)
A: Indiana and Michigan. Their roads are always beat to hell.
Q: I thought truck drivers stayed in a region or route. Where are the best / worst drivers? Where are the hardest places to drive? (user: 2wheeloffroad)
A: OTR (over the road) drivers travel all over the US and Canada, assuming the driver has a passport of FAST card. I do not but would like to get one so I can go to AK.
I tend to see the worst drivers in the bigger cities but ATL, Dallas, and Portland OR all stick out in my head for the worst interactions I've had.
Inner cities also tend to be tricky to drive in. There are a lot of tight street that make it challenging to navigate, especially in the older Northeast cities like Boston.
Q: I was listening to a segment on NPR that a trucker was on. He mentioned this "clickyness" between different freight haulers. Something like the moving company guys get looked down on. And the loggers are highly respected. Is there any truth to that? (User: Aleforge)
A: There certainly is. Trucking is such a varied profession with folks from all walks of life working with many different kinds of equipment. Some think what they do is better than others but at the end of a day we all still turn the steering wheel and travel from A to B.
Q: Where was your favorite spot? (user: honey_badger40)
A: Oh, there are so many wonderful places I love to stop at. The Pacific NW is my favorite part of the country to visit.
Q: Any suggestions for us non truck drivers to make truck drivers life easier and safer when on the road? My wife and I travel from Denver to NYC once a year, road tripping via I70/I80.
We always try to be as accommodating as possible, using hazards when braking hard, always using blinkers and not cutting in tight spots, but what is something we wouldn't think of that would really improve safety? (user: FJComp)
A: The fact that you care enough to even ask says a lot already and I really appreciate that.
The biggest thing I care about is common courtesy. We all have to share the road. I hate when folks in cars cut me off by passing too close or getting in front of me at a light and slamming on their brakes. I dont think the average driver understands how heavy our trucks are when fully loaded.
Q: Do you sleep in your truck or do you have to get hotel rooms for overnight? (user: HughBlackthorn)
A: I have a Kenworth T680 with a full sleeper so I only sleep in a hotel if she breaks down.
Q: Which city/state route was the most annoying? Things like traffic, driver behavior, and even weather. (user: KendallBlakeCruse)
A: Weather – Wyoming
Traffic – Southern California, DC, NYC
Bad drivers – EVERYWHERE lol
Q: Suppose the long predicted zombie apocalypse has arrived. Where along all those routes would you and your family head to to have the best odds to hunker down and wait it out? (user: ready-ignite)
A: I would head north away from population centers into Montana or the Dakotas. The damn things will freeze before they get to me.
Other Popular Topics:
Find this map interesting? Please help by sharing it: