Founded in Ipswich (United Kingdom) way back in 2009, Asset Monitoring Solutions (AMS) has developed a high-quality fleet tracking system at a cost-effective price. Formed by three different websites and branches between the U.K., France, and the U.S.A., AMS is "the U.S.A.'s number one choice for vehicle tracking."
As well as tracking your vehicles, drivers, and assets, the AMS Fleet Manager provides live tracking information on a powerful dashboard and even records crucial driver data. But is it a premium tracking solution? Is their product base diverse, and will your fleet benefit from its services? Let's take a look at the tracking technology in more detail…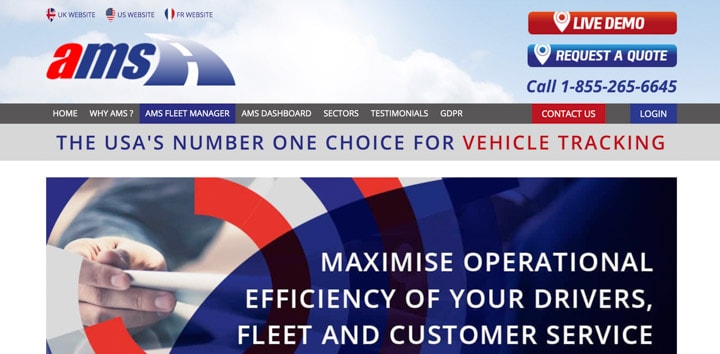 AMS Features & Services
Vehicle Tracking;
AMS Fleet Manager & Dashboard;
IP67 Rated Tracking Devices;
Detailed Fleet Reports.
Vehicle Tracking
While other fleet management companies choose to market a range of fleet products and services, AMS focuses purely on vehicle and asset tracking with AMS Fleet Manager. This product is separated into two components: the physical trackers and the interactive Dashboard.
That being said, these simple services give your team control of many other fleet management aspects. Once you begin tracking your drivers you can analyze their behavior, track deliveries and routes in real-time, and generate revealing reports.
AMS has developed several different trackers: the FMLITE IP67; FMOBD; AMS AT; AMSAT POWERED. These trackers combine different technologies and can be used for a range of applications. This means that for every small and medium-sized fleet, there's a tracker to suit every vehicle and task.
The FMLITE IP67, for instance, has internal antennas and is IP 67 rated. It's weatherproofed and hardwired behind the dashboard – ideal for vehicles that don't have weather protection. A back-up battery option also ensures a connection in the most challenging circumstances. Other trackers use battery power and can, therefore, be transferred between vehicles.
Regardless of the tracker you choose, it will use a multi-roaming SIM. This maximizes connectivity by connecting to any available network and is usually configured to update its position every minute.
The trackers also automatically detect dangerous driver behavior. Speeding, harsh braking, cornering, and aggressive acceleration events are all captured. Optional inputs can even detect vehicle power status and fuel levels.
Asset Tracking
AMS has every aspect of vehicle tracking covered. But that doesn't mean that they've ignored asset tracking. Quite the opposite. The AMS AT tracker, for example, is a powerful GPS tracker specifically designed for "non-powered fixed asset tracking applications."
A lithium battery pack is used to power the tracker and is easily removed and replaced. However, instead of continuously operating, the tracker will 'wake up' on a pre-determined schedule to send location updates before returning to a dormant state.
This type of power configuration means that the AMS AT tracker can operate continuously for 1000 days. It will even alert your team when its battery is running low and needs to be replaced.
AMS Dashboard
Whether it's vehicle tracking, asset tracking, trailer tracking, or even machinery tracking, all of this GPS location information is transmitted, received, and displayed on the AMS Dashboard.
This user-friendly interface is the main application that is used to access every aspect of GPS tracking information. AMS believes that competitor systems are "convoluted and difficult to use", so they have designed a platform with a "minimal mouse click approach."
The live map allows you to monitor vehicles, specifying location, date, time, speed, direction, and even driver status. Since the software is maintained in-house, it can be tailored to suit your needs. Crucially, there is a 'stats' information panel that breaks down driver behavior information by the day.
Detailed Fleet Reports
Finally, the combination of field trackers and AMS Dashboard allow you to choose which information you would like to digest in a simple, informative report.
Options include timesheet reports, mileage reports, maintenance reports, asset location reports, a daily summary report, and more. Even if you have a report idea in mind that doesn't appear to be available, the AMS Support Team will log any request and process it until delivery.
AMS Reviews and Ratings
Unfortunately, there are no user reviews for AMS on unbiased, impartial websites such as TrustPilot or Capterra. Where other companies have hundreds or perhaps even thousands of user reviews, AMS has not committed to a dedicated reviewal platform.
That being said, there are plenty of positive user testimonials on the AMS (US) website. Farmers Coop Elevator, for instance, wanted to optimize driver routes, manage time more efficiently, and access real-time driver information. They "couldn't be happier with the streamlined approach AMS offered and are happy with the personal nature with which our support calls are handled."
A testimonial from MaxMed Healthcare paints a similar picture. They too wanted to benefit from asset tracking, driver analysis, and maintenance. They chose AMS because of its cost-effective solution and the easy-to-use system.
They praised the solution, saying "AMS has met our business needs well based on cost-effectiveness and the customer experience it provides Maxmed as a client of AMS."
From the AMS Facebook page (UK), there are also some worthwhile user reviews, giving AMS (UK) a rating of 5/5 with 4 reviews. Many of them make a point of mentioning the value-for-money GPS tracking solutions.
Chris Daniel, for instance, left this testimonial:
"AMS has totally kitted out work my vans with a reverse siren, trackers to 2 vans, dash cams in 3 vehicles and 4 parrot Bluetooth kits. Extremely happy with the products, the fitting experience and the direct contact with an engineer manager have helped get installations completed out of hours which is essential to keep me on the road."
AMS prides itself on offering "unparalleled customer service, industry expertise, and knowledge." Importantly, all of this is offered at competitive rates that keep them ahead of the competition.
24/7 operational health checks ensure that your fleet is running as it should be, and intelligent reporting makes huge amounts of data easy to process.
We look forward to eventually summarising a collection of user reviews from unbiased platforms.
Pros
A cost-effective fleet tracking solution;
A powerful dashboard that displays crucial driver and vehicle data;
Robust, reliable asset trackers that stand the test of time;
Reactive, reliable customer service.
Cons
Fewer fleet management solutions than competitors;
No HOS or ELD solution integrated.
Website: https://www.amsgroupusa.com/
Disclaimer: Fleetlogging.com is a general business information website only. The material and information on this website should not be relied upon for making any business or legal decisions. We cannot recommend any company and/or product, nor assess your suitability for any product and/or company listed here.