If you live in a location close to a specific type of gas station, the benefits of having a dedicated card could be worth it. Investing in a fuel and fleet card that's closed-loop is a risk, but worth checking out in the right circumstances.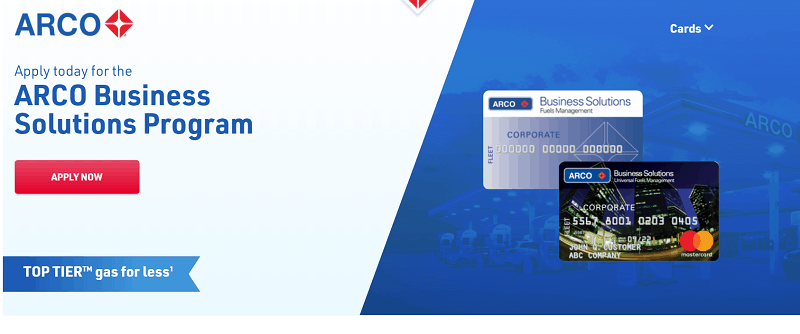 For small trucking companies out west looking for a good fuel and fleet card, there's one trusted name that comes up again and again — Arco. Let's break down this fuel and fleet card offering to find out if an Arco Fuel and Fleet card is the one for you or if you should skip it for something with broader coverage.
The Overview
Arco is a smaller partner but with excellent rewards. It currently offers two card solutions for fleets and owner-operators — the Fuel Card and the Mastercard.
The Arco Fuel Card
It's a closed-loop card available at Arco stations only, which could be a problem if you operate mostly on the East coast. The card offers savings and provides a secure way for drivers to fuel up at any of the 1,500 locations available, mainly in the west.
The fuel card provides reporting and newer tech options like geofencing and customized usage solutions to cut down on fraud. You can assign a PIN for greater security, and there's a monthly issuance fee with per-card fees if you need more than one.
The Arco Mastercard
The Mastercard option operates more like a credit card, expanding your solutions to maintenance and service wherever Mastercard is accepted. 
The card provides fuel savings and service purchases, but the biggest reason to switch over to the Mastercard option is the expanded reporting features. If data is vital to you, you'll see a more comprehensive view of your monthly expenditures as well as location data.
The Benefits
Both options offer basic reporting and savings at Arco locations. The cards are available to most users with a minimum of a 580 credit score, making it accessible for various businesses.
It's a trusted supplier for small businesses with more local reach, allowing them to take advantage of a fuel card or Mastercard for savings and service. You get security and fraud controls built into the card, allowing users freedom but restricting misuse.
You can also set controls for odometer readings, and driver ID prompts when filling up. You can deactivate a lost or stolen card immediately with no wait time. And with reporting for tax and fuel purposes, it makes life simpler.
Decide if the proximity of your fueling stations are close enough to take advantage. Arco has traditionally refused card payments in all but the most restrictive manner, so the fuel or Mastercard could be a way to finally get around those limitations if you plan to visit often.
The Downsides
The biggest downside for the fuel card, especially, is the closed-loop feature. Drivers can only fuel up at an Arco station. That's not a problem if you're located on the West coast near the Arco hub, but anywhere else could be an issue.
There are only about 1500 Arco stations around, compared to BP, which has nearly seven times that amount. Without access to the right station, you're out of luck with this option.
The Arco card also has a slightly higher fee structure than some other options, with users paying up to $180 in annual fees. The late payment fees are also high, and issuance fees never get waived.
The savings offered through an Arco card may not outweigh the fees and limitations for larger establishments, considering you'll pay for each card issued. More than a handful of drivers, and that's prohibitively expensive.
The fuel card doesn't offer your drivers the option to pay for service or repairs, either. This may not be a deal-breaker for owner-operators, but fleets will need to consider this lack very carefully.
The Quick View
Fuel card available only at Arco stations
Mastercard option for service purchases
High annual fees
No other perks or savings offered even with the Mastercard
Best for small businesses and owner-operators on the West coast.
Card issuance fees
The Final Verdict
A closed-loop card won't be the best choice for most fleets, but it's worth a look if you have a few Arco stations close by or your operations are mostly local. The card does unlock better payment choices at Arco stations, however.
The Mastercard choice expands what you can do with service choices, allowing you to spend your money anywhere Mastercard is accepted. It's a good option for local operations but will come with some higher fees attached.
Suppose you aren't in the market for anything but a simple solution to control expenses, access reporting, and prevent misuse. In that case, the Arco card provides a primary but well-rounded offering for Arco fans.