Advanced Tracking Technologies Inc (ATTI) is an American-based GPS tracking manufacturer that has been developing its trackers since 1995. They provide tracking products for a wide range of sectors including the public sector, and their range includes vehicle and asset trackers. Their fleet monitoring products deliver fleet performance maximisation and efficiency that can help minimise your costs. They also provide tracking software to manage employee time including drivers.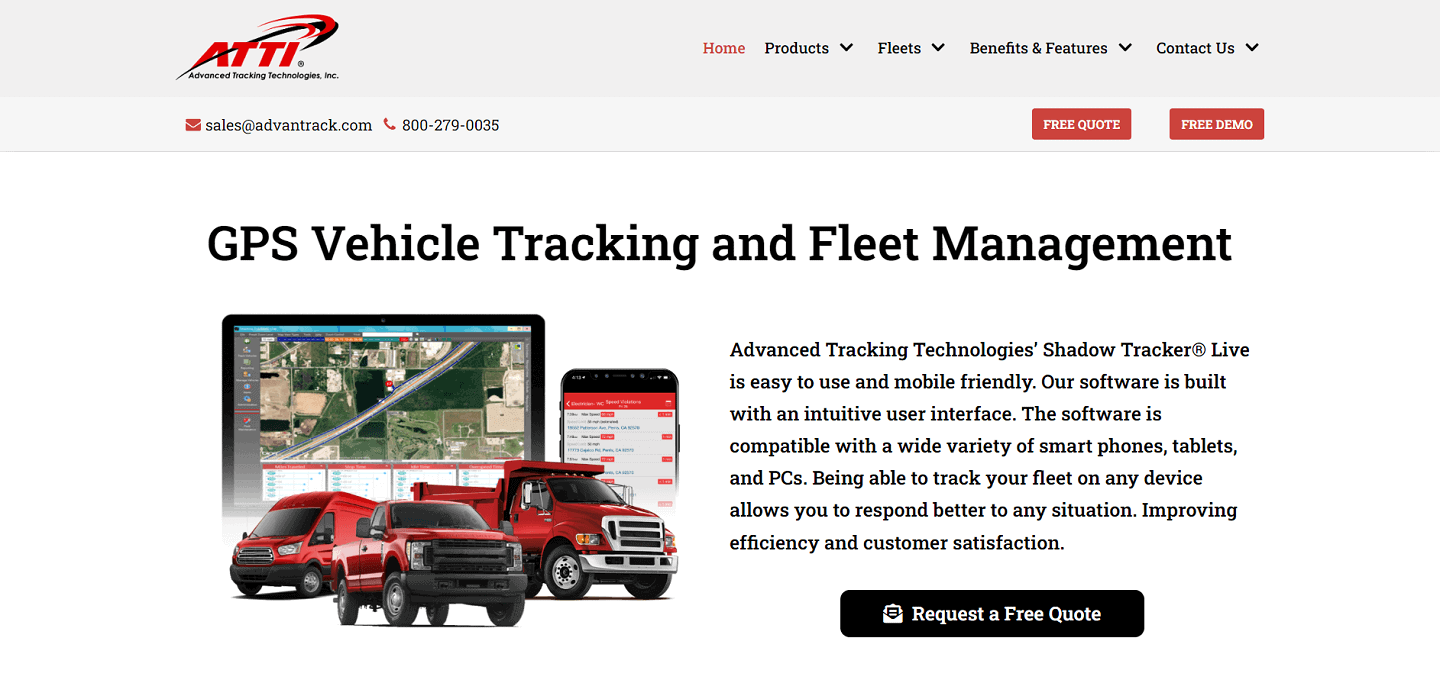 ATTI Features & Services
GPS truck and vehicle tracking
GPS asset tracking
Driver time tracking software
GPS Truck and Vehicle Tracking
ATTI offers a choice of Shadow Trackers that have been designed in-house as easy-to-use and install trackers that can track trucks and vehicles. One of their trackers can be installed instantly as they have plug and play technology which can be easily moved to another vehicle. Another of their trackers offers hardwired installation which has an internal battery backup.
Their trackers operate on 4G with 10-second real-time updates and have high-definition historical tracking. They provide alerts for speeding, idling and location. You can also receive notifications about the engine status and tampering. They provide automated reporting to help you to better understand your vehicles and their usage.
ATTI provides a mobile app that allows you to track your vehicles from anywhere at any time. The data provided can help you to improve routes, vehicle efficiency and save on fuel costs.
GPS Asset Tracking
ATTI offers asset trackers that enable businesses to track fixed or mobile assets that have no power. Their asset trackers work with their Shadow Tracker Live to provide tracking data. The trackers are suitable for bulk containers, heavy equipment, trailers, boats and more.
The Shadow Tracker Pulse operates on a 4G network. Shadow Tracker Sat operates on satellite communication and has worldwide coverage. Shadow Tracker Solar has integrated solar panels to offer extra long battery life and satellite communication with worldwide coverage.
The asset trackers are a weatherproof design and have an internal battery that can last from 1.5 to five years and can be replaced easily in the field. The trackers are easy to mount and manage. They provide real-time monitoring that can improve operational efficiency and security. The data is also stored for a year to allow you to get historical usage information that can identify patterns and areas of improvement.
Driver Time Tracking Software
ATTI offers Shadow Tracker Time software that provides a timesheet management solution that can be used for mobile and office employees. Drivers can use the Shadow Tracker Time app that is available on Android and iPhone to record their time in and out with their location being recorded at the same time.
There is an option for added security and verification which includes keypad, fingerprint and RDIF card with the backup of GPS location at the time of the time punches. This can reduce time theft, poor attendance and reduce labour costs.
The software gives you access to comprehensive reporting that helps you to control expenses, track employee locations and produce standard management reports. The reports allow for weekly, bi-weekly, semi-monthly and monthly pay periods.
ATTI Reviews and Ratings
There are only reviews available for ATTI on one of the leading review sites for fleet management solutions which is Featured Customers. There are mainly testimonials on Featured Customers with 1,413 testimonials which are rated 4.8 out of 5 and 186 case studies which are rated 4.7 out of 5.
Comments from customers include easy to install, can monitor vehicles from anywhere on the app, increased productivity, improve the efficiency of the fleet, improved dispatching, and increased safety.
Trustpilot – no reviews
Capterra – no reviews
G2 – no reviews
Featured Customers – 4.8/5 (based on 1,599 reviews)
Facebook – no reviews
Pros
Offers a range of tracker solutions for vehicles and assets including plug and play and hardwired
Provides a driver time tracking app to assist with managing driver time more effectively
Positively rated in customer reviews
Cons
Doesn't offer complete fleet management solutions such as maintenance management, scheduling and driver behaviour
They don't offer dash cams as part of their solution
American based and don't have local support
Website: https://www.advantrack.com/
Disclaimer: Fleetlogging.com is a general business information website only. The material and information on this website should not be relied upon for making any business or legal decisions. We cannot recommend any company and/or product, nor assess your suitability for any product and/or company listed here.