All the way from fleet management and fleet services and dispatch, Automile 'excels in every situation.' As an IoT enterprise, it's already trusted by more than 15,000 companies in North America, ranging from the smallest fleets to the largest fleets with hundreds of assets and vehicles. Automile provides real-time GPS tracking, robust asset tracking, and a host of other fleet management solutions and services that increase productivity, reduce costs, and improve fleet safety.
So do the numbers speak for themselves? Are 15,000 companies right to trust Automile? Does it meet the expected standards as a fleet management provider? And importantly, are its products accurate and reliable? We're going to take a closer look at what customers say, giving you a clear idea of whether or not Automile is the solution that your team needs.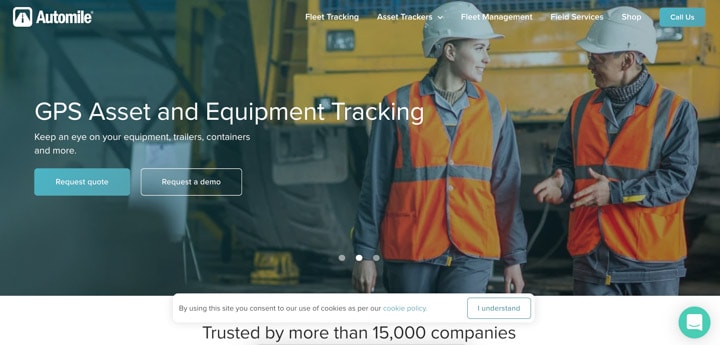 Automile Features & Services
GPS Fleet Tracking;
Asset Tracking;
Asset Trackers;
Fleet Management;
Fleet Services;
HOS & ELD Compliance.
GPS Fleet Tracking & Management
With its HQ in Utah and with offices in Europe, Automile has quickly developed from a humble SaaS startup into a leading fleet management provider with a range of products and services for fleets of all sizes. Real-time fleet and vehicle tracking is one of its most popular solutions. While it may be true that GPS tracking produces a powerful on-screen representation of your fleet, the technology is at the center of many other important fleet management solutions.
But let's stick with the fundamentals for now: GPS fleet tracking is an essential fleet management tool and every serious fleet around the world will use it to some degree. With Automile's GPS fleet tracking, your team will have instant access to all of the live information it needs. First of all, you'll be able to view and record the movements of every vehicle and asset on a Google Maps-powered screen. With updates every 15 seconds, few roadside activities will go unnoticed.
But as well as being able to view live events, you'll also be able to store route history and review them afterward. This means that you have all the data you need to optimize routes and improve driver efficiency. And that's even easier with a complete picture of your driver's daily habits. When you track the movements of each driver throughout the day, you'll learn about their idle time, their routing, their habits, and whether or not they exhibit any risky driving behavior. You'll receive instant alerts when a driver speeds, and you'll be able to crunch the numbers in reports thereafter.
Automile's GPS fleet tracking technology also makes it possible to set-up geofences and geofencing alerts. Perhaps there are designated areas that drivers are restricted from entering, or maybe you'd like to organize super-accurate ETA alerts when a driver reaches a specific zone. Setting up geofencing couldn't be easier. With a few clicks of the mouse on your screen, you'll be able to establish the areas of special interest.
Two different vehicle trackers are available with Automile – Automile Box and Automile Hub. 'Box' is a simple plug-and-play tracker and can be installed in as little as 10 seconds. 'Hub', on the other hand, is a heavy-duty tracker and is fixed to the vehicle.
These GPS trackers combined with Automile's fleet telematics make the fleet tracking product possible. Fleet tracking also feeds the customized reports that you can create with Automile and stores vital driver and vehicle information on your database. With live fleet tracking available on your desktop and also on your smartphone app, you'll always have a complete picture of your team's daily activities – inside the office and out. Fleet management has never been easier.
Asset Trackers
Similar technology is used to reliably track remote assets. With less of a focus on instant, real-time updates and notifications, these asset trackers are built for durability and reliability. When your valuable asset is stored in a remote location and in the harshest of conditions, it's important that you're informed immediately when something goes wrong.
There are four different types of asset tracker available with Automile, each of them designed for slightly different applications. Regardless of the tracker, you can expect long battery life, geofencing, motion-activated alerts, the asset's entire history in one place, and easy installation.
Tracker Mini is for small spaces since it fits pretty much anywhere. Tracker Standard is Automile's best selling tracker, including a battery and an optional connection to an external power source as well. Tracker Pro is a more advanced solution with sensors that detect temperature and humidity (with an IP67 casing) that's more suited to challenging, wet conditions. Finally, the Tracker Solar can be charged by sunlight and can operate for more than 10 years without requiring a wired charge.
Fleet Services
Everything we've discussed so far has focused on the operational side of fleet management, but fleet service management is also a crucial part of modern trucking and Automile has you covered there as well. Its solutions will help your team improve productivity, increase customer satisfaction, and allow you to manage your jobs and dispatch screen more efficiently.
With Automile's fleet service software, you'll be able to manage all of your jobs in one convenient location. Create quotes and estimates while on the go, and get quick client approval. Your items can even be managed directly in the app, and with a few clicks, you'll be able to toggle to real-time live tracking allowing you to track the status of the job.
Advanced routing and fleet activity also allows you to streamline the dispatch and delivery process.
HOS & ELD Compliance
But none of these solutions are worthwhile if your fleet isn't compliant. No matter how many updates there are to local FMCSA regulations, Automile will keep your operations fully compliant and safe.
HOS is included in-app and shows a live timer until the next stage of your driver's duty is assigned. You'll never need to worry about any HOS violations in the office or on the road. The app also makes paperless vehicle inspections possible, improving communication and reducing the likelihood of any errors occurring.
Automile's ELD solution has also been fully FMCSA certified, recognized for its ability to accurately record and store driver logs. But drivers will also appreciate the ELD solution. They can seamlessly switch driver status, view HOS with a few clicks on the screen, and do their job with one less distraction, knowing that their hours are being accurately recorded automatically.
Automile Reviews and Ratings
Automile's reviews are generally average to above-average. However, it must be said that there aren't as many reviews to consider as there are with some of the more established names in fleet management. Many of the impartial, unbiased user review sites have less than 10 reviews. Automile is still a relatively young business and we hope that, as they continue to develop their solutions, more honest user reviews will appear across the board.
That being said, reviews on TrustPilot (UK) are positive. From the 7 reviews available, the majority of users leave a 5* rating. High-quality customer service seems to be a particular highlight, but users also enjoy an 'easy-to-install device', user-friendly app, and a reliable product overall.
Capterra reviews take a slight dip. From a total of 8 reviews, the average score is just 3.1/5. There are similar compliments for ease of use and accurate geofencing, but there are some concerns about ELDs that don't track hours correctly. While one user points out how much idle time he has saved and clearly enjoys a better fuel efficiency, he laments the lack of a maintenance mode and a limited ELD infrastructure. One user has particular complaints about faulty trackers. Others complain about 'constant issues' and a lack of support.
G2 reviews are much better at 4.8/5, but this comes from only two reviews. Nonetheless, the reviews praise an extremely useful fleet tracking system, and easy installation.
Surprisingly, Better Business Bureau reviews are extremely low. In direct contrast to the G2 reviews, these two reviews both leave a 1* rating. Complaints include a lack of support, faulty software, and lengthy contracts that are difficult to escape.
Finally, the reviews on Amazon.com are more encouraging. From more than 20 reviews, users seem to enjoy a cheap, easy-to-use system that's crammed full of useful tools and services. Many customers seem particularly satisfied with the 'plug and play' solution. There are one or two familiar complaints about glitchy software and complicated contracts.
Overall, Automile seems to cover the most important aspects of fleet management and asset tracking to good effect. The company excels with an easy-to-use solution that's quick to install and performs in many different environments. However, Automile will be concerned by some user complaints about faulty software and trackers with defects.
TrustPilot – 4.3/5 (based on 7 reviews) – UK site
Capterra – 3.1/5 (based on 8 reviews)
G2 – 4.8/5 (based on 2 reviews)
Better Business Bureau – 1/5 (based on 2 reviews)
Amazon.com – 4.2/5 (based on 22 reviews)
Pros
A reliable product that has a range of different services and solutions;
Easy to install, and some trackers can be installed in under 10 seconds;
A great range of trackers that can deliver for any task in any environment;
User-friendly interface and solutions designed with the customer experience in mind.
Cons
Some complaints of  inaccurate ELD hour tracking;
Concerning rates of tracker defect;
Some system glitches, including battery issues when some devices are disconnected from the power source.
Lack of maintenance screen, or maintenance mode on devices.
Website: https://www.automile.com/
Disclaimer: Fleetlogging.com is a general business information website only. The material and information on this website should not be relied upon for making any business or legal decisions. We cannot recommend any company and/or product, nor assess your suitability for any product and/or company listed here.