Azuga is dedicated to providing the tools and services its customers need to track and manage their fleets. The Azuga team prides itself on its unique 'hands-on' approach, and even claims to be 'obsessed' with ensuring that customers reap the maximum benefits of their GPS fleet tracking, dashcam, asset tracking, telematics, and software solutions.
But do Azuga's claims line up with the customer experience? Will their products really improve your fleet's productivity, visibility, and safety? And is the fleet tracking solution as simple as it sounds? We take a closer look below, and find out whether or not Azuga's fleet management products are worth your time.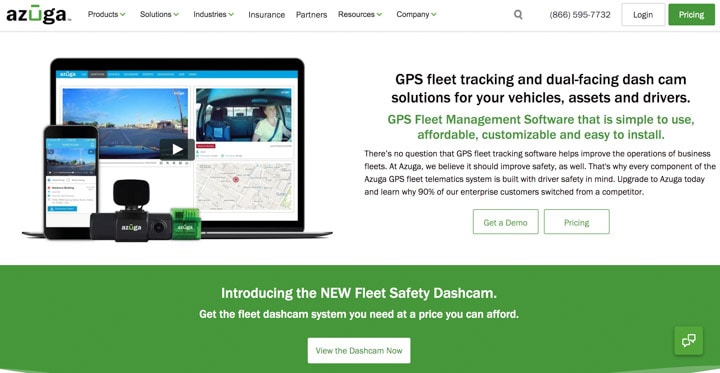 Azuga Features & Services
GPS Fleet Tracking;
Fleet Tracking App;
Asset Tracking;
SafetyCam Dashcams;
eLogs & ELD Compliance;
Driver Safety;
Analytics and Reports;
Telematics;
Telecom Fleet Management Software.
GPS Fleet Tracking
In Azuga's own words, not all GPS fleet tracking solutions are the same. On that note, Azuga has developed an intelligent GPS tracking product that, crucially, is beneficial to both business owners and drivers. Where other companies can complicate installation, user interfaces, and customer experiences, Azuga solves these challenges 'seamlessly.'
Azuga aims to put your team first and make its GPS tracking solution as simple as possible. That begins with the effortless plug-and-play installation, but the concept is also clear with user-friendly software that makes it easy to open new tabs on reports and analyze the performance of your most valuable assets. The tracking system does exactly what it's required to do while making everybody's work easier in the process.
Azuga Fleet™ is the product that combines GPS tracking, diagnostics, and driver analytics to paint a complete picture of your fleet on the road. The tracking software provides instant insights for both your vehicles and drivers, and eye-opening analytics help you optimize your entire fleet operation.
Importantly, Azuga's GPS fleet tracking solution monitors the behavior of your drivers without making them feel like 'Big Brother is watching.' Drivers feel protected, office teams can evaluate every leg of every trip, and the efficiency of your workflow is greatly improved. When drivers use the FleetMobile app, every piece of data is captured to create a comprehensive trip log.
In particular, drivers benefit from the GPS tracking software: it encourages a level of competition regarding safe practice and risk-free driving. As drivers compete for the best safety scorecard, the fleet management software promotes a culture of safety on the road.
Valuable information is captured in GPS diagnostics; your office team has 100% visibility of vehicles and drivers; your fleet is safer; you can capitalize on intelligent reporting and analytics; you can streamline dispatching and other crucial fleet procedures. Azuga's GPS fleet tracking is a powerful product indeed.
SafetyCam Dashcams
Tying in with the way that GPS tracking provides additional safety for your drivers and vehicles, Azuga also offers SafetyCam – a smart dual-facing fleet dash camera. Azuga claims that 70% of accidents on the road are not the fault of your driver: when you use SafetyCam to capture critical video evidence of collisions and incidents, you can prove it.
Azuga's dual-facing dashcams mean that your drivers (and your office team) are prepared for any incident coming their way – literally. Smart detection software sounds alerts for potentially dangerous incidents, and since both front-end and cab-end angles are provided, you get a complete picture of what happens on the road at any moment.
The cab-facing camera monitors risky driver behavior (such as using phones and other distractions), but also helps to build mutual trust. On the other side, the road-facing camera notifies office teams with instant accident reports, exonerates innocent drivers in court, and reduces your insurance premiums as well.
Analytics and Reports
Another feature of Azuga's fleet management solution is its powerful analytics and reporting capabilities. You can use this data to reward safe driving and simplify driver timecards. But, ultimately, this vital information helps your team to streamline operations, manage your fleet in a more efficient way, and maximize profits.
You can analyze breadcrumb reports, where you'll be able to see each vehicle's movement, stage by stage. When combined with idle time reports, you'll also be able to see how long a vehicle was stationary for, and exactly where it was lingering. Viewing this information side-by-side with the driver history reports will show you which drivers cover the most miles – and which ones don't.
But on top of that, you can see average speed, dangerous speeds, harsh breaking reports, stop reports and even driver scorecards all with the click of a mouse. Diagnostic reports keep your vehicles on the road for longer, and geofence technology allows you to set-up restricted areas anywhere you like. And if that's not enough? Then simply speak to the Azuga team and they'll help you develop custom reports to maximize your fleet insights. There are countless benefits of using Azuga's intelligent reports and tools.
ELD Compliance
As well as providing you with all the tools you need to operate more efficiently and optimize workflows, it goes without saying that you need to keep every aspect of your fleet legally safe. ELD compliance is a hot topic, and Azuga is determined to make it as simple as possible.
Azuga eLogs is an ELD compliance software that helps you meet HOS and DVIR regulations. On top of that, it meets all of the requirements for the new ELD mandate.
The software ensures that you're always up-to-date with the latest regulations and rules. It's available in several different languages and only requires that drivers download the app – available on both android and iOS. From there, your office team will receive alerts when drivers approach HOS limits, when violations occur, and whenever there are log errors.
Azuga Reviews and Ratings
On the whole, customers appear to enjoy Azuga's GPS tracking and fleet management solutions. Users enjoy the simple software, convenient tools, and reliable product. That being said, there a few common complaints that the team should look to address.
On the ever-reliable TrustPilot, Azgua's scorecard is surprisingly average. With a disappointing 3.3/5, there are nearly as many 1* reviews as 5* reviews. One user bitterly complains about faulty reports and expensive long-term contracts. He bemoans reports so inaccurate they were unusable and faulty software that the customer support team was unable to fix. Contrarily, other users could not be happier, and would readily recommend the software.
Capterra reviews paint a more encouraging picture – and from a larger sample pool as well. The average score is 4.2/5: much improved on the TrustPilot feedback. Many customers praise the software, reports, and system alerts. While they take time to point out positive customer service and great value for money, there are still one or two complaints regarding inaccurate GPS locations and a faulty mobile app.
The feedback is even more encouraging on the review platform G2, but it must be acknowledged that there are only 4 reviews to evaluate. Nonetheless, customers still describe Azuga Fleet™ as a useful tool that's easy-to-use, fantastic for monitoring drivers, and invaluable when it comes to driver and vehicle reports.
Matt d'Angelo of Business.com also praised Azuga's product:
"Azuga has one of the strongest asset telematics offerings of any company we reviewed. With two hardware devices and real-time tracking, Azuga provides solid asset tracking services. This company also offers great safety features, like comparative driver scorecards and proactive maintenance monitoring."
On the whole, it seems that Azuga has developed a powerful, simple, and user-friendly fleet management product that small-scale fleets will be able to use to improve fleet efficiency.
TrustPilot – 3.3/5 (based on 64 reviews)
Capterra – 4.2/5 (based on 150 reviews)
G2 – 4.4/5 (based on 4 reviews)
Pros
Simple software that is easy-to-use and designed for the user;
Highly detailed reports and diagnostics, allowing you to even create customized reports;
ELD compliance that keeps your team legally safe, even when new rules and regulations are introduced;
Dual-facing dashcams that build mutual trust and help record crucial data on the road.
Cons
User reviews frequently complain about inaccurate GPS data;
A customer service team that isn't always available or able to help with common issues;
Complaints of faulty software and driver mobile app that is prone to freezing.
Website: https://www.azuga.com/
Disclaimer: Fleetlogging.com is a general business information website only. The material and information on this website should not be relied upon for making any business or legal decisions. We cannot recommend any company and/or product, nor assess your suitability for any product and/or company listed here.