BigRoad is a relatively new company that began in Canada as recently as 2011. It was formed with the intention of creating the "best ELD compliance solution on the market" that would assist owners and operators with challenging FMCSA HOS mandates.
It seems to have worked: BigRoad was the #1 ELD app when it was acquired by fellow Canadians Fleet Complete in 2017, becoming part of its family. As a result of the partnership, BigRoad can now offer many of the more traditional fleet management services, but how do the reviews for its prized ELD solution fare? Will BigRoad's technology keep your team compliant? And is the HOS platform easy to use? Keep on reading to find out.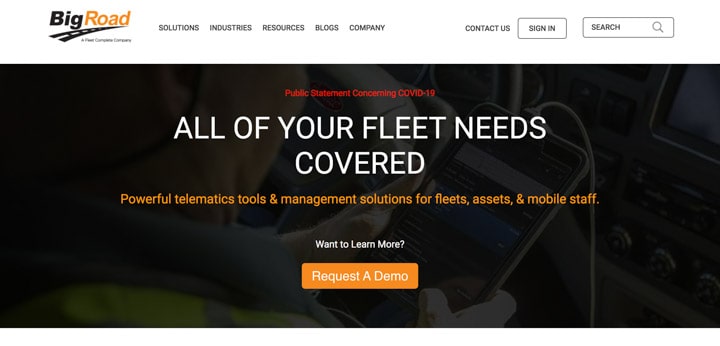 BigRoad Features & Services
DashLink ELD (FMCSA-compliant);
Inspect – Vehicle Inspection App;
Fleet Management & Tracking Software (with Fleet Complete);
Asset Tracking & Protection (with Fleet Complete);
Video Telematics (with Fleet Complete);
Driver Coaching (with Fleet Complete).
Fleet Management & Tracking Software with Fleet Complete
Since 2011, BigRoad has provided "industry-leading electronic logging and compliance solutions" to the North American fleet and trucking industry. BigRoad's determination to become the 'best in the business' with an affordable, intelligent, and user-friendly logging solution saw it become the trusted ELD provider.
Where other fleet management companies developed a range of different fleet management solutions and services, BigRoad instead focused on ELD, HOS, and fleet compliance. This careful strategy has worked, and the ELD product – DashLink – became the "#1 rated ELD solution" with hundreds of thousands of downloads.
Since Fleet Complete is now the parent company of BigRoad, both companies can offer more services to its customers. For Fleet Complete (an established business that already offers a range of services), obtaining one of the best ELD solutions in the industry is a smart addition to its already expansive portfolio.
Similarly, BigRoad is now able to offer many new fleet management services that Fleet Complete has developed. These include fleet management, vehicle and asset tracking, video telematics, dashcam technology, driver coaching, and more.
BigRoad is still available as a standalone ELD solution, but it is also available within Fleet Complete as part of its complete fleet management solution.
In this review, we'll focus on the HOS, safety and compliance, and ELD aspects of BigRoad's products. The Fleet Complete services are included in the separate Fleet Complete review.
Dashlink ELD
Dashlink is an award-winning (Frost & Sullivan) ELD solution designed with drivers in mind. More than 500,000 drivers use BigRoad's ELD app every single day. With a commanding presence in the industry and a partnership with Fleet Complete, it's hardly surprising that it's such a popular product.
But do the user reviews back up the popularity? And what makes it such a popular ELD solution?
First of all, Dashlink is affordable. Since the product is app-based, there are no up-front hardware costs. BigRoad claims that its ELD solution is the "most affordable option for fleet management and electronic logging mandate compliance", beginning at just $19.50 per month per user.
On top of that, it has been designed so that drivers pick it up quickly and use it efficiently. HOS is one of many handy automation processes, and it can also display live traffic conditions. Even driver duty status is automatically recorded, saving your driver time and adding to a highly accurate log.
Driver availability and vehicle drive time are both automatically recorded, making it almost impossible to violate HOS regulations.
Fully compliant, engine-connected logs are created with ease and are consistently error-free. Along with instant notifications for potential HOS violations, reason codes (for log edits), inspection-ready reports, and a fuel-tracking feature, Dashlink is an advanced ELD solution.
Inspect (Vehicle Inspection)
Inspect – another mobile app (compatible with both iOS and Android) – is a great complement to the Dashlink ELD solution. This helps both your driver and your office team create efficiency with the vehicle inspection process, quickly pulling up DVIR on a standalone mobile app.
The app has been specifically designed to make vehicle inspections faster and more accurate. And with direct sign-off, drivers can approve reports within the app itself, without requiring lengthy approvals from office teams. The app has again been designed to make a driver's life easier. They spend less time compiling reports with essential vehicle information, focusing on the road instead.
But this technology also helps your office team too, since they can manage vehicle maintenance and repairs online. Once drivers have completed their regular log of defects and vehicle concerns, they're viewable on the Mechanic Portal. This will help your team keep up-to-date with maintenance and upcoming services, improving the efficiency of your fleet overall.
BigRoad Reviews and Ratings
It's a surprise to learn that there are no reviews for BigRoad on the reliable TrustPilot platform. That being said, there are a few useful and impartial reviews on other user experience sites such as Capterra and G2.
Capterra reviews generally create a positive user experience of BigRoad's ELD solution, with just one very poor review from 6 in total. While some reviews point out how much time and money the product saves them, they lament a 'terrible' customer service team. Positive reviews – which are the norm – also point out easy installation and a user-friendly interface.
G2 reviews are also positive with an average score of 4.3/5, but this data isn't quite as reliable with only 2 reviews. Nonetheless, users mention a super convenient ELD solution, an appreciation for the paper-less technology, and tamper-proof logs.
Facebook reviews are more of a mixed bag, with an average score of 3.6/5 from 100 reviews. Again, poor customer service is a theme.
However, it is the Google Play reviews that hold significant weight for BigRoad. From an astonishing 14,000 or so reviews, BigRoad scores an average of 3.8/5. Although most reviews are 5/5, there is still a noticeable amount of 1/5 reviews. Many users point out that the app incorrectly changes driver status (leading to inaccurate logs) and updates that include glitches that aren't resolved immediately.
Overall, BigRoad is a powerful and reliable ELD solution for fleets of any size. With one or two small complaints to address, it seems that the Fleet Complete company will continue to dominate the ELD market for many years to come.
Capterra – 3.7/5 (based on 6 reviews)
G2 – 4.3/5 (based on 2 reviews)
Facebook – 3.6/5 (based on 100 reviews)
Google Play  – 3.8/5 (based on 13,637 reviews)
Pros
An affordable and award-winning ELD solution;
Highly efficient DVIR procedure that makes vehicle maintenance far easier;
Intelligent use of automation, recording crucial data that minimizes driver input, including automatic alerts for upcoming HOS violations;
Reliable fleet technology that's partnered with an industry leader in Fleet Complete.
Cons
Somewhat limited fleet management solutions – everything else available through Fleet Complete;
Smartphone technology – some fleets will prefer to have their ELD as part of a standalone hardware solution;
Poor customer service;
Sometimes glitchy software that seems to be prone to issues that take some time to resolve.
Website: https://www.bigroad.com/
Disclaimer: Fleetlogging.com is a general business information website only. The material and information on this website should not be relied upon for making any business or legal decisions. We cannot recommend any company and/or product, nor assess your suitability for any product and/or company listed here.