Blue Ink Tech is a US-based fleet software and hardware provider that offers solutions that can increase compliance, reduce administration and increase efficiency. Their range of tools has been designed to make your business work smarter, not harder with the increased data knowledge. They provide a range of tools that integrate through their app available on desktop, Android and Apple so it can be accessed any time from anywhere.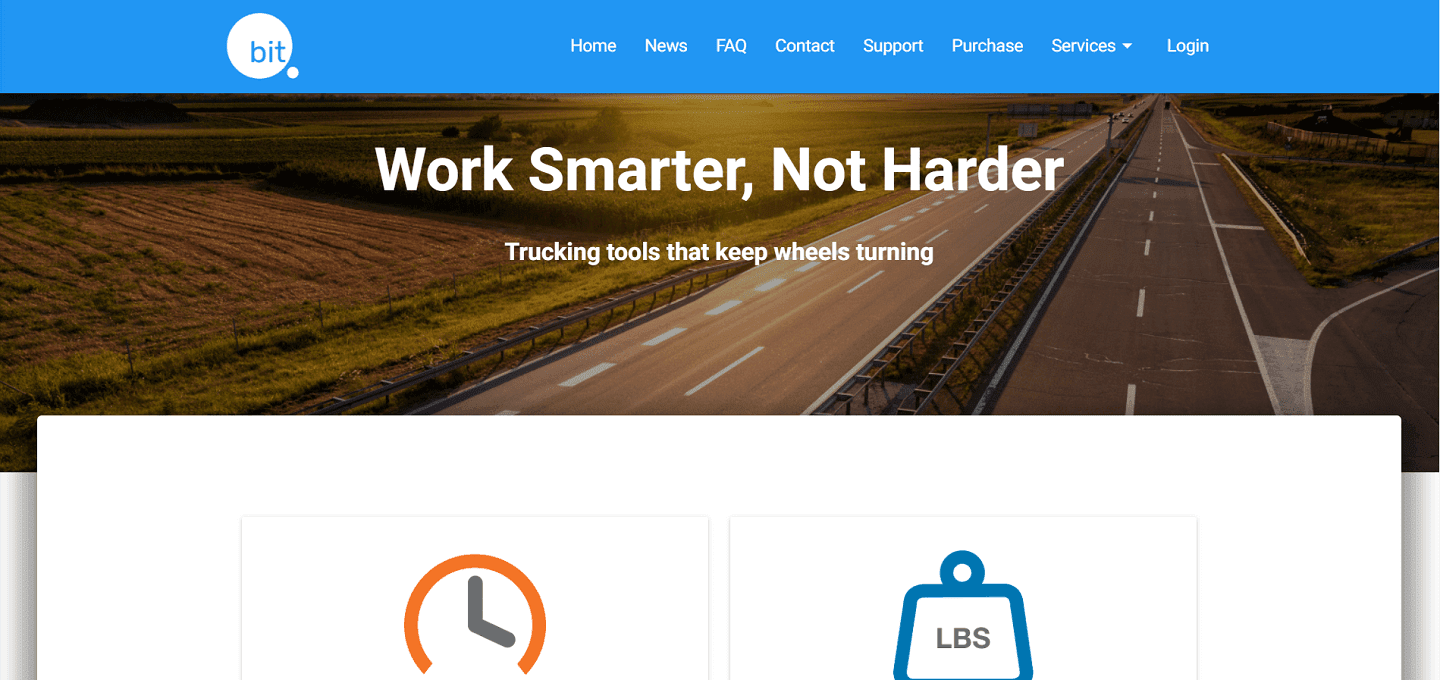 Blue Ink Tech Features & Services
Electronic logging device
Blue Ink Tech offers electronic logging devices (ELD) that are suitable for heavy-duty vehicles and medium-duty vehicles. Their devices connect via Bluetooth to a mobile phone or tablet to provide data about your vehicle. The data collected helps maintain HoS logs which can keep your fleet compliant.
The ELDs can also provide data about the vehicle condition by transmitting vehicle fault codes and other issues. The devices are portable and can be used in any vehicle. It can track mileage and match up with fuel receipts.
The ELD integrates with their app which is easy to use and can manage your logbooks, help you keep up to date on vehicle inspection reports, track fault codes and set up alerts. The app is available on Android and Apple.
Air Scale
Blue Ink Tech's Air Scale assists businesses to track loading weights and aid administration which can help you avoid fines. The Air Scale provides 99% accuracy for the axle, cargo and gross vehicle weight with proper calibration.
Air Scale is a wireless pressure sensor which uses the pressure in your air suspension to accurately weigh the load in the app and it can be used anywhere. It has hydraulic fittings and a year battery life. They are quick and easy to set up and connect to your app.
It can also give insight into your operations which can include historical weights and route maps, load tracking and PDF weight tickets. This information can help you save time and money on your operations.
IFTA Reports
Blue Ink Tech offers IFTA Reports that allow you to track mileage and fuel receipts. The tool allows you to scan fuel receipts in the app and send them instantly to the office. The mileage is tracked through the ELD and then can be separated by region.
It can also track your routes and report on the vehicle usage and tax reports which can reduce your admin and errors. You can also use the data provided to calculate your estimated MPG for your fleet.
Fleet Tracking
Blue Ink Tech provides fleet tracking or visibility software which allows you to see the location of your vehicles and drivers in real-time and it can store historical data. This includes being able to get a snapshot of what happened at a specific time and being able to see when drivers are being held up.
The fleet tracking tool also includes a traffic feature which enables you to see what traffic is ahead and make smarter decisions about the routes you take. The data collected can also help you to keep your vehicles' load maximised by knowing where your vehicles are and the hours they have available.
Blue Ink Tech Reviews and Ratings
There is only one review available for Blue Ink Tech on the customer review sites that cater for fleet management solutions. The review is on Trustpilot and the reviewer gives them an excellent score of 5 out of 5 but it has been moderated to 3.7 out of 5. The comments with the review are that the US-based support is great.
Trustpilot – 3.7/5 (based on 1 review)
Capterra – no reviews
G2 – no reviews
Featured Customers – no reviews
Facebook – no reviews
Pros
They offer a broad range of tools that help fleet managers to keep their vehicles compliant
Provides tools to manage your fuel usage and receipts
Offers Air Scale to easily discover the weight of the load and communicate key load data
Cons
Doesn't offer a complete fleet management solution like others do as they don't provide maintenance and scheduling/dispatch options
They do not offer dash cams or driver behaviour monitor
US-based company with no local support
Virtually no customer reviews to provide independent information on the product performance
Website: https://www.blueinktech.com/
Disclaimer: Fleetlogging.com is a general business information website only. The material and information on this website should not be relied upon for making any business or legal decisions. We cannot recommend any company and/or product, nor assess your suitability for any product and/or company listed here.