Brickhouse Security is a 'premier supplier of security and surveillance solutions' for businesses all over the globe. Although they service a huge range of different industries, fleet tracking is one of their biggest services and they count more than 40,000 small businesses as customers around the world today.
So can Brickhouse Security's highly-trained security advisors help you look after your fleet? Is their fleet tracking solution worth your investment? And which features are included in their GPS Fleet Tracking Solutions as standard? Let's take a closer look at what Brickhouse Security offers and what the reviews say.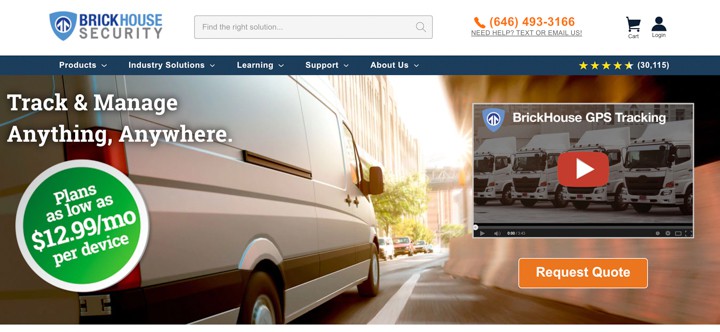 Brickhouse Security Features & Services
GPS Fleet Tracking;
GPS Trackers;
Geofencing;
Custom Reports;
Vehicle Recovery and Theft Protection.
GPS Fleet Tracking
Brickhouse Security offers GPS Fleet Tracking that promises to track "anything, anywhere." Crucially, their GPS tracking allows you to manage your drivers and vehicles as well.
They focus on offering highly accurate and dependable GPS tracking. With few other standard telematics solutions offered, Brickhouse Security can dedicate more time and energy to offering the most comprehensive fleet tracking solution possible.
They offer many important GPS tracking features. That begins with an impressive range of robust GPS trackers (more on them later) and finishes with a powerful 'enterprise-class platform' for managing fleets of any size, with all of your assets viewable on one detailed screen.
Real-time vehicle tracking helps you improve your customer service infinitely. Instead of guessing delivery times and establishing connections with a margin of error included, highly-accurate positioning and planning tools help you to provide customers with precise delivery times. You'll win clients for life with super-fast response times.
Instant vehicle location alerts show you which driver is closest to a job so that you can dispatch the nearest driver in a matter of seconds. This clear, effective process makes for happy drivers and even happier customers. You can also establish geofences. These virtual fences will notify your team when a driver strays from the intended delivery route.
But all of these benefits focus on the physical process of tracking drivers and delivering goods to customers: fleet tracking with Brickhouse Security has many other benefits. Optimized routing, geofencing, and advanced trip reporting reduces your overheads and maximizes the efficiency of your fleet.
With international capabilities, you can seamlessly track assets, vehicles, and even drivers throughout North America. Either log-in to your user profile on the smartphone app, or simply start-up the secure website to view live tracking.
GPS Trackers
Few companies market as many GPS trackers as Brickhouse Security and there truly is a tracker for every fleet requirement. The trackers on offer have been curated to provide the best technology available on the market.
Trackers come in a variety of forms and shapes. Importantly, the configuration and installation of the trackers within vehicle cabs are flexible and they can be powered in a number of ways. For many fleet teams, simple plug-and-play trackers can be installed in seconds.
For heavy-duty trucks with the need for constant and reliable tracking, trackers can be hardwired into the vehicle. For other tracking needs (such as asset tracking), battery-powered trackers can either provide a short-term tracking solution, or a long-term plan that sends location pings intermittently.
Real-time GPS trackers transmit location data to Brickhouse Security's GPS tracking platform. From there, you can review the location of your tracker live. You can also receive notifications about specific activity types, and access all the historical data imaginable to see where your tracker has been.
Custom Reports
The value of GPS tracking is compiled in powerful customer reports. This data allows your teams to spot trends, identify opportunities, and find new ways to improve the productivity of your fleet while keeping costs low.
The significant cost of fuel, for example, can be tracked with GPS Fleet Tracking. Managers can monitor mileage-per-gallon-consumed, vehicle emissions, and even idle time thanks to these reports. Teams can then use this data to take active control of fuel consumption and educate drivers in the process. Your fleet can operate with fewer emissions and greater savings on fuel costs.
But there can be other savings too. Idle time is the bugbear of many fleet managers throughout the industry – it can be greatly reduced by analyzing idle time reports. Other customized reports help your team to monitor speed (therefore reducing risk and fuel consumption) and manage routes more efficiently as well.
Vehicle Recovery and Theft Protection
This one's in the name, isn't it? One of your top priorities as a fleet manager is protecting your assets. Fleets can cost many millions of dollars, and it's important that those goods are properly secured when not in use.
Brickhouse Security is an expert in the security sector. They can provide anti-theft solutions to help you locate a stolen vehicle before the thieves get away with it.
You can lower your insurance premium by as much as 15% when you install a GPS-based theft recovery device.
Brickhouse Security Reviews and Ratings
Brickhouse Security has amassed a plethora of customer reviews online. Unfortunately for us, many of these reviews appear on the Brickhouse Security website: there are few reviews compiled on unbiased, impartial third-party sites.
One of the biggest omissions is Capterra – Brickhouse Security hasn't recorded a single customer review on this powerful platform. With no entries on the useful G2 site either, it would appear that they are only just beginning to commit to unbiased reviews.
That's confirmed with their showing on TrustPilot where there are only two user reviews to analyze. One review (1/5 rating) even calls out "fake reviews" on Brickhouse Security's website and laments a 'bad product which they have many complaints about. The other review (5/5 rating) is much more positive.
SiteJabber, on the other hand, has a good mix of reviews, leading to a favorable 4/5 rating. While some users complain of poor trackers that come with no installation instructions, others find the setup straightforward. There are some eye-raising reviews that point out poor qualities including an unresponsive customer service team, faulty tracking, and poor battery life. However, with an overall rating of 4/5, there are more good reviews than bad.
Things get more interesting again with reviews on ShopperApproved, a website that supposedly logs the reviews from genuine customers that have proof of purchase. From an astonishing 30,000+ reviews, the overall rating is remarkably high at 4.6/5. From the few complaints available, users criticize the app software, product quality, and tracker reliability. That being said, it would seem that users are impressed overall.
Brickhouse Security offers a powerful GPS Fleet Tracking solution that promises to keep your vehicles safe while optimizing your processes. When more reviews are available on non-biased platforms, we hope that we can evaluate a more honest representation of the customer experience.
TrustPilot – 3.5/5 (based on 2 reviews)
SiteJabber – 4/5 (based on 69 reviews)
Shopper Approved – 4.6/5 (based on 30,298)
Pros
Value-for-money solutions that focus on fleet security and ways to protect your assets;
A proactive customer service team with quick responses;
Highly reliable GPS Tracking available anywhere in the world with a range of industry-leading trackers;
Powerful reports to help your team reduce costs and improve productivity.
Cons
Limited telematics options: dashcams and driver coaching are not included;
No dedicated electronic logging device offered;
Questionable authenticity of many glowing reviews on their website.
Website: https://www.brickhousesecurity.com
Disclaimer: Fleetlogging.com is a general business information website only. The material and information on this website should not be relied upon for making any business or legal decisions. We cannot recommend any company and/or product, nor assess your suitability for any product and/or company listed here.