BridgeHaul is an American based software developer that caters for shippers, carriers and owner-operators. They provide fleet management solutions and electronic logging devices with no upfront fees, no hardware and no contracts using a free all-in-one app. Their software is designed to help businesses to save time and money on their fleets by creating efficiencies through technology.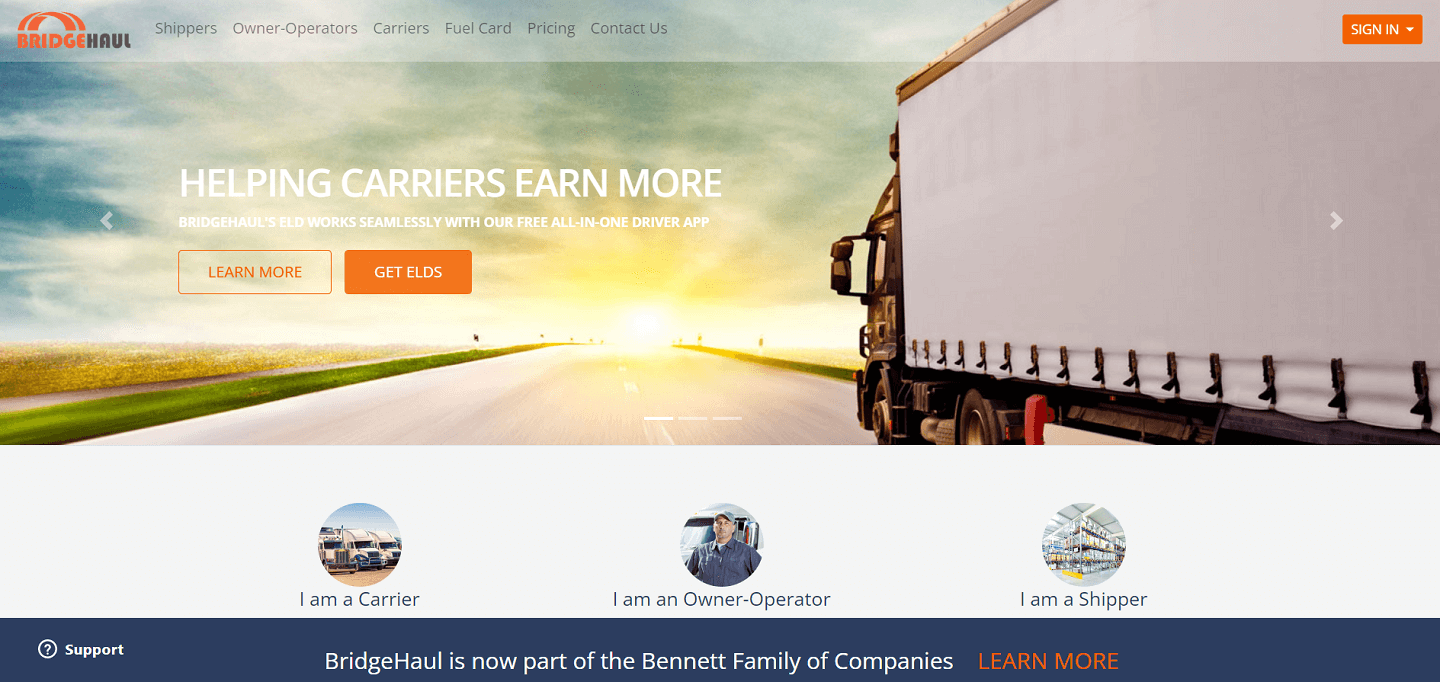 BridgeHaul Features & Services
Fleet management
Electronic logging devices
Fleet Management
BridgeHaul offers solutions for carriers that go beyond most fleet management solutions. They provide improved fleet awareness with real-time tracking and the ability to filter driver availability, ETAs and more.
The software can assist in dispatching loads and managing documents by being able to send information directly to drivers and instantly upload electronic documents. It also incorporates an electronic logging device and DVIR which is affordable and easy to use.
Their fleet management software provides custom reporting that can assist with your payroll, track driver availability, monitor maintenance, and report on financials and more.
Electronic Logging Devices
BridgeHaul offers electronic logging devices (ELD) that provide owner-operators with advanced tools in an easy-to-use and free mobile app. The app has been designed to be reliable and provide the data you need to be compliant.
The ELD software provides a truck stop locator with routing information and night mode to improve trip planning. It can also be used to find loads, document vehicle inspections, and complete Hours of Service reports.
The ELD software also allows you to capture electronic documents and upload BoLs, PoDs and more using your camera.
BridgeHaul Reviews and Ratings
There are very few customer reviews available for BridgeHaul on review sites suitable for fleet management software. Facebook has the only reviews which is only four and these are mixed with an overall score of 3.7 out of 5. There are not any comments with the reviews.
Trustpilot – no reviews
Capterra – no reviews
G2 – no reviews
Featured Customers – no reviews
Facebook – 3.7/5 (based on 4 reviews)
Pros
Provides a fleet management solution that offers a wide range of functionality
Offers an ELD solution that doesn't require a device and a free app
Easy-to-use software that can be accessed from anywhere through the app
The software can bring together shippers and carriers
The ELD software can help you to maximise efficiency by finding loads
Cons
They don't offer dash cams as part of their range
American based with no local support
Very few customers reviews with no comments to give insight into their opinion
Website: https://bridgehaul.com/
Disclaimer: Fleetlogging.com is a general business information website only. The material and information on this website should not be relied upon for making any business or legal decisions. We cannot recommend any company and/or product, nor assess your suitability for any product and/or company listed here.