CarrierWeb is an American fleet software provider that offers Mobile Resource Management solutions to assist businesses in managing their fleets and driver workflow which can improve productivity. They have offices in Europe, Asia and South America to help them serve each of the continents. They offer tailored solutions that can be integrated with third-party software and offer consulting to optimise the program and solutions to your needs.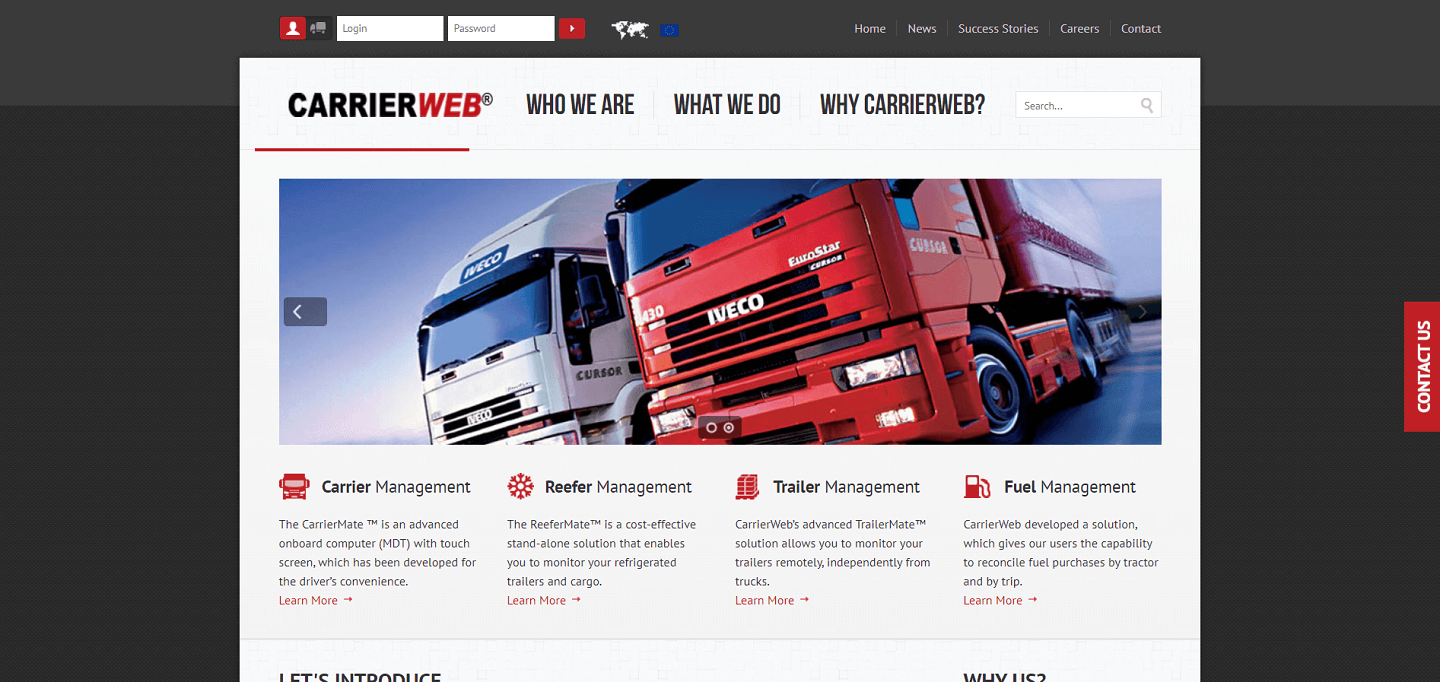 CarrierWeb Features & Services
Carrier management
Reefer management
Trailer management
Fuel management
Carrier Management
CarrierWeb offers two carrier management tools to help businesses to monitor their fleets. CarrierMate Mobile Display Terminal is an onboard computer with a touch screen to assist with mobile communications and management of trucks, trailers, drivers and loads.
CarrierMate Modem is a GPRS mounted unit that communicates continuously with the CarrierWeb website. It provides minute-by-minute positioning of vehicles, geofencing, landmarks, points of interest, and optional fuel sensor.
You can send and receive data including job orders, collect trip data and positioning data, receive text messages, and fuel consumption analysis.
The Mobile Display Terminal in addition offers unlimited data communication, optional electronic logging, driver monitoring such as activities and performance, optional truck attribute navigation, optional in-cab scanning via the GPRS network, and job-based integration.
Reefer Management
ReeferMate is a two-way control and management solution that is a standalone solution for monitoring refrigerated trailers and cargo. It provides positioning data for trailers with email and mobile alerts when pre-set thresholds are reached such as temperature.
This monitor unit is integrated with Carrier Transicold and Thermo King microprocessors to monitor temperatures, operational statuses and changes. It provides GPS tracking, two-way command and control, and optional door sensors.
This technology can help reduce the potential loss or damage of loads, improve the utilisation of assets, increase visibility into your operations, reduce maintenance costs, and improve customer service.
Trailer Management
TrailerMate is a tracking device to help businesses to track their high-value cargo. It provides independent tracking with precise information about the location of the trailer and the status of the trailer such as whether it is hooked or not.
The tracker can send alerts about theft, tampering and geofence violations instantly through messaging or email to keep your cargo safe and secure. The software allows you to set landmarks and geofences to aid tracking and restrictions.
The device assists businesses by improving visibility into the operations, increasing utilisation, assisting with fuel loss, and can improve customer service.
Fuel Management
CarrierWeb offers a Fuel Theft Detection Solution that is linked with CarrierMate to detect fuel loss when the ignition is turned off. It reports the fuel level hourly along with other driver performance information. The fuel gauge detection device is connected to the J1939 or J1708 CANbus.
The device will compare fuel purchase data with fuel level to detect any variances. They also monitor the fuel level when the ignition is off and can send alerts when there is rapid fuel loss. This helps detect theft and increase revenues as well as improve the visibility of the truck security.
CarrierWeb Reviews and Ratings
There are no reviews for CarrierWeb on any of the leading customer review sites for fleet management.
Trustpilot – no reviews
Capterra – no reviews
G2 – no reviews
Featured Customers – no reviews
Facebook – no reviews
Pros
Offers a range of tracking devices to assist businesses to have greater visibility of their operations and make savings
Provides independent solutions to allow you to track high-value cargo
Offers alert systems to allow businesses to monitor cargo conditions to reduce loss and wastage
Cons
Their products don't help businesses manage their fleet maintenance or efficiency
They do not offer dash cam products
There are no customer reviews, so no independent product information is available
Website: https://www.carrierweb.com/eu/
Disclaimer: Fleetlogging.com is a general business information website only. The material and information on this website should not be relied upon for making any business or legal decisions. We cannot recommend any company and/or product, nor assess your suitability for any product and/or company listed here.