Keeping your fleet operating at maximum efficiency means your drivers can't waste time searching for in-network gas stations. The vehicles in your fleet might pass by Chevron and Texaco stations every day, but accessibility isn't the only consideration when choosing a fleet card.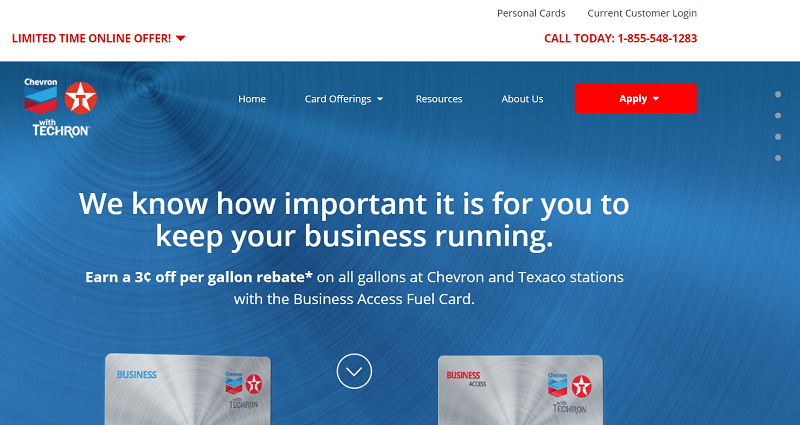 Today, we're reviewing Chevron and Texaco Fuel and Fleet Cards. Is this the right fleet card to keep your business rolling? Here's a closer look at its pros and cons, plus an overview of what real customers have to say.
What is a Chevron and Texaco Fuel and Fleet Card?
A fuel and fleet card membership allows you to issue individual fleet cards to every driver in your organization. They can use the card to pay for gas and other simple services, or even major repairs in the event a problem occurs on the road.
All Chevron/Texaco fleet cards give you total control over their use down to the individual driver. Additionally, you can adjust those controls whenever you like with the intuitive mobile app or from your desktop.
Plus, fleet cards eliminate cumbersome record-keeping. Every purchase is detailed in extensive reports you're sent for free. It helps you maximize route efficiency and makes tax time simpler.
Who is the Chevron Texaco Fleet Card For?
You'll find most of their 8,000 gas stations and service options within the Northwest, Southwest, and Southeast. If you can visit Chevron and Texaco stations exclusively, then using the card might make a lot of sense. It doesn't cost anything but allows you to easily keep track of practically all fleet operations.
The size of your fleet doesn't matter much. It can be a beneficial service, even if your fleet only has a few vehicles. Unlike some competitors, they don't offer custom plans based on business size, but that's not a significant strike against them.  
Who are the Chevron Texaco Fleet Cards For?
They have two card options:
Business Card
Business Access
Their Business Card is the best option if route logistics allows your fleet to visit Texaco and Chevron stations exclusively. It has no fees and provides you with full access to tracking, report generation, customer support, and all other features.
However, if you can't visit Chevron/Texaco stations exclusively, the Business Access card might be a better option. It provides all the same features, but with a wider network of gas station options. Your team can use these cards at any major gas or service station.
The difference between the two cards is the price. With the Access card, you're charged $1 for every fuel transaction outside the Chevron Texaco network. Plus, additional setup fees may apply. These cards are popular among nationwide fleets, where the convenience and control outweigh the added costs.
The Access card also lets you earn discounts based on gallons purchased. If you buy 10,000 gallons or more of gas each month, you can earn $.06 off at the pump. Note that only gas purchased at a Chevron or Texaco station applies towards the discount.
What Chevron Texaco Fleet Card Customers Say
Although you won't find many reviews on the Chevron Texaco fleet card, the reviews that are available don't paint a great picture in one significant aspect.
Ripoff Report features a lengthy review detailing one user's difficulty with billing. His statement arrived late in the mail, and then he was charged a $75 late fee and a 9.99% finance charge. A few other reviews also describe issues with bills that are slow to arrive and have unexpected fees.
While complaints are relatively hard to find, especially considering the size of the company, they should be taken seriously. Even small unexpected fees can add up quickly.
The issues here aren't significant enough to warn you away from Chevron Texaco fleet cards. However, you'll want to watch your bill carefully. Also, it seems best to deal with billing online instead of using paper billing.
The Bottom Line
Are Chevron and Texaco Fuel and Fleet cards the best choice for your business? The answer depends on where you operate.
If you're in the Northwest, Southwest, and Southeast, the Business card has definite benefits. You can track and control all aspects of your company's fuel and service spending. However, you might want to skip the Business card if you primarily operate away from Chevron and Texaco locations.   
Their Business Access card is well-suited for large fleets that crisscross the country. While extra fees apply, you also get a versatile, easy-to-use monitoring system.   
Unfortunately, the complaints about billing give us reservations. You'll want to pay close attention to billing deadlines and potential hidden charges. While certainly it's not an issue for every customer, it's still a potential problem worth noting.  
Our overall verdict? A good choice if you're within their gas station network, but keep a close on your bill's accuracy and due date.