ClearPathGPS has all the solutions you need to take control of your fleet. It's determined to help you improve your operations and your bottom line with an easy-to-use, intuitive GPS tracking software and app. Launched as recently as 2013, ClearPathGPS already has thousands of customers benefitting from real-time visibility of their entire fleet.
But do those solutions include everything you need for a successful fleet? What do the user reviews say? Are ClearPathGPS' solutions suitable for a fleet of your size? And who has it partnered with to fill in any fleet management service gaps? Keep on reading to find out everything you need to know.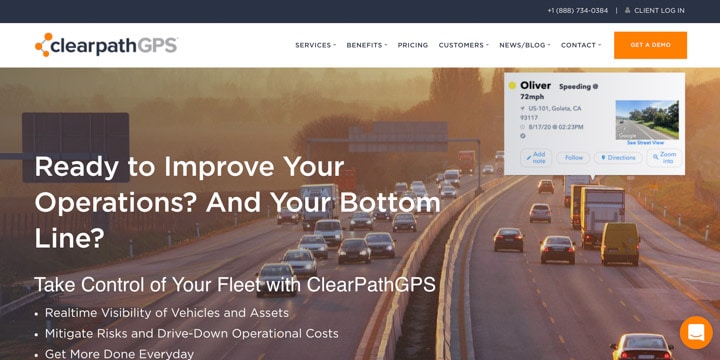 Clearpath GPS Features & Services
GPS Vehicle Tracking;
GPS Asset Tracking;
ELD/HOS Compliance;
Routing;
Integrations;
Maintenance Tracking;
Geofence and Geo zones.
GPS Vehicle Tracking
ClearPathGPS understands that business happens in real-time. That being the case, you need a GPS tracking solution that not only keeps up but delivers all the insight, security, and visibility you need. Sticking to that principle, it has developed a powerful GPS Vehicle Tracking solution that helps you maintain control and solve critical issues before they become a problem.
The GPS Vehicle Tracking Management Portal is all-encompassing. You get complete visibility of your fleet: watch drivers on job sites; drivers on their break; drivers heading home after their shift. Your dispatching team can load the portal in a matter of seconds and, when they do, they'll be able to track and manage every single asset on the road that has one of ClearPathGPS' trackers attached.
But that software isn't just limited to your office space. The tracking app, designed for smartphones, ensures that you can track your drivers and vehicles on the go. Contact drivers about job requests even when you're out-of-office, and take control of potential issues even when you're not in front of your work computer.
This 24/7 real-time tracking is essential for efficient fleet operations, but it's also important for timecards and accurate billing. There's no disputing hours worked when everything is electronically logged. Driver status is tracked, and every stop, start, and total time at each location creates virtual time card reports. Brilliant for timecards, even better for proof of service and client billing.
On top of that, you can use dynamic geofencing technology to create virtual boundaries and take further control of your assets. Ensure that drivers remain within a pre-determined working area, or draw a line around your remote asset to receive alerts whenever that boundary is penetrated. It's an essential technology that boosts asset security and helps to deter theft.
Geofence reports are just one of many reports you can customize your software to produce. Those reports will detail which vehicle entered the geozone, how long it stayed, and exactly when it left. That information is particularly useful when it comes to providing customers with accurate delivery data. But other live reports include a summary of risky driver behavior, idle time, fuel efficiency, and more.
Dashcams
ClearPathGPS also incorporates dashcam technology into its portfolio of fleet management solutions. A video and picture feed provides an enhanced level of security, with additional data to help you coach better drivers and promote the culture of safety within your fleet.
The dashcams themselves can be installed in minutes. They're high-quality cameras too, with a tamper-proof video that can always be relied on. A fast LTE connection uploads video footage to the cloud instantly. That way, your office team can review incidents moments after they've occurred, taking the next necessary steps.
The cameras use an HD 120° wide-angle lens, with 720p road-facing and driver-facing lenses. They can record up to 28 hours of drive-time and even include smart response technology. High temperatures, broken glass, impact, and theft are all detected instantly. And, when in Guard Mode, an LED spotlight can deter theft whenever motion is detected.
Routing
The most profitable fleet is the most efficient one, and efficient routing is essential to keep costs low and customers happy. ClearPathGPS has integrated with Route4Me to provide "integrated route optimization planning, dispatch, and vehicle tracking."
Live traffic updates are displayed on the ClearPathGPS Fleet Management Platform. Your office team can use the live data to make real-time adjustments to driver routes based on the GPS tracking data. You have all the information you need to keep your dispatch operation streamlined.
Over time, Route4Me technology overlays your routing data onto billions of traffic patterns in its database. That way, it can systematically re-sequence your routes and naturally avoid areas known for heavy congestion – that means quick delivery times, more efficient driving, and a reduction in idle time across your fleet.
ELD/HOS Compliance
Finally, ClearPathGPS has also developed a simple, easy-to-use, and affordable ELD solution. ClearPathGPS ELD Compliant eLogs make it easy for your driver to log hours, avoid violations, and stay on the right side of even the most recent regulations.
Paper logs are eliminated completely. Instead, the app (which can be used on any Android) automatically logs hours and shows drivers a countdown until a HOS violation would occur. Office teams can view that too, and that means that anybody can step in before a potential violation takes place.
It's fully FMCSA compliant and can also be used to store vehicle inspection data. The app is designed to make life easier for drivers while accurately storing and logging mandatory data that is accurate and can be relied on.
Clearpath GPS Reviews and Ratings
ClearPathGPS has focused on developing a smart portfolio of fleet tracking products, and the user reviews attest to that. It begins on TrustPilot, where ClearPathGPS has an astonishingly high score of 4.9/5 from more than 150 reviews. There are next-to-no complaints, with an incredible 95% of users leaving a 5* review. The customer service team is constantly praised, but users also enjoy a 'great product' that's easy to install and Dashcam technology 'that really works.'
Capterra reviews are similarly positive. Again, from around 100 reviews, ClearPathGPS has a hugely impressive 4.9/5 rating. One customer goes so far as to say that the fleet management system 'helps in every way' and creates countless ways to improve efficiency. The product is 'top notch' and service is dependable. In fact, the only complaint that users have is they can now spot 'surprisingly' bad employees and watch theft as it happens.
There's only one G2 review, but there are no surprises to discover that it too is a 5* review.
Matt d'Angelo of Business.com said the following in his detailed Clearpath GPS review:
"ClearPathGPS is a good value for small business owners, with transparent pricing for its excellent fleet tracking services."
For small-to-medium fleets, ClearPathGPS offers a brilliant fleet management solution. With a host of technologies, tools, and products, it can provide your team with reliable GPS tracking and a host of data that you can use to improve operations.
TrustPilot – 4.9/5 (based on 153 reviews)
Capterra – 4.9/5 (based on 96 reviews)
G2 – 5/5 (based on 1 review)
Pros
Highly accurate GPS tracking that incorporates a number of technologies;
A friendly customer service team that solves problems fast;
Integrations with other companies to cover gaps in the product portfolio;
Intelligent routing and dispatch that will get slicker and more accurate the more it is used.
Cons
Website: https://www.clearpathgps.com/
Disclaimer: Fleetlogging.com is a general business information website only. The material and information on this website should not be relied upon for making any business or legal decisions. We cannot recommend any company and/or product, nor assess your suitability for any product and/or company listed here.