Coretex is determined to 'deliver the future of fleet management' with connected devices and vehicles that are fully monitored. For more than 15 years, Coretex has been committed to helping operators manage their fleets more safely, reduce fuel consumption, and improve productivity across the board.
Despite that, there are currently no reviews of Coretex available online to analyze. We will, however, thoroughly inspect what Coretex offers and discuss whether or not their fleet management and ELD solutions are likely to provide your team with the information you need to move the business forward.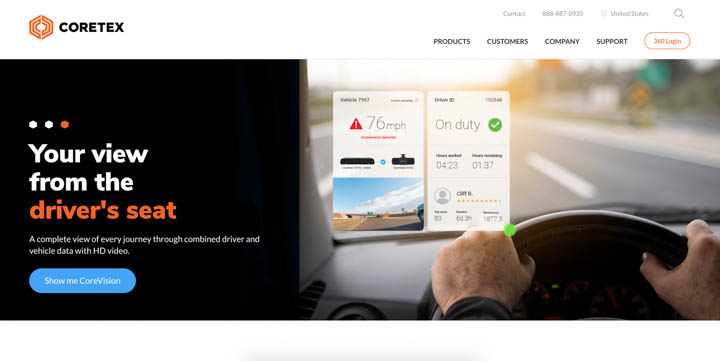 Coretex Features & Services
ELD Compliance;
Vehicle Inspections;
Auto Status;
Proof of Service;
Fleet Maintenance;
Driver Behavior & Incident Replay;
CoreVision Dashcam;
GPS Tracking
Coretex aims to make fleet management and compliance with ELD and FSMA simple. This is delivered through the Coretex CoreHub – designed to manage all of the data from the Coretex 360 Cloud within one powerful platform.
The complete fleet management package features a range of different software and solutions, with GPS tracking at the heart of it all. The industry-leading tracking technology allows your team to monitor your entire fleet in unprecedented detail while using the information at hand to make decisions and take action in real-time.
The entire fleet management solution is available for fleets of all sizes and combines ease-of-use with security and flexibility. This is reflected in the GPS tracking: it's a complete system that captures compliance, safety, efficiency, and even customer service too.
Real-time location is displayed for the office team by using cloud telematics. It's also possible to focus on activity within specific geographic areas with on-device and cloud geofencing. With highly accurate geofence activity recording, you'll know exactly when vehicles enter and leave specific areas, and alarms will notify your team of any unexpected movement. Auto-Statusing can also be configured with geofence activity and KPIs can be assigned to specific geofences.
These real-time alerts and 24/7 visibility features allow your team to improve maintenance and reduce costs across the board. You'll see increased asset utilization with a fully compliant team.
On top of that, safety is enhanced immeasurably. When you know where each driver is, what vehicle they're using, what the condition of that vehicle is, and how each task will come together, you'll be able to monitor drivers and keep your team safe. Dashcam technology, fatigue management, and real-time alerts are additional features that rely on Coretex's top-quality fleet tracking technology and will optimize your fleet management procedures.
ELD Compliance
But none of this matters if your fleet isn't compliant. Thankfully, Coretex has you covered there as well – it aims to turn compliance into a competitive advantage through Coretex ELD.
Coretex ELD is the only fully integrated ELD solution available on the market today. Coretex claims to be the 'best in the class' when it comes to fleet safety on the road. The in-cab ELD app can be displayed on either a mobile device or the Coretex-provided tablet. All drivers need to do is log in and the ELD will begin working.
Engine hours, distance logging, and other data is automatically collected through the sensors that are connected to the Coretex platform. There are alerts for violations and unidentified driving events, as well as DVIR reports available through the app too.
As for management teams, Coretex ELD significantly reduces paperwork while keeping fleets compliant and offering effective dispatch monitoring.
Fleet Maintenance
As well as offering a host of other fleet management solutions and technologies, Coretex can also help your team stay on top of fleet servicing and maintenance with fleet maintenance.
Custom plans can be created to suit your vehicle's specific requirements, and you can establish how often the services should occur by distance traveled, time, or other. Every service is logged in a system that completely removes manual scheduling and gives your team more time to focus on organizing your fleet.
Alerts and reminders mean that you'll never miss a vital service, and it can even be integrated with DVIR to ensure that faults are registered, identified, and logged for repair.
Coretex Reviews and Ratings
Remarkably, despite its presence in industry and a powerful range of fleet management solutions, there are no reviews for Coretex available online. We look forward to updating this page when Coretex commits to displaying impartial customer experiences on any of TrustPilot, Capterra, G2, or even Facebook.
Website: https://www.coretex.com/
Disclaimer: Fleetlogging.com is a general business information website only. The material and information on this website should not be relied upon for making any business or legal decisions. We cannot recommend any company and/or product, nor assess your suitability for any product and/or company listed here.