Cyngn is an American-based autonomous vehicle technology company that has been operating since 2017. They bring together robotaxi-level autonomous driving software as well as off-the-shelf hardware. They offer precise analytics to provide industrial fleets with powerful information about their vehicles. Their technology is flexible and scalable and offers a fully integrated fleet solution.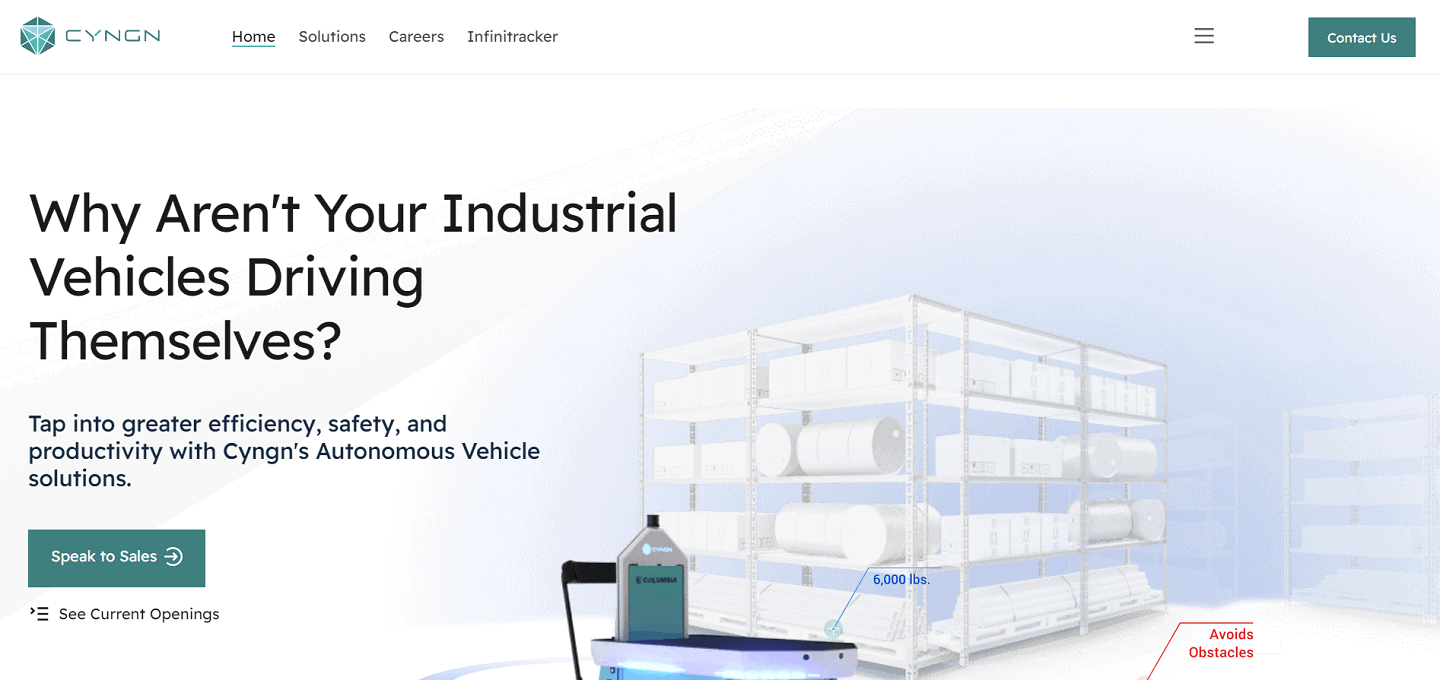 Cyngn Features & Services
Autonomous driving solution
Analytics
DriveMod
Cyngn's DrivMod is their full-stack autonomous driving solution that can integrate with off-the-shelf sensing hardware to create a full solution. It has been engineered to integrate with existing workflows and allows you to program it to match your needs. It can integrate with your existing fleet management software to allow you to monitor and manage your vehicles using their software.
Their autonomous vehicle technology is suitable for a range of vehicles including forklifts, expediters, payloaders and stock chasers. They provide AI software coupled with sensors and hardware that can detect objects and obstructs in their path and find the optimal route. The advanced sensors and AI provide granular perception that can apply emergency brakes.
The software collects data that can improve your operations and advance your capabilities. The software can automatically update with over-the-air updates. Vehicles can also operate off the grid, and they will still log data whilst offline and will send the data when back online again.
Cyngn Insight
Cyngn Insight allows you to manage, monitor and control your fleet and optimise your operations. The data collected by Cyngn's autonomous vehicle provides a vast amount of information that can be used to refine resource allocation, increase productivity and manage predictive maintenance.
Asset Tracking
Cyngn offers integration with Infinitracker which is a GPS asset tracker that is suitable for tracking anything such as a pallet or a shipping crate. It allows you to know where your goods are whilst they are in transit and you can check it arrives in the right place.
The asset trackers have 15-year battery life and a global SIM card that can work everywhere on earth. The trackers can work in all weather and all seasons. They also offer additional features that allow you to track the temperature and acceleration of your assets.
The tracker can easily be attached to your asset by a zip tie or screw and once attached to the tracker it will record data which will be stored and transmitted via the cloud. The data collected includes location, speed, direction and temperature. They offer Bluetooth integration to connect with other IoT devices. The data sent to the cloud can be accessed via the Infinitracker web portal or through other asset management systems via an API.
Cyngn Reviews and Ratings
There are no customer reviews for Cyngn on the leading review sites suitable for fleet management solutions.
Trustpilot – no reviews
Capterra – no reviews
G2 – no reviews
Featured Customers – no reviews
Facebook – no reviews
Pros
They offer innovative autonomous vehicle solutions that can improve safety and efficiency
They provide a wealth of data that can help improve your operations
They offer an asset tracker that can monitor all kinds of goods to ensure they arrive at their destination safely
Cons
They don't offer traditional fleet management software but solutions that sit alongside them
They don't offer dash cams
American based support
No independent customer reviews to gauge opinions on products or service
Website: https://www.cyngn.com/
Disclaimer: Fleetlogging.com is a general business information website only. The material and information on this website should not be relied upon for making any business or legal decisions. We cannot recommend any company and/or product, nor assess your suitability for any product and/or company listed here.