Donlen claims to be the most customer-centric and technically advanced provider of financing and fleet management solutions. They aim to provide a strategic approach to help you reduce cost, improve efficiency, and increase driver safety and productivity.
Donlen was formed in 1965 as a fleet leasing and management company and they later merged with Wheels to grow their business. They provide high-level technology combined with personalised fleet management solutions that can reduce costs and improve efficiencies. They also can provide support on electrifying your fleet and support you with their expertise in sustainability, supply chain and strategic consultants.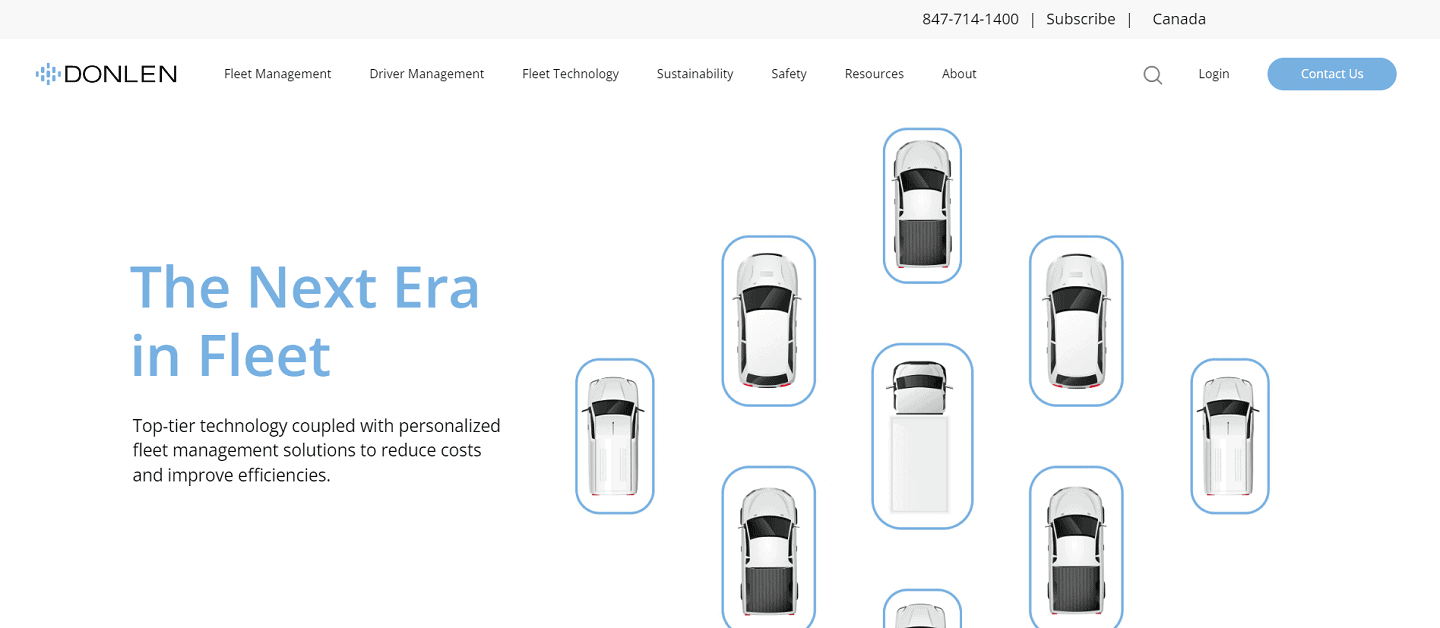 Donlen Features & Services
Fleet management
Vehicle management
Driver management
Fleet Management
Donlen offers a range of fleet technology tools to help fleet managers to better manage their fleets and optimise their use. This includes Vehicle Optimisation Model which provides predictive analytics through an interactive system that can assist with vehicle lifecycles and reduce the time and money spent.
Donlen provides a complete fleet management solution that allows you to optimise your fleet and better utilise drivers. This can help with route optimisation, driver retention, cost reduction and lowering your carbon emissions through utilising drivers, business and fleet vehicle management.
They offer outsourcing capabilities that can manage all aspects of your fleet which includes collaboration with fleet analysts to strategically run your fleet, so it is most efficient. They also offer strategic consulting services to help you to streamline your fleet by deploying a dedicated and knowledgeable consultant. They develop sustainable programs and tools which can help businesses to meet their sustainability objectives.
They also provide driver solutions which include telematic tools that allow you to track vehicles and drivers to stay compliant and achieve efficiency savings. Their FleetWeb fleet management system enables you to automate processes, increase business intelligence and is secure. It can be used for order entry, maintenance and fleet management.
Vehicle Management
Donlen offers services that allow you to manage the entire lifecycle of your fleet and ensure you get optimal ROI. From the acquisition of new vehicles, it allows you to streamline the process by providing qualified professionals and online tools to support vehicle acquisition, and they help you to explore financing solutions to best meet your company's needs. Their experts can also assist you with supply chain management which will help you to minimise disruption to your production and deliverability.
They provide a range of on-road services which include accident management to get you back on the road quickly and maintenance to keep your vehicles on the road and compliant. Fuel management tools to help you to reduce expenses and simplify the fuelling process. Violation and toll management to help reduce the risk and cut costs through electronic violation processing.
They offer DriverPoint Telematics which can change how you collect data on your fleet to improve safety, reduce costs and increase driver productivity. The software incorporates telematics, online driver training and driver scorecards which integrate fully with their fleet management platform.
Driver Management
Donlen offers driver management services that can improve driver efficiencies and safety through training and risk analysis.
The software can help streamline ordering to free up administration and ensure that the right vehicle is available. Manage fuel better using one of the most widely accepted fuel cards to help reduce expenses and simplify fuelling. It also helps you track vehicle usage more effectively separating any personal use from business use as well as forecasting use and reporting on your vehicle's lifecycle.
Donlen's accident management software can manage the recording and processing of driver incidents, accident repairs and recovering any losses from third parties. The accident management software can reduce administration and vehicle downtime. The software includes notifications about key information, the ability to access vehicle data through electronic logging devices and telematics.
Donlen Reviews and Ratings
There are only reviews available for Donlen on Featured Customers where there are 358 testimonials which rate them as 4.7 out of 5, 656 case studies which rated them as 4.8 out of 5, and 436 customer videos which rate them as 4.7 out of 5. They have an overall rating of 4.7 out of 5.
Comments from some of the reviewers included easy to use software and reduced the administrative time required.
Trustpilot – no reviews
Capterra – no reviews
G2 – no reviews
Featured Customers – 4.7/5 (based on 1,450 reviews)
Facebook – no reviews
Pros
Offers both software solutions and consultation services
Provides software that can reduce administrative time and save money
Software is user-friendly
Offers support on sustainability and electrifying your fleet
Cons
The company is based in the US and Canada with no UK office
Hardware options don't include dashcams
Software options don't support driver and vehicle scheduling or customer tracking information
Website: https://www.donlen.com/
Disclaimer: Fleetlogging.com is a general business information website only. The material and information on this website should not be relied upon for making any business or legal decisions. We cannot recommend any company and/or product, nor assess your suitability for any product and/or company listed here.