EAGLEi GPS is a Canadian based fleet and asset tracking solution provider. They provide a complete tracking solution that can be used in a range of vehicles and assets on a choice of plans. They also provide driver logs that assist with compliance and safety including DVIRs and HOS. They provide businesses with a free trial to sample the software before committing.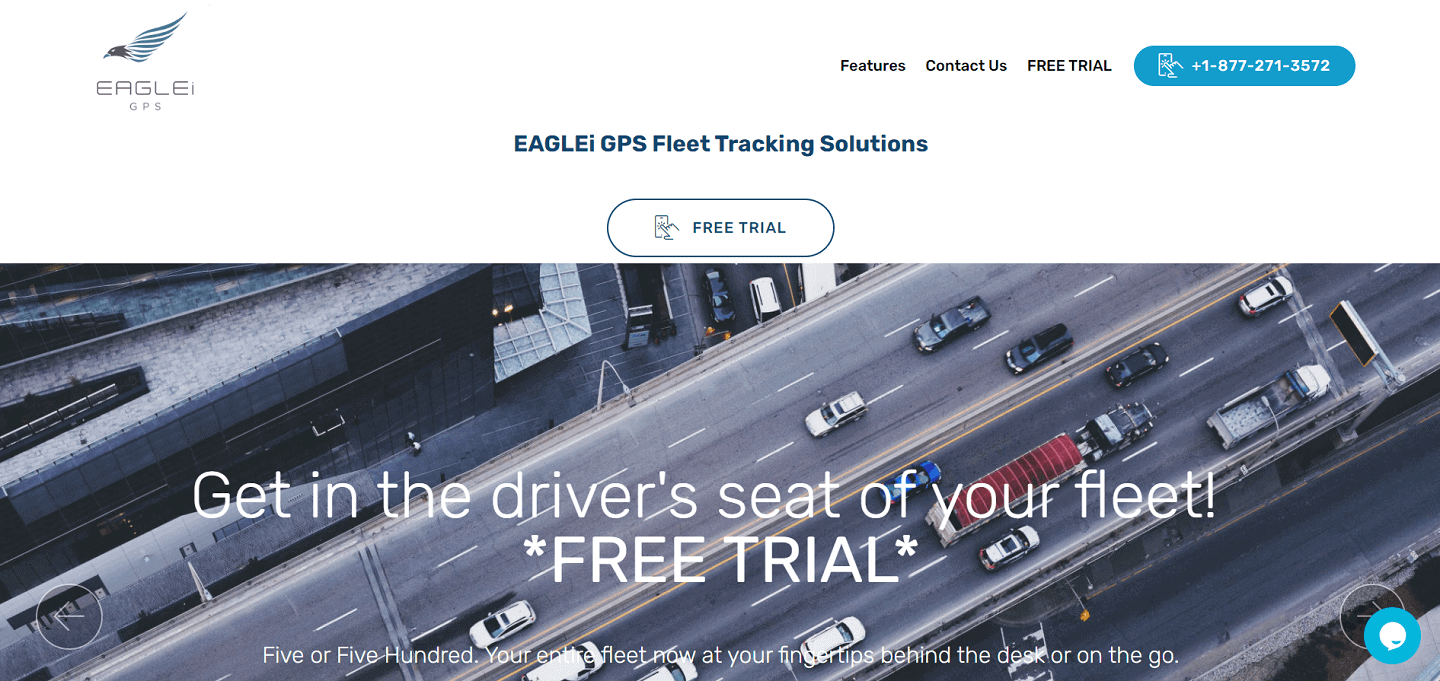 EAGLEi GPS Features & Services
Fleet and Asset Tracking
EAGLEi GPS offers GPS fleet tracking solutions that allow you to track your fleet and assets with 24/7 tracking to improve security and safety. They have designed their GPS fleet tracking solutions to be easy to use based on feedback from customers, with all information available within a few clicks.
The software allows you to access your data from anywhere including on your desktop or the app available on Android and iPhone. Through the software, you can easily locate vehicles and find the closest drivers to a job. They provide a detailed reporting facility and alerts which can notify you when set events or occurrences such as safety inspections, sensors, oil changes or geofence breaches happen.
They offer a choice of plans with different features and the option of monthly or a term price. They offer a free trial of their product.
Driver Logs
EAGLEi GPS provides the option to include driver logs and vehicle inspection reports in their software where you can manage them all in a single app. This includes Hours of Service (HOS) and electronic logging device (ELD).
The software has been designed to help keep your drivers and fleet compliant with working hours regulations and meet safety standards. This results in safer fleets and lower chances of accidents. Drivers can also complete DVIRs and submit them through any smart device.
The software also supports commercial vehicle inspections which can assist in speeding up roadside inspections as all critical data is available through the app and it is efficient as less paperwork is required. The app can be locked by the driver to allow inspectors to review and display only the information they need.
EAGLEi GPS Reviews and Ratings
There are no customer reviews for EAGLEi GPS on the review sites that cater for fleet management software.
Trustpilot – no reviews
Capterra – no reviews
G2 – no reviews
Featured Customers – no reviews
Facebook – no reviews
Pros
Easy to use tracking solutions with minimal clicks
Software that can help keep you compliant and safe
Online software is available on Android and Apple for access anywhere
They offer a free trial
Cons
Doesn't offer a full range of fleet management tools such as maintenance management, driver behaviour monitoring or scheduling
They don't offer dash cam integration
Canadian based business with no local support
There are no independent customer reviews to get information about their products or customer service
Website: https://eagleigps.com/
Disclaimer: Fleetlogging.com is a general business information website only. The material and information on this website should not be relied upon for making any business or legal decisions. We cannot recommend any company and/or product, nor assess your suitability for any product and/or company listed here.