Enterprise Fleet Management offers its customers a proactive fleet management service. Owned by the Taylor family of St. Louis, it serves every type of agency and organization with a medium-sized fleet, and that alone covers more than 500,000 vehicles across North America.
Enterprise Fleet Management is one of the biggest names in the business. It markets award-winning technology, full-service fleet management, and the expertise of the Enterprise brand. But how do its products compare? Is the full-service fleet management solution appropriate for you, and will it help you build a better fleet? Keep on reading to discover more.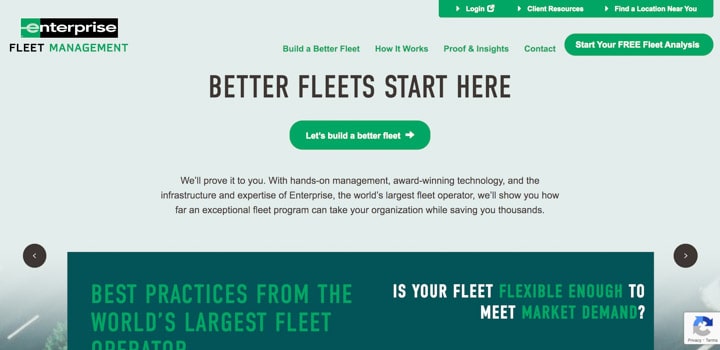 Enterprise Fleet Management Features & Services
Fleet Planning Technology;
Driver Compliance & ELD Solutions;
Real-Time Tracking;
Increased Fleet Safety;
Advanced GPS Telematics;
Reduced Fleet Costs & Operating Expenses;
Maintenance Management Program;
Fuel Management Program;
Proactive Fleet Management.
Reduced Fleet Costs & Operating Expenses
Enterprise fleet management offers a number of ways that are sure to reduce your operational costs and improve the efficiency of your fleet. In 2019 alone they claim to have saved customers $43.5 million in total maintenance and repair costs, as well as $17 million in negotiated savings for repairs. Many customers expected negligible savings when they signed up for Enterprise Fleet Management's solutions and were duly surprised.
As well as helping you select the right size of vehicle for your fleet and capitalizing on that vehicle's future resale value, Enterprise Fleet Management offers a range of other innovative fleet management tools and technologies that can reduce your fleet's risk,  maximize performance, and improve financial outlooks.
Patented software and analytics provide your team with real-time fleet cost insights, mileage reports, driver downtime details, vehicle depreciation statistics, and more. The proactive technologies account for future markets and vehicle usage and aim to save your fleet cash at every opportunity.
On top of that, Enterprise Fleet Management helps its customers with a maintenance management tool that will quickly become essential. Its team understands the costs associated with each repair (including parts and labor) and will always make sure that you're getting a fair price. The software keeps your vehicles on the road for longer, reduces downtime, and alerts your team to any crucial scheduled maintenance plans.
Add in a fuel management program, safer driving tools, easy-to-understand fleet reports, and reliable GPS tracking, and it's easy to see how your team will be able to reduce operational costs in several different ways.
Real-Time Tracking
Enterprise Fleet Management focuses on saving your fleet money and, as well as using all of the technologies mentioned above, GPS tracking plays a crucial role. The GPS technology allows your office team to measure the performance, safety, productivity, and compliance of your fleet with advanced fleet telematics, tracking, and management technology.
The GPS trackers are small, plug-and-play devices, that user cellular telematics to provide a constant location update. Your team can then use that live stream of data to build a complete picture of vehicle-specific data and improve operational efficiency across the board. GPS location, idle time, average speed, dangerous driver behavior, fuel usage, engine performance, and other valuable insights are captured and stored within the online portal (powered by GeoTab).
That portal provides you with all the data you need to make smart, instant decisions in the office and on-the-go. Optimize driver routes, communicate changes instantaneously, provide accurate ETAs to your customers, and enjoy a bird's eye view of your entire fleet.
Driver Compliance & ELD Solutions
That telematics technology also allows your team to remain fully compliant, no matter how recently the laws and regulations have been updated. When each step of your driver's day is mapped and logged, they'll quickly be able to produce DVIR and input reliable data into driver logs.
ELDs – and the data stored within them – ensure that your drivers are never working beyond their legal limits, and your team will even receive instant alerts within the office if they are.
Depending on your subscription, you can use the same telematics technology to improve driver safety and keep your team protected on the road. If your drivers regularly perform risky maneuvres, drive without a seatbelt, or get involved with a collision, you'll know all about it. Regular driver scorecards and reports will also provide you with the data you need to improve fleet safety.
Proactive Fleet Management
The Enterprise team also uses predictive technology and cost-saving tools to monitor your fleet and keep it protected. Enterprise Fleet Management is always looking forward, and proactive technology offers real-time cost and performance insights that help to cover every aspect of fleet management.
As well as offering the fleet management tools mentioned above, your team will also be assigned a dedicated local Account Manager. He or she will be responsible for your fleet's performance and will monitor and analyze expenditures throughout the year.
Enterprise Fleet Management Reviews and Ratings
Surprisingly, there are next-to-no impartial customer reviews for Enterprise Fleet Management products. On TrustPilot, Capterra, G2, SiteJabber, and Facebook (where there are normally at least a handful of honest reviews), there is no user data to analyze.
The only reviewal platform that has committed to collating Enterprise Fleet Management reviews is Featured Customers. Here, there are 36 user testimonials that leave Enterprise Fleet Management with an impressive overall score of 4.8/5. Regrettably, it's difficult to give much weight to these reviews, as there is nothing to compare them to.
User testimonials, visible on Enterprise Fleet Management's page, all summarize their relationship with Enterprise Fleet Management favorably. This particularly positive testimonial was left by Keith Wolkoff, president of Paric Construction:
"If anyone asked me, should I use Enterprise Fleet Management for my business, I would enthusiastically tell them, yes. Since we have partnered with Enterprise, I don't give fleet management a thought. It's a little like breathing air at this point, it's just taken care of and we can now focus on building buildings."
Enterprise Fleet Management offers an advanced, professional, and value-for-money fleet management solution. There are some positive user reviews and testimonials to consider, however, it isn't clear whether or not these reviews are completely impartial. We look forward to evaluating further reviews on unbiased online platforms that will allow us to analyze Enterprise Fleet Management's products in more detail.
Featured Customers – 4.8/5 (based on 36 testimonials)
Pros
Account managers that are dedicated to getting the most out of your fleet;
Forward-thinking and proactive technologies that are futureproofed to save you money;
Intelligent fleet management tools and solutions for medium-sized fleets;
Expertise and experience from the trusted Enterprise name.
Cons
Little in-house software, much of which depends on technologies owned by other companies such as GeoTab;
Not suitable for small fleets with 20 vehicles or less;
An over-abundance of cost-saving tools, when more fleet performance technologies would be welcome;
Few impartial user reviews to clarify the effectiveness of the Enterprise Fleet Management package.
Website: https://www.efleets.com/
Disclaimer: Fleetlogging.com is a general business information website only. The material and information on this website should not be relied upon for making any business or legal decisions. We cannot recommend any company and/or product, nor assess your suitability for any product and/or company listed here.