EROAD was created in 2000 with a firm focus on developing solutions that would modernize paper-based road tax systems. Today, it's a fleet management partner devoted to understanding your fleet operations and providing your team with intelligent solutions that will help improve fleet management, compliance, safety, and performance.
EROAD's solutions are "connected", "operational", and "accurate." But what do the reviews say? Does its fleet management, tracking, and compliance solutions make the grade? Is the EROAD interface compatible with your fleet operations? And are users satisfied with the range of fleet options available? Let's take a closer look.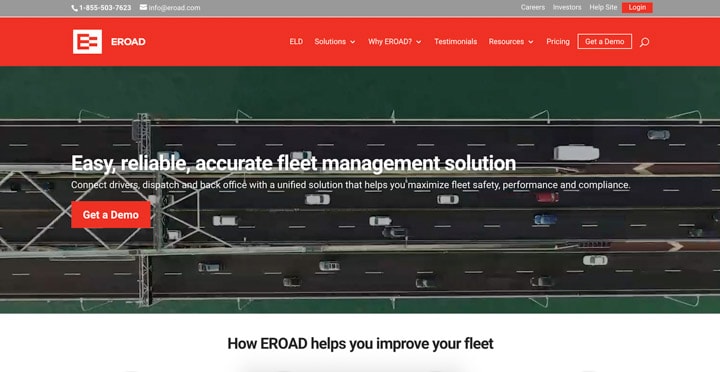 EROAD Features & Services
Intelligent Fleet Management;
ELD;
Easy Compliance;
Enhanced Fleet Safety;
Mobile Driver Workflow App;
Fleet Management Portal;
Asset and Trailer Tracking;
Fleet Tracking and Activity Management;
Fleet Maintenance.
Fleet Tracking and Intelligent Fleet Management
Each of EROAD's solutions points back to one central theme: intelligent fleet management. When all of your drivers, assets, and vehicles are connected, it makes for an efficient and profitable fleet operation. Every solution offered by EROAD aims to keep drivers safe, increase profit margin, and make life easier for your office staff. You'll always know where your drivers are, and you'll know every piece of information about the vehicles they're driving.
EROAD's total fleet management platform is an advanced fleet solution that is easy to use, reliable, and most of all, accurate. That centralized software can be used for a wide range of needs, for fleets of any size. And one of the most important features of that platform is GPS tracking technology.
With accurate GPS tracking, you get full visibility of all your trucks on the road, and full control of their behavior as well. Manage asset position, improve dispatch procedures, monitor activities in near-live time, update routes based on live traffic situations, and analyze daily driver movements as they happen. Fleet tracking gives you all the information you need to control your fleet at the tip of your fingers.
And when you track your assets, you can do much more with the data that's acquired. You can identify wasted miles, for instance, and control driver speeds to keep costs low. Or you might decide to route drivers more efficiently (based on trip log data), reduce fuel costs, and get your jobs completed in a more efficient way.
The intelligent fleet management platform also keeps track of vehicle maintenance. Your office team can quickly check service history, vehicle repairs, and engine diagnostics in one convenient location. That way, you'll be able to keep your vehicles on the road for longer and avoid any unexpected downtime.
With complete control of your fleet's routes, activities, and daily events, you'll have all the tools you need to keep drivers happy and vehicles operational. Reduced costs and improved performance can be expected with EROAD's solutions.
Enhanced Fleet Safety
And your fleet is a productive one when it's a safe one. Every year there are tragic fleet-related road accidents. That means that lives are lost unnecessarily, firms suffer huge and highly damaging costs, and court battles take up time and cash reserves.
You can reduce the chance of any of this happening with EROAD's enhanced fleet safety tools. It begins with activity reports, showing you how productive your drivers are and whatever risks they may be taking behind the wheel. Speeding, harsh braking, and cornering are all risky behaviors that you'll get a full picture of, and be able to coach.
Develop and improve your team's ability with one-to-one coaching and in-cab voice coaching. With detailed driver reports, there's no part of driver performance that will go unnoticed. Use a personalized approach to teach them about safer driving and reduce the risk of any potential accident or violation.
When additional safety features such as dashcams are incorporated, you'll notice a significant reduction in your insurance premium too. As well as being able to review every second of your driver's day, you'll have powerful evidence if it's ever required in court.
Instant alerts can also be arranged and they'll send notifications to your office team whenever there's a speeding incident. These alerts can be customized to suit your operational needs. Protect your business, get full insight into your team's behavior, and reduce the likelihood of any safety incident occurring.
ELD
But EROAD also excels with electronic logging device (ELD) solutions that have been designed with the driver in mind. EROAD pioneered many different paperless solutions when it was first formed, and it has developed that technology into a powerful modern tool.
ELD compliance couldn't be any easier, and your transition to full compliance shouldn't be a headache either. Its patented device means that there's only one in-vehicle device that your drivers need to use. No smartphone apps, no additional data needs, and no third-party device costs are involved.
That ELD solution is easy to use, and drivers will quickly adapt to logging their hours with it. The all-in-one solution makes it easy to incorporate digital logging, and you'll have peace of mind that drivers are following a simple, intuitive compliance solution.
Minimal training is required, and the device will automatically collect and transmit secure, reliable, and accurate data.
EROAD ensures full FMCSA compliance with its ELD solution. It even underwent independent testing with a reliable third-party verification group – PIT Group – who confirmed that the solution meets the FMCSA's functional requirements after robust and rigorous testing.
EROAD Reviews and Ratings
EROAD's reputation in the industry is no coincidence, and its products receive highly positive reviews across all of the major platforms. One such platform is TrustPilot where, although there are only 7 reviews, EROAD scores a favorable 4.3/5. Users compliment a great service that is 'absolutely' worth the money. Several users also take the time to point out excellent customer service, which is a rarity with fleet management providers.
Capterra reviews also paint a rosy picture. EROAD scores an impressive 4.5/5 based on around 100 reviews. Many users take time to praise EROAD's ELD solution, with some even describing it as a 'lifesaver.' An experienced business system analyst mentions how easy their transition to compliance was, and how quickly EROAD stood out from other ELD providers that were less convincing.
There are next-to-no complaints, with only one or two users criticizing the lack of a 'non-regulated' driver mode.
Finally, EROAD scores well on the unbiased reviewal platform G2. Here, users claim that EROAD offers the 'best possible all-in-one solution out there', and they praise the reliable technology. Again, its customer service team receives highly unusual praise.
For any fleet looking to improve productivity and reduce costs, EROAD has a range of reliable solutions that can be customized to suit your team. In particular, its ELD and compliance technology won't let you down and proves great value-for-money.
TrustPilot – 4.3/5 (based on 7 reviews)
Capterra – 4.5/5 (based on 99 reviews)
G2 – 4.2/5 (based on 13 reviews)
Pros
ELD experts that pioneered some of the first paperless ELD solutions;
Outstanding customer service that quickly resolves any issues;
A full suite of fleet management solutions that will help you reduce costs and improve performance;
Several driver safety and coaching tools to keep your team safe in a very affordable way.
Cons
No non-regulated driving mode;
Occasional system glitches and time-consuming updates, though these are quickly resolved;
No smartphone app, which may suit certain fleets more than the dedicated logging device.
Website: https://www.eroad.com/
Disclaimer: Fleetlogging.com is a general business information website only. The material and information on this website should not be relied upon for making any business or legal decisions. We cannot recommend any company and/or product, nor assess your suitability for any product and/or company listed here.