Ezlogz is a Canadian based fleet software provider that offers branch logistics and electronic logging devices (ELD) to a wide range of fleets. They cater for transportation and logistics, food and beverage, agriculture, state and local government, passenger buses and school buses. They provide ELDs, dash cams and API integrations.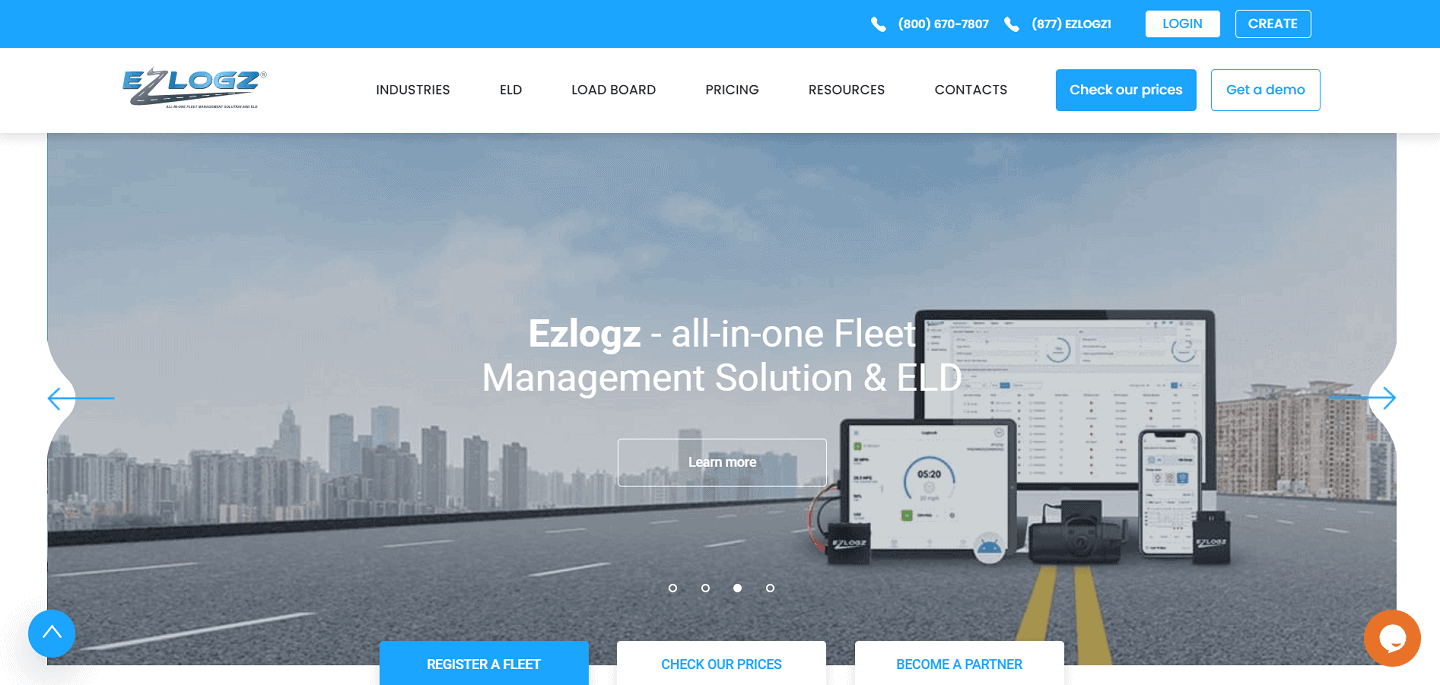 Ezlogz Features & Services
Electronic logging devices
Dash cams
API integrations
Electronic Logging Devices
Ezlogz offers an electronic logging device (ELD) called EzSmart which is their unique high technology truck device. It provides improved GPS performance, instant internet connection and data recovery through cloud storage which also allows you to access your data from anywhere. The ELD automatically updates the data on the cloud and users can use the app on any device to access it. The app is designed to be user-friendly.
The EzSmart device is easy to install and connects to the control unit by cable OBD2 port or other. The device has its own SIM card, internal antenna, battery, Bluetooth and internet connection. There are no rental fees or additional payments for the device.
The Ezlogz app also incorporates a range of other features including points of interest function, a document centre tool (these can be photos or documents such as receipts, accident photos, insurance cards, inspection reports), electronic signatures, violation alerts, truck navigation, electronic DVIR, weather and chat.
Dash Cams
Ezlogz dash cams have the latest technology to deliver safer driver experiences. They capture both the driver's behaviour and the road in real-time with instant access to live video footage with permission levels for access.
Their dash cams are easy to set up, suitable for all vehicle types and work in all weather conditions. The video captured is stored in EzCloud and can be accessed at any time. The vehicles can be tracked in real-time using GPS and matched with the video.
The dash cams have AI technology that recognises any unexpected acceleration, sharp turns or harsh braking. The cameras have tamper-resistant SIM and SD card slots accessed by safety screws to keep the device and footage safe. AI technology can be used to also notify drivers about their driving with audio feedback and alerts. The event trigger button can send email notifications and automatically upload videos to EzCloud.
API Integrations
Ezlogz provides open APIs to allow data synchronisation with any existing systems you may have such as GIS, fleet and asset management. It also allows you to integrate with Transportation Management Systems.
These integrations can allow you to track drivers' locations, monitor drivers' hours on the clock and compliance, and create a paperless document flow.
Ezlogz Reviews and Ratings
There are only customer reviews available for Ezlogz on Facebook and not on any of the other leading customer review sites for fleet management. The number of reviews is not huge but a significant enough sample with 89 giving them an average score of 4.2 out of 5.
Positive review comments included easy to use, cost-effective, good back office functionality, reliable and accurate, automatic driving mode timer is useful, responsive in resolving issues, and good customer service.
Negative review comments included hidden fees, charges for leaving, connection issues and poor customer service.
Trustpilot – no reviews
Capterra – no reviews
G2 – no reviews
Featured Customers – no reviews
Facebook – 4.5/5 (based on 89 reviews)
Pros
Offers electronic logging devices that allow you to do a lot more
Offers dash cams that provide AI technology and live video feeds
Camera footage of both the road and driver are available and can assist with improving driving behaviour
Cons
They don't provide a complete fleet management solution like some other providers but offer integrations
Some customers reported issues with charges when leaving which weren't transparent when they joined
Canadian based support
Website: https://ezlogz.com/
Disclaimer: Fleetlogging.com is a general business information website only. The material and information on this website should not be relied upon for making any business or legal decisions. We cannot recommend any company and/or product, nor assess your suitability for any product and/or company listed here.