Fleet Complete is on a mission to "bring transformative solutions to any fleet-owning business – big or small." Its vision is to connect everything, everywhere, by bringing its global customers the best solutions on the market. Founded in Australia way back in 1998, Fleet Complete (then Securatrek) was one of the first companies to enter the GPS Fleet Management sector and quickly developed an innovative solution within a single telematics platform.
But what makes that telematics platform so special? Why does Fleet Complete now have a global presence in North America, Europe, Scandinavia, and Australia? Will its solutions help you reduce costs while streamlining operations? It's recognized as the 'fastest-growing telematics provider in the world', but will it help your fleet grow? Let's find out with a look at what the user reviews say.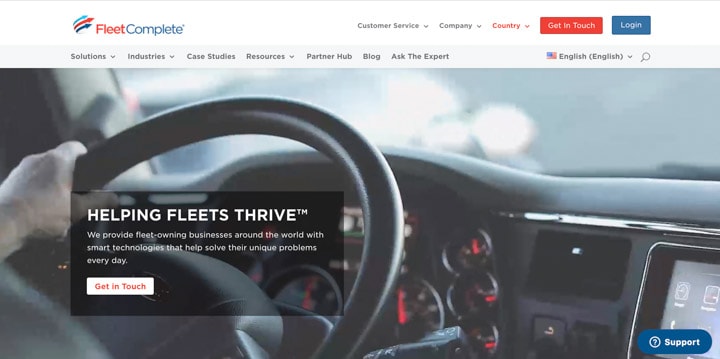 Fleet Complete Features & Services
Fleet Management;
Task Management;
Dispatch & Delivery Management;
Safety & Compliance Management;
ProServices by Fleet Complete.
GPS Tracking & Fleet Management
Fleet Complete has designed and produced all of the tools required for a smart, safer fleet 'at your fingertips.' Its team cares about creating a customized solution that suits your fleet: you don't subscribe for any features you don't need; you get a personalized, customizable fleet management platform designed to help your team thrive; you can scale-up the platform's capabilities as your operations grow.
As always, it begins with GPS tracking, which keeps everything informed. Fleet Complete's Fleet Tracker uses a combination of technologies to help your office team gain optimum visibility into your fleet's daily activities. Every vehicle, asset, and driver in the field is tracked, and vital diagnostics are transmitted back to an office-based team. Live information can be accessed for immediate use, but plenty of other crucial data is captured and processed for analysis at a later stage.
Real-time driver location is displayed on a web-based map. Having all of this information in one convenient location couldn't be any simpler, and it therefore allows you to manage your entire fleet from one screen. You can see what's happening remotely in the field, but that applies even if you're remote too – so long as you have an internet connection on a mobile device, you'll be able to log in and view your fleet activities on-screen.
Every single fleet activity is tracked, and that makes for powerful fleet performance analysis. Measure and analyze your fleet performance based on route data, trip events, and more. But, importantly, having a connected fleet ensures that live events in the field are captured as well, meaning you'll never miss a thing.
Crash detection devices are attached to every vehicle's engine. But more significantly, intelligent telematics (including video technology) can help you improve driver safety. Speeding, cornering, and harsh braking are just a few of the risky behaviors that are instantly transmitted. With daily performance reviews and in-cab behavior feedback, your driver will have all the tools they need to manage their own performance and improve it.
You'll receive instant alerts for every driver violation and you'll be able to act on it before anything gets worse. But you'll be able to see it too. Fleet Complete Vision only records the events that matter, saving everybody time. You can review road events with drivers to help improve fleet operations and coach their safety approach. But Vision also ensures that you have all the roadside evidence you could need should you find yourself in court. The fleet management portal makes for safer drivers, streamlined operations, and 24/7 visibility.
Dispatch & Delivery Management
All of these tools and services can be applied in whichever way you like. You can choose to limit them to fleet management and tracking alone, or you can use the telematics solutions for effective dispatch and delivery management as well. Fleet Complete can help you get your goods to your customers on time with specialist Dispatch software.
Once again, the web-based maps play a crucial role. Since you already know every driver's location, you can dispatch jobs quicker and operate more efficiently. Telematics technology will also show your driver the best possible route to the customer location, taking local traffic into consideration as well. Or, you can allow the software to auto-dispatch based on geographical zones and regions.
Everything is designed for an improved customer experience. And if anything should ever go amiss, then your customer service team has all the data it needs at the click of a mouse on the ETA board. Live location, driver status, traffic conditions, and instant two-way communication help inform the board. Fleet Complete has a whole suite of Dispatch tools that can improve your fleet operations, all the way from Activity Time Tracking to Certification and License databases.
Asset Management
Everything we've mentioned so far relates to mobile assets in the field. But what about remote assets that are in storage? Or other assets your fleet needs to track? The same technology can be used for asset tracking with Fleet Complete's GPS Asset Tracking, where you can track, protect, and optimize utilization of your assets.
Its AT1 Asset Tracker is small and powerful and provides great value-for-money. The tracker itself is versatile and rugged, designed to operate reliably, no matter where it is. The tracker will report accurate asset positions with GPS snapshots or your equipment at scheduled times.
The same asset has multiple other sensors and can alert your team to superlow temperatures and even extreme humidity. The long battery life (that can last up to 5 years) ensures constant surveillance and security, helping you keep your asset operational and deterring potential theft.
Compliance & Safety Management
But if none of the above is regulated or compliant, then it's no good! Thankfully, Fleet Complete has you covered there as well. Its ELD solution is essential for driver safety and compliance. It takes the hassle out of ELD by automatically managing and recording HOS logbooks.
Fleet Complete's ELD is fully FMCSA-mandated and even helps to manage on-road fatigue and other distracted driver indicators. Coming in the shape of a mobile app, it automatically counts down HOS, displaying duty status and incorporating live traffic conditions too. If any violation is upcoming, the driver is notified through the app.
Finally, the ELD app can also be used for DVIR. Drivers can present clean, error-free, and accurate reports with just a few clicks on their screen. It automates every monotonous driver task so that your team can focus on getting their work done as efficiently as possible.
Fleet Complete Reviews and Ratings
There aren't quite as many Fleet Complete reviews as we expected for analysis. Interestingly, there are only two reviews on the ever-dependable TrustPilot, and they're both rather damning. One user bitterly complains about poor customer service and a lack of urgency in dealing with technical issues. Faulty GPS tracking is also mentioned, and it seems that it's easy to set the system up incorrectly. These complaints leave Fleet Complete with two 1* ratings.
Capterra reviews, on the other hand, are much more positive. And there's significant weight to the overall score of 4/5 as well since there are more than 250 reviews. Here, users praise a highly accurate GPS tracking system, versatile software features, and a reliable program that staff members have enjoyed using. Another user points out that the system is incredibly easy to use. However, there are still a few noteworthy complaints. Namely, a system that is difficult to install, faulty software, and 'extremely poor' customer service.
G2 reviews are again positive with an average score of 4/5, but this score comes from a lowly two online reviews. Here, users describe the product as 'adequate' and 'great for tracking stolen vehicles', but admit that there are one or two issues overall.
Fleet Complete offers a wide range of GPS tracking and ELD fleet management solutions. It has a powerful global presence but should look to address one or two product issues that customers are experiencing.
TrustPilot – 2.9/5 (based on 2 reviews)
Capterra – 4/5 (based on 254 reviews)
G2 – 4/5 (based on 2 reviews)
Pros
Good range of fleet management services and products;
Tools can be scaled up (or down) to suit the size of the company and its growth;
A user-friendly dashboard that is easy to learn and simple to use;
Automated ELD procedures to help keep logs error-free and drivers focused on the road.
Cons
Complaints of a product that has 'issues' and causes trouble for some users;
Mixed reviews regarding customer service;
Instances of a faulty, laborious installation.
Website: https://www.fleetcomplete.com/
Disclaimer: Fleetlogging.com is a general business information website only. The material and information on this website should not be relied upon for making any business or legal decisions. We cannot recommend any company and/or product, nor assess your suitability for any product and/or company listed here.