FleetLocate is Spireon's powerful GPS tracking and fleet management solution. Spireon markets a range of products for several different automobile services, all the way from car lending, dealing and buying, to fleet tracking and asset tracking. It claims to be 'North America's leading connected vehicle intelligence company', providing consumers with powerful insights and the technology to manage and track their most important assets.
There are nearly 4 million subscribers for Spireon's Nspire platform – what is it? What makes the package so attractive to so many people? Could FleetLocate help you track, manage, and protect your vehicles and drivers? And is it suitable for your fleet? We explain it all below and closely examine the verified customer reviews.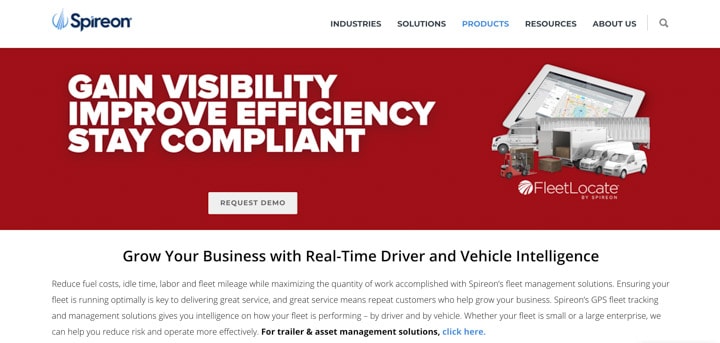 FleetLocate Features & Services
FleetLocate Fleet Management;
Flexible GPS Tracking;
FleetLocate Compliance;
Spireon NSpire Platform;
Intelligent Trailer Management.
FleetLocate Fleet Management & Flexible GPS Tracking
Spireon has developed FleetLocate to provide small, medium, and large fleets with the tools they need to 'cut costs, maximize fleet efficiency, monitor driver behavior, and manage maintenance and compliance.' It promises an awful lot but, importantly, does it deliver?
Like many other fleet management solutions, it begins with GPS fleet tracking. Using FleetLocate's intelligent tools, you can monitor your vehicles and drivers 24/7 so that your team never misses an event. But alongside tracking vehicles and creating a picture of your drivers' behavior, the fleet tracking software also delivers with live operational intelligence that helps your team make better business decisions.
With FleetLocate, you no longer have to guess. With a few clicks on your screen, you'll find all of the data, analytics, and information you need to make informed decisions that reduce costs, optimize resources, and improve overall fleet efficiency. You'll have reliable and real-time mapping of your drivers – that much is a given. But on top of that, you'll be able to store crucial information and track the most interesting fleet analytics as well.
FleetLocate transmits all of the GPS data through the Spireon NSpire platform. NSpire uses cloud-based telematics to create an efficient and unified IoT platform. With NSpire, connected vehicles will always be transmitting GPS data, and critical applications will always be receiving the signal. FleetLocate software makes all of the noise understandable so that all you to do is digest the information.
The user-friendly software provides you with all you need for fleet optimization: detention optimization; utilization monitoring; increased route efficiency; alerts and notifications. But FleetLocate also helps with other essential fleet management services, such as driver safety. Everybody knows that safer drivers make for a more efficient and streamlined fleet. You can monitor driver speed, speeding alerts, hard braking, hard turns, and several other metrics to compile a driver safety scorecard each week. The data helps you coach risky drivers, and eliminate risky behavior altogether.
All of this technology is designed to reduce your operational fleet costs. And that includes preventative maintenance technology that helps you keep your vehicles on the road for longer. You can even assign customized maintenance alerts to remind your team when it's time for a check-up or service.
By tracking idle time, fuel efficiency, mileage, and even tire pressure, you'll spot patterns and new ways to keep costs low. FleetLocate brings all of the most powerful fleet analytics to you in a concise, informative way.
FleetLocate Compliance
So FleetLocate makes your team more intelligent, reduces your costs, and improves efficiency. But what about compliance and ELD? It has you covered there too.
FleetLocate takes the drama out of ELD and FMCSA compliance by making it easy and affordable for fleets of every size. It even integrates HOS compliance and is fully FMCSA-certified, making it a dream for both drivers and fleet managers.
The solution is a mobile app that can be installed on personal smartphones and tablets. FleetLocate Shift makes DVIR a straightforward task and takes care of HOS as well. Everything is automatically logged (even when the driver enters an area with no cellular coverage) so that your drivers can focus on their jobs.
State-of-the-art LTE telematics makes it simple for managers to monitor driver hours. The FleetLocate Compliance Manager dashboard immediately shows which drivers are active, which ones are off-duty, and which ones are on a break – all on one screen. Potential violations come with plenty of notice so that even before the alert occurs, there is plenty of warning.
Intelligent Trailer Management
Spireon has also developed solutions that provide real-time visibility and greater productivity for your assets. Again it's FleetLocate, and it's built from the ground up to boost your bottom line. The trailer management solution captures a wealth of rich trailer and asset data and translates it into easy-to-understand, 'actionable business intelligence' that again improves productivity and reduces costs.
Three different asset and trailer trackers can be used. FleetLocate FL Flex is 'the industry's first modular trailer tracking solution.' It's even solar-powered with intelligent sensors that fit your fleet's needs. FleetLocate FL22+, on the other hand, is a much more customizable option. Users get a far greater range of smart sensors to choose from in a more rugged, protective design.
Finally, FleetLocate FL Solar is a quick, easy-to-install tracker suitable for assets in normal conditions. It can be installed in as little as 15 minutes and uses state-of-the-art solar-harvesting technology to provide updates on your unpowered asset, regardless of where it is.
FleetLocate Reviews and Ratings
Based on user experience, FleetLocate scores well and customers quickly learn to appreciate several different elements of the product.
On TrustPilot, Spireon scores a very impressive 4.6/5 from nearly 100 reviews. Although the reviews aren't specifically for the FleetLocate product, users still enjoy top-quality customer service from the Spireon suite.
Capterra reviews are similarly impressive and are far more focused on the FleetLocate product. Customers enjoy the easy-to-use smartphone app, desktop platform, and great value-for-money overall. The regular (15 second) updates and instant communication with drivers in the field are also praised. There are one or two negative points though, as some users explain that the reports are difficult to digest and certain windows within the software could be overlayed better.
There's only one G2 review to evaluate but, nonetheless, it's still a 5* one. That user is satisfied with all of FleetLocate's features and wouldn't hesitate to recommend it.
Although there aren't as many reviews as there are with other big names in the industry, there are still enough to suggest that FleetLocate is a highly capable, affordable, and intelligent fleet management solution that suits fleets of every size.
TrustPilot – 4.6/5 (based on 87 reviews)
Capterra – 4.3/5 (based on 23 reviews)
G2 – 5/5 (based on 1 review)
Pros
Highly accurate, reliable, and customizable fleet management solution;
Three different patented asset trackers that can be customized with solar power options;
Affordable technology that presents great value-for-money;
Live traffic updates that provide your team with the information it needs to redirect drivers.
Cons
Reports could be presented in a more user-friendly format;
No weather overlay;
Some reports of a slight lag time that takes a few moments to correct.
Website: https://www.spireon.com/gps-fleet-tracking/
Disclaimer: Fleetlogging.com is a general business information website only. The material and information on this website should not be relied upon for making any business or legal decisions. We cannot recommend any company and/or product, nor assess your suitability for any product and/or company listed here.