Garmin is a software and hardware developer that has created a wide range of GPS navigation and wearable technology products that cater for automotive, aviation, marine, outdoor and fitness markets. They sell direct to consumers and businesses utilising more than 19,000 associates in 80 offices around the world. In the automotive market, they provide products which include GPS navigation, maps, dash cams and backup cameras.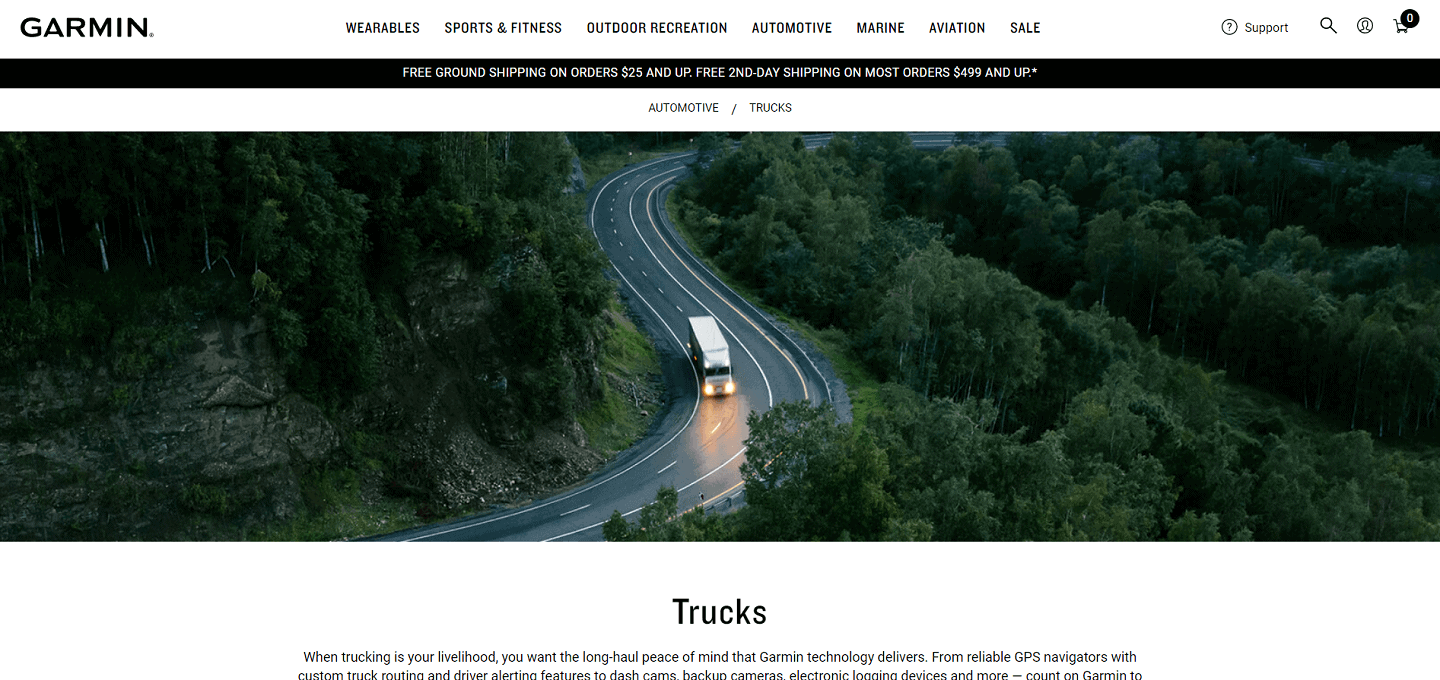 Garmin Fleet Features & Services
Sat navs
Dash cams
Backup cameras
Sat Navs
Garmin offers a range of sat navs that cater for different audiences and needs with a choice of screen sizes with portrait or landscape views. Their sat navs are designed to help you to get from A to B in the most efficient way and can suggest places for fuelling and breaks when needed.
The screen allows a split view to provide a route overview and weather alongside the active map. You can get guidance and warnings about environmental zones on your route. They can also provide satellite imagery showing aerial views of loading docks, truck entrances and security gates to assist in planning deliveries.
Some models allow custom truck routing where you can enter details about your truck such as height, width, weight and load to find preferred routes best suited to the truck and its load.
Dash Cams
Garmin offers a selection of dash cams that cater for different requirements. Their dash cams can capture HD video with a 140-degree field of view to record all the critical details. The cameras have built-in GPS to show when and where an event occurs.
Some dash cams combine voice control to make it easier for drivers to operators them hands-free to store recording, start/stop recording, or take photos. All saved media is securely stored in the online Vault that you can access through the Garmin Drive app.
They can also provide extra alerts and monitoring tools which include Live View to check on your vehicle remotely, Parking Guard which alerts you to incidents that might affect your parked vehicle, and driver awareness alerts such as collision warnings, lane drifting and safety cameras.
Backup Cameras
Garmin also offers a selection of reversing cameras that are suitable for larger vehicles and trailers. These are wireless backup cameras that can connect with compatible Garmin sat navs to give you a clear view of what is behind you.
The backup cameras provide a wide field view of what is going on behind the vehicle and it has a long transmission range to cater for longer vehicles. They have a rugged design which can handle harsh road conditions and is stable when connected to your vehicle's reversing lights which also provides power. It is advised that you get the backup camera professional installed.
Garmin Fleet Reviews and Ratings
There are no customer reviews available for Garmin on most of the review sites that include fleet management software. Trustpilot has some reviews for Garmin for some Europe sites and some of their other products, but these are not appropriate and are largely low in number.
Trustpilot – no reviews
Capterra – no reviews
G2 – no reviews
Featured Customers – no reviews
Facebook – no reviews
Pros
Offers some standalone products that fulfil specific needs
Their products can integrate to provide a combined solution
Offers a range of navigation and dash cam products
Can allow you to monitor your vehicle remotely when it is parked
Cons
Doesn't offer fleet management or ELD tools
There are no customer reviews so there is no independent customer feedback
Website: https://www.garmin.com/en-US/c/automotive/semi-truck-gps-navigation/
Disclaimer: Fleetlogging.com is a general business information website only. The material and information on this website should not be relied upon for making any business or legal decisions. We cannot recommend any company and/or product, nor assess your suitability for any product and/or company listed here.