Geotab is a familiar name in the fleet management industry. Since its birth in 2000, Geotab has grown and developed from a small family-run company into a "global leader in solutions for fleet management and vehicle tracking." It's now one of the largest telematics outlets in the world with more than 2 million connected vehicles on the road.
Will Geotab's solutions help your business grow? Does its innovative technology keep your team connected while boosting productivity? Let's take a look at what the Canadian firm offers and what the reviews tell us about its solutions.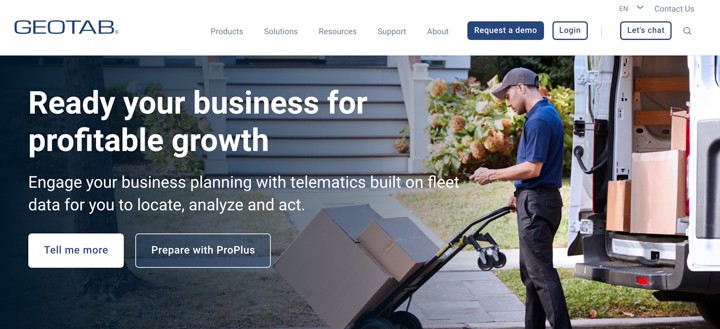 Geotab Features & Services
Driver Tracking;
Asset Tracking and Management;
Fleet Reporting;
MyGeotab;
Routing and Dispatching;
Fleet Maintenance;
Fuel Management;
Driver Safety Reporting and Coaching;
ELD and HOS Compliance;
Driver Tracking and Management
MyGeotab – the ultimate fleet management software platform developed by Geotab – makes it easy for you to manage your entire fleet from one open platform. The web-based software can be customized for fleets of every size, on whichever fleet management package they select.
The most obvious feature of MyGeotab is the comprehensive driver tracking facility. You can view and track your drivers in real-time with Geotab's patented trackers. Once they're securely installed on your vehicles, they send regular location updates to the system via a patented algorithm and help make sure you never lose sight of an asset.
Fleet management is simple with MyGeotab's interactive screen showing all of your driver and vehicle information in one place. You can use live data to make better, faster decisions for your business. But that powerful data can also be captured to monitor your driver behavior as well. This could be as simple as automatically compiling scorecards to generating collision avoidance systems and specific trend reports.
Intelligent routing is another valuable feature that improves productivity. Drivers will always know the most efficient route to take, thereby reducing miles and creating substantial savings on fuel costs. And if a driver should stray off-route, you'll be notified immediately.
The same technology is used to optimize the dispatch procedure. Every fleet manager knows how quickly unplanned events can occur in the field: you can respond quickly by dispatching the closest available driver in real-time.
But Geotab's GPS trackers capture much more than just location. The data recorded by these trackers can be used to compile insightful fleet reports detailing engine diagnostics, driver behavior, idle time, and much more. MyGeotab makes highly complex information easy to digest – your team can then capitalize on valuable insights and opportunities to improve fleet efficiency.
Optimization
MyGeotab leaves no stone unturned, and the data-driven insights it produces allows you to optimize every aspect of your fleet. That begins with something as simple as fuel management: alerts improve driver routing; simple tools help to reduce speeding and idle time; drivers are coached to drive more efficiently.
But fleet maintenance is a vital aspect of fleet optimization. You need to make your fleet as available as possible – that means minimizing unplanned time in the garage and making sure that vehicles run smoothly. Integrated solutions within the MyGeotab platform remind your team about scheduled maintenance events and you can prioritize maintenance tasks to prevent wear and tear downtime.
Fleet benchmarking tools help you deliver measurable results as well. Geotab technology shows new ways to improve fleet efficiency by comparing your fleet to similar-sized fleets and uncovering gaps.
Driver Safety and Coaching
A safe fleet is a productive fleet, and few companies match Geotab's dedication to driver safety and coaching. Geotab's integrated solutions make the road safer for everybody on the road while providing you with yet another way to optimize your fleet.
You can promote good driving habits by monitoring key metrics and getting to know your driver's habits with the data captured by MyGeotab. Safety dashboard reports provide valuable insight into the risks certain drivers take, and you'll be instantly notified of dangerous behavior with custom safety alerts.
The technology lets you take driver coaching to the next level with in-cab voice coaching. Integrated speakers provide live feedback. As for top-performing drivers, you can keep them motivated by recognizing their contribution to a positive driver scorecard and encourage friendly competition.
Dashcam technology captures every incident on the road. This takes the guesswork out of critical incidents, protects your drivers in court, and records high-definition footage that can als0 be used as a valuable driver training resource.
Compliance
And when all is said and done, your fleet won't get far if it isn't compliant. Geotab ensures that your fleet remains fully compliant.
Geotab's ELD solution minimizes violations and simplifies compliance for drivers with pop-up reminds and step-by-step workflows.
The mobile app also saves time with Driver Vehicle Inspection Reporting (DVIR) and streamlines IFTA management with telematics that automatically records entry and exit odometer readings.
Geotab Reviews and Ratings
Geotab's ratings are generally positive, although not without some user complaints they should be looking to address in the near future.
It's a surprise to find zero reviews on the trusted reviewal platform TrustPilot. We hope that Geotab will commit to displaying honest user reviews on this powerful platform shortly.
Capterra, though, has recorded 16 user reviews giving Geotab a rating of 3.9/5. Incredibly, one user complains of a monitor so rich with fleet management data that it is difficult to monitor every crucial aspect. However, most reviews are positive and praise a user-friendly layout, accurate real-time updates, and powerful ELDs.
G2 reviews paint a similar picture, with a slightly improved score of 4/5 from a similar number of user reviews. Contrarily, some users here bemoan a 'clunky' user interface and a time-consuming login procedure. That being said, there are many more positive reviews taking time to point out highly accurate fleet visibility, useful odometer reading tracking, and depth-detailed reports.
The reviews on Geotab's dedicated Facebook page are slightly less kind. This is the lowest rating Geotab scores across all of the review sites. Of the 40 reviews, many users still enjoy the 'amazing' platform, great customer service, and the powerful features of MyGeotab. But the overall rating is dragged down to 3.2/5 with customers pointing out ELDs that change duty status without permission, patchy location data, and seemingly poor product quality.
Techradar, however, gives Geotab an overall rating of 4/5, praising the telematics provider:
"The dashboard itself is very easy to use and the openness of the platform is another highlight. Geotab comes across as a trusted brand among its users and has a great reputation overall."
Geotab is an industry leader that specializes in advancing security, connecting commercial vehicles to the internet, and providing web-based analytics to help customers better manage their fleets.
Capterra – 3.9/5 (based on 16 reviews)
G2 – 4/5 (based on 15 reviews)
Facebook – 3.2/5 (based on 40 reviews)
Pros
ELDs that drivers find easy to use and get-to-grips with;
A huge amount of data-driven information that can be used to optimize fleets and improve productivity;
Saas from one of the most technologically advanced IoT companies in the fleet industry;
A wide range of integrated solutions that promote driver safety and regulatory compliance, all in one powerful package.
Cons
Live GPS tracking is only offered on the expensive ProPlus plan;
Potentially overwhelming amounts of data displayed to the user;
Routing can be glitchy and at times unrealistic;
Time-consuming login procedures.
Website: https://www.geotab.com/
Disclaimer: Fleetlogging.com is a general business information website only. The material and information on this website should not be relied upon for making any business or legal decisions. We cannot recommend any company and/or product, nor assess your suitability for any product and/or company listed here.