GoFleet was originally founded in 2010 to assist fleet managers in reducing the downtime required for the maintenance of vehicles. Since its formation, GoFleet has expanded its range of fleet management and telematics technologies to cater for a broader range of needs covering efficiency, maintenance and management of fleets including hardware and software.
They now support over 3,000 businesses to run safer, more efficient and profitable fleets. They consider themselves a top-tier organisation in the fleet management sector as they provide end-to-end telematics solutions that are tailor-made to suit your needs.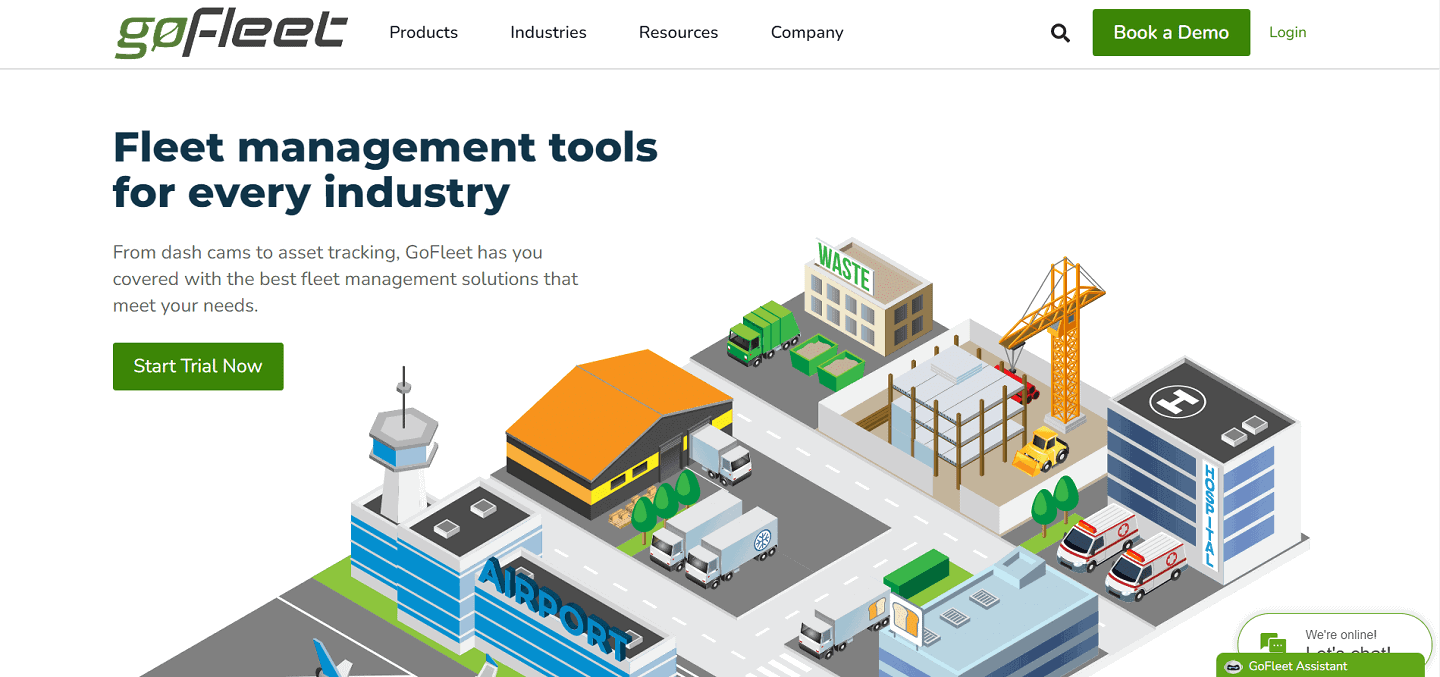 GoFleet Features & Services
Fleet telematics
Cameras & AI
ELD & driver apps
Asset monitoring and cold chain
OEM and car sharing
Fuel and maintenance
Work, routing and dispatch
Driver training
Indoor tracking
Fleet Telematics
GoFleet's telematics technology provides automated fleet management solutions that are secure and scalable with tailor-made features. Their fleet management software uses powerful web-based software to give you real-time visibility of your fleet that can help you improve the performance of your fleet and reduce costs.
GoFleet's easy to use software allows you to monitor the utilisation of assets and analyse trends which include the cost of use and cost of ownership. The software includes easy reporting which can help you to streamline your workflows and make data-driven decisions.
The software can help you to analyse delivery routes with live GPS tracking and find inefficiencies in the routes. You can integrate connected cameras to record driver behaviour and promote accident avoidance. You can also utilise maintenance features to manage your vehicle maintenance and comply with maintenance standards.
ELD & Driver Apps
GoFleet provides electronic logging devices (ELD) that enable you to stay connected to your fleet and allow you to increase efficiencies. This software can be tailored-made to meet your needs and allows you to comply with industry regulations.
Their ELD can allow you to streamline your workflows enabling digital management of compliance requirements and documentation for drivers. It also collects data and stores digital records that can minimise the risk of violations and fines. The documents stored can be instantly submitted and metrics can be reviewed in detail for the fleet including down to the driver level.
Driver Vehicle Inspection Report (DVIR) is part of the software which simplifies and digitises inspection reports on ELDs using the Geotab Drive Mobile App. This allows you to confirm inspections, conduct investigations and keep on top of maintenance plans.
Drivers can also access the software using a mobile app that can help identify and boost driver performance and safety as well as allowing fleet managers to monitor drivers remotely. The features include driver video review, delivery forms, digital time cards, messaging, e-learning and training, and performance scoring.
OEM and Car Sharing
GoFleet's OEM and car sharing software can help you with purchasing decisions, track assets and pool your resources more effectively and efficiently. You can monitor the performance of your electric vehicles and know which parts need replacing. You can connect your telematic systems with their OEM Partners to aid purchasing. It enables vehicle sharing through secure keyless access that is flexible and scalable.
You can monitor and reduce emissions through the data provided so you can minimise trips, optimise vehicle efficiency and monitor electric fleet performance through any device. You can set up notifications, monitor fuel vs battery usage, and view charging reports.
Fuel and Maintenance
GoFleet offers a comprehensive tailor-made fuel and maintenance software that allows you to track your assets and prevent unplanned downtime through proactive testing and being able to analyse the diagnostic reports. It enables you to complete repairs faster by allocating resources such as tools and parts more efficiently through utilising maintenance alerts and reports.
The software enables you to proactively spot issues through real-time vehicle diagnostics during pre and post-trip checks. Completing checks of this kind can improve vehicle health and extend vehicle lifetime and avoid breakdowns.
It can also streamline your workflows using a customisable dashboard and reduce work order management. The software enables you to submit and update work orders from anywhere, prioritise maintenance tasks and schedule automated reports.
Work, Routing and Dispatch
GoFleet enables you to optimise your work orders and routes, connect with your fleet and help you to meet customer demand by staying on top of planning, scheduling and service completion tasks. It provides an end-to-end solution for work orders, allows you to optimise dispatch routes and provides real-time updates via instant messaging and live data.
Increase the visibility of your deliveries with your customers through live vehicle locations, auto-generate a public map and ETAs to keep them informed of when deliveries will arrive.
Optimise driving routes to reduce driving time and fuel consumption as well as removing the need for manual route planning and reduce time spent organising the routes. Drivers can also cut down their administration through the mobile app by completing and submitting work orders in real-time.
GoFleet Reviews and Ratings
GoFleet only has reviews on two of the leading customer review sites for fleet management software. Both sets of reviews are positive about GoFleet and its products overall.
GoFleet has the largest number of reviews on Featured Customers which has over 1,300 reviews and has an overall rating of 4.5 out of 5. Reviewers commented about the staff being helpful and the data being easy to understand. There are also 27 customer case studies and two customer videos which explore the challenges and results of implementing the software.
Capterra also has reviews for GoFleet GPS Tracker but there are only four reviews available for them. The reviews are positive with an overall score of 4.5 out of 5 as well as for ease of use and customer service. Reviewers commented that the application is easy to use, a good reporting tool, assists in locating employees, allows you to review the history of trips and real-time tracking. Some negative comments included that creating and modifying reports can be hard, some little used sections can be hard to navigate, and lack of cell towers can limit constant contact.
Trustpilot, G2 and Facebook all have no reviews for GoFleet.
Trustpilot – no reviews
Capterra – 4.5/5 (based on 4 reviews)
G2 – no reviews
Featured Customers – 4.8/5 (based on 1,342 reviews)
Facebook – no reviews
Pros
Easy to use end-to-end fleet management solutions
Provides a useful app for drivers to improve their efficiency
Allows customers to gain insight into drivers' location and ETAs
Software that can improve efficiencies, increase compliance and greater visibility of the fleet
Positively rated in customer reviews, particularly for ease of use
Cons
Reporting functionality can be hard to create and modify unless you are tech savvy
Navigation in all parts of the software can prove difficult especially if you use it infrequently
Cell tower locations and being able to connect with vehicles can cause issues with real-time monitoring
Website: https://www.gofleet.com/
Disclaimer: Fleetlogging.com is a general business information website only. The material and information on this website should not be relied upon for making any business or legal decisions. We cannot recommend any company and/or product, nor assess your suitability for any product and/or company listed here.