Gorilla Safety is an American based fleet management software provider that aims to improve your fleet safety and compliance. Their software can help with logging data automatically, accident investigations, claims management, document management, integration with eDVIRs, DOT Audit preparation, and more.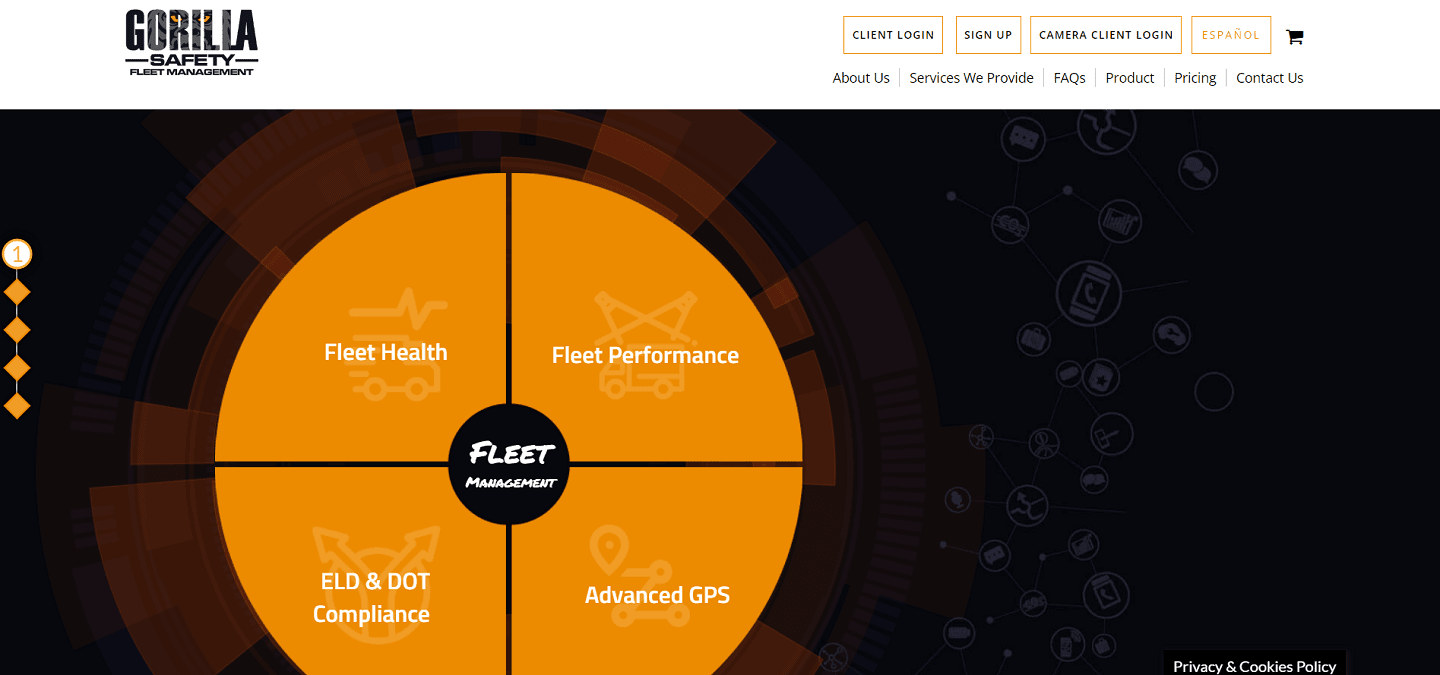 Gorilla Safety Features & Services
eDVIR mechanic inspections
Accident investigation
Document management
Alerts
Reporting
Electronic Logging Devices
Gorilla Safety offers electronic logging device (ELD) systems that are intuitive and easy to use that are built with KPMG, one of the Big Four accounting and auditing firms to ensure the system is compliant.
They provide an onboarding process to ensure that you and your team have everything you need to roll out the system to your fleet. It will reduce admin and paper by digitising your driver records making them more accurate and timely. The software automatically updates and security patches will be deployed also.
The ELD system is plug and play technology and is easy to install in minimal time. They provide an app for drivers rather than requiring an extra device in the cab. The app also allows you to communicate directly with drivers, send them documents, and check reports anywhere on any device.
eDVIR and Mechanic Inspections
The eDVIR and Mechanic Inspections are a tool used by the drivers and mechanics to communicate with each other about issues they have found on the vehicle that need reporting and fixing. The eDVIR is used to notify the mechanic automatically so that they can review the vehicle and see whether action is required.
The tool allows drivers and mechanics to communicate and schedule the repair. Once repairs are completed the mechanic can notify the driver of what has been done and the repair is recorded in the system.
Accident Investigation
Gorilla Safety offers an Accident Investigation feature which is part of the app which allows you to gather information on the incident. You can take pictures of the incident, collect details from the driver and other witnesses, and record statements.
The data stored in the app can then be shared with the appropriate people within the business and the insurance company.
Document Management
Gorilla Safety allows you to streamline your documents and reduce the amount of paper on your desk and stay organised. Within the Gorilla Safety app, you have four document management components – 1) driver qualification file, 2) truck file for documents such as registration documents, Cab Cards and repair history, 3) company file for documents such as reports and permits, and 4) ELD supporting documents.
The document management system can have alerts set up so that expiry dates can be flagged. You can also load driver documents such as delivery receipts, repair records, purchase receipts, policies and procedures, training manuals, safety manuals, and documents that need signing.
Reporting
Gorilla Safety can assist fleet managers in their reporting requirements from running reports on what your drivers are doing and where they are using GPS technology through to fuel reporting, monitoring compliance or vehicle condition.
Fuel reporting is one of the key features as it allows you to see how your vehicles are performing and compare them. From this, you can spot if any potential issues need addressing such as a vehicle requiring repair or fuel theft occurring.
It includes mileage tracking software, can provide documents to support the insurance renewal process, and monitor your vehicles. You can also see in real-time at a glance where all your vehicles are and can answer customer queries.
Gorilla Safety Reviews and Ratings
There are no customer reviews available for Gorilla Safety on the leading customer review sites for fleet management products.
Trustpilot – no reviews
Capterra – no reviews
G2 – no reviews
Featured Customers – no reviews
Facebook – no reviews
Pros
Their range of fleet management tools is focused on driver and vehicle safety and ensuring that they are compliant
They make it easier for drivers and mechanics to communicate and get repairs completed on vehicles
They provide a document repository for everything that you might need for the vehicle whether you are a fleet manager, driver or mechanic
They provide a range of reporting functionality to ease the administrative burden of fleet managers
Cons
They do not offer dash cam solutions as part of their product range
Their products do not address fuel efficiency and driver behaviour like some other products do
There are no customer reviews for their products so there is no independent information about them
Website: https://gorillasafety.com/
Disclaimer: Fleetlogging.com is a general business information website only. The material and information on this website should not be relied upon for making any business or legal decisions. We cannot recommend any company and/or product, nor assess your suitability for any product and/or company listed here.