GPS Insight is, as you've already guessed, a leading provider of GPS-based fleet management services for companies in North America. As well as providing GPS tracking and navigation, the Arizona-based business has developed its portfolio to offer a plethora of other essential fleet management products and services.
So what sets GPS Insight apart? How do its products compare to those offered by other fleet management providers? And can GPS Insight – founded in 2004 – offer modern fleet solutions that will reduce your costs and improve productivity? Let's get into the detail and find out for ourselves.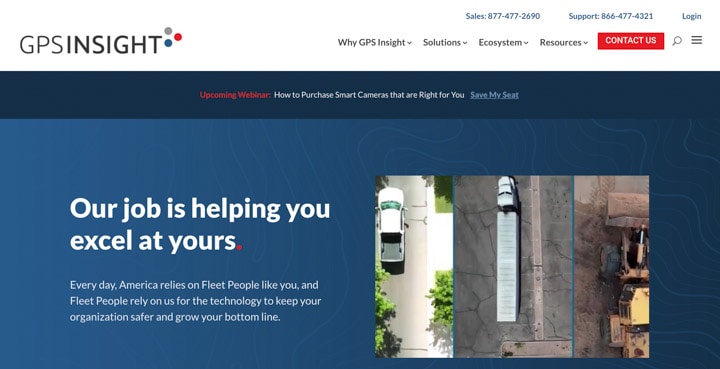 GPS Insight Features & Services
GPS Tracking;
Smart Cameras;
Field Service Management;
Compliance Management & ELDs;
Driver Safety.
GPS Tracking
We'll begin with GPS Insight's most obvious product – GPS tracking. GPS tracking creates full fleet visibility, and you'll never lose sight of a vehicle (or a driver) on the road. But although GPS tracking is pretty much in the name, that same GPS technology has a significant role to play when it comes to many other essential fleet management services.
As well as tracking and mapping each of your vehicles, GPS Insight's GPS technology will help you better understand your operations in real-time, create actionable insights, and get your fleet the results it needs. Its products and services allow your team to observe and analyze your fleet in real-time, and you'll also be able to check driver routes and journeys historically.
Each dispatch and event is saved so that you can review them at a later date. But the actual dispatch procedure is made even easier as well. When you can immediately check where each asset is in real-time and confirm its status, you can dispatch jobs in an intelligent way for an even more productive fleet.
And when you understand every moment of every asset's day, you'll be in the best position to reduce your fuel costs, labor costs, and other operating costs. Change driver routes that are ineffective and streamline procedures to make your entire operation more efficient. Everything is designed to help you optimize the utilization of your workforce.
GPS technology will also improve your fleet's maintenance record. By tracking and managing vehicle diagnostics and service history, you'll be able to increase uptime, keep your vehicles in the healthiest condition, and prevent unexpected maintenance with automatic scheduling and alerts.
Finally, the same technology will also help your team improve driver behavior and create a culture of safety. By tracking your drivers and reviewing individual reports, you'll be able to quickly identify regular risky behavior such as speeding, harsh braking, cornering, and more. GPS Insight provides you with the tools you need to improve fleet safety across the board, mitigate risk, and protect lives.
Field Service Management
These are all attractive benefits of efficient fleet service management, but how are they synchronized? What ties each of these aspects together to make such a huge quantity of information understandable? GPS Insight's Field Service Management software does it all for you.
That software supports your organization's daily workflow and eliminates paperwork with full automation. You'll have a connected team that can quickly communicate with drivers in the field and a smooth, accurate journey for each customer. Intuitive report builders can be used to highlight whatever data you would like to focus on, and you'll find new ways to use staff hours more effectively.
The intelligent software removes simple and redundant tasks, allowing your staff to concentrate on more important jobs and reducing errors. Simplified digital calendars instantly show job status, team member availability, custom forms, and even checklists. Invoicing and payment processing are also fully automated within the software.
By using GPS Insight's field service management software, you'll have everything you need to grow your business. Stay organized in the office and you'll be efficient on the road.
Compliance Management & ELDs
But there's no use in being such an efficient, streamlined, and organized operation when you're not even compliant! Luckily, GPS Insight takes fleet compliance seriously too. It has developed a range of products that are all designed to safeguard your business and ensure robust and flexible compliance management.
Its ELD solution is a mobile one. The mobile app is a solution for both ELD and DVIR requirements and is easily installed on a smartphone or tablet. Alternatively, ELD Connect can be hardwired into your vehicle for a more reliable, robust compliance solution. And for fleets that already have an ELD solution in place, DVIR Mobile can be used at a reduced cost.
The ELD technology is super simple for drivers to use and even comes with built-in tutorials. There's multi-lingual support, an online portal for office staff, instant two-way communication, and full FMCSA compliance. Whether you choose to install the ELD Mobile or ELD Connect, you'll be able to keep your entire operation compliant – no matter how many updates there are to local regulations.
Smart Cameras
Focusing again on driver behavior and driver safety, GPS Insight markets Driveri – it's 360° AI Fleet Camera. This intelligent dashcam automatically captures every incident, accident, and even on the road to keep your fleet safe.
Going beyond the requirements of traditional dashcams, Driveri takes full advantage of AI technology to provide in-cab alerts and endless insights. It can capture, review, and analyze footage before sending highlights and crucial data to office teams for further review. You can use the captured evidence to learn more about your drivers, but it's also indisputable evidence that's worth its weight in gold in court.
GPS Insight Reviews and Ratings
GPS Insight boasts a fine range of fleet management solutions – and the user experience backs it up. TrustPilot reviews are overwhelmingly positive for starters. From more than 150 reviews, users leave GPS Insight with an impressive average score of 4.6/5. They praise intelligent telematics, trustworthy analytics, and an outstanding customer service team.
Capterra reviews are even more encouraging, with an average score of 4.5/5 from around 200 reviews. There, customers are eager to point out just how accurate and informative the GPS tracking is while praising the versatile and easy-to-use system. While most users compliment the software, there are one or two complaints that it isn't fit for purpose with a lack of communication.
G2 reviews are similarly positive with many familiar compliments from satisfied customers. Leaving GPS Insight with another positive score of 4.5/5, users praise customer service, insightful fuel expense reports, incredible software, and live traffic updates.
Facebook is the only platform where GPS Insight's score takes a surprising dip. There, users are unhappy with a product that isn't user-friendly, a lack of IFTA tax compatibility, and teething problems with system integration. In general, however, there are far fewer complaints than compliments.
Matt d'Angelo of Business.com, praises GPS Insight in a similar way. He does, however, lament the contract length options that are available to users:
"GPS Insight provides good fleet tracking services with a flexible interface that accommodates any fleet size. However, it requires a two- or three-year contract to use its services."
On the whole, GPS Insight offers innovative, reliable, and accurate fleet management software and tools that the majority of fleets will benefit from using.
TrustPilot – 4.6/5 (based on 165 reviews)
Capterra – 4.5/5 (based on 197 reviews)
G2 – 4.5/5 (based on 99 reviews)
Facebook – 3.7/5 (based on 21 reviews)
Pros
A huge range of solutions that will make your daily operations more efficient;
Outstanding customer service;
AI cameras that automatically select the most important video clips for review;
Field service management software that boosts productivity automates simple processes.
Cons
One or two glitches with PTO hours within the system;
A few minor complaints about the software losing communication intermittently;
ELD Connect units could benefit from longer battery life.
Website: https://www.gpsinsight.com/
Disclaimer: Fleetlogging.com is a general business information website only. The material and information on this website should not be relied upon for making any business or legal decisions. We cannot recommend any company and/or product, nor assess your suitability for any product and/or company listed here.