GPS Trackit is a fleet management, telematics and video telematic solutions provider that has been delivering solutions for 20 years. They offer cloud-based, IoT fleet solutions and have pioneered products and technology. They support over 12,000 fleets around the globe with fleet management solutions. They provide live, personal support with an in-house development team and fleet advisors to support your fleet.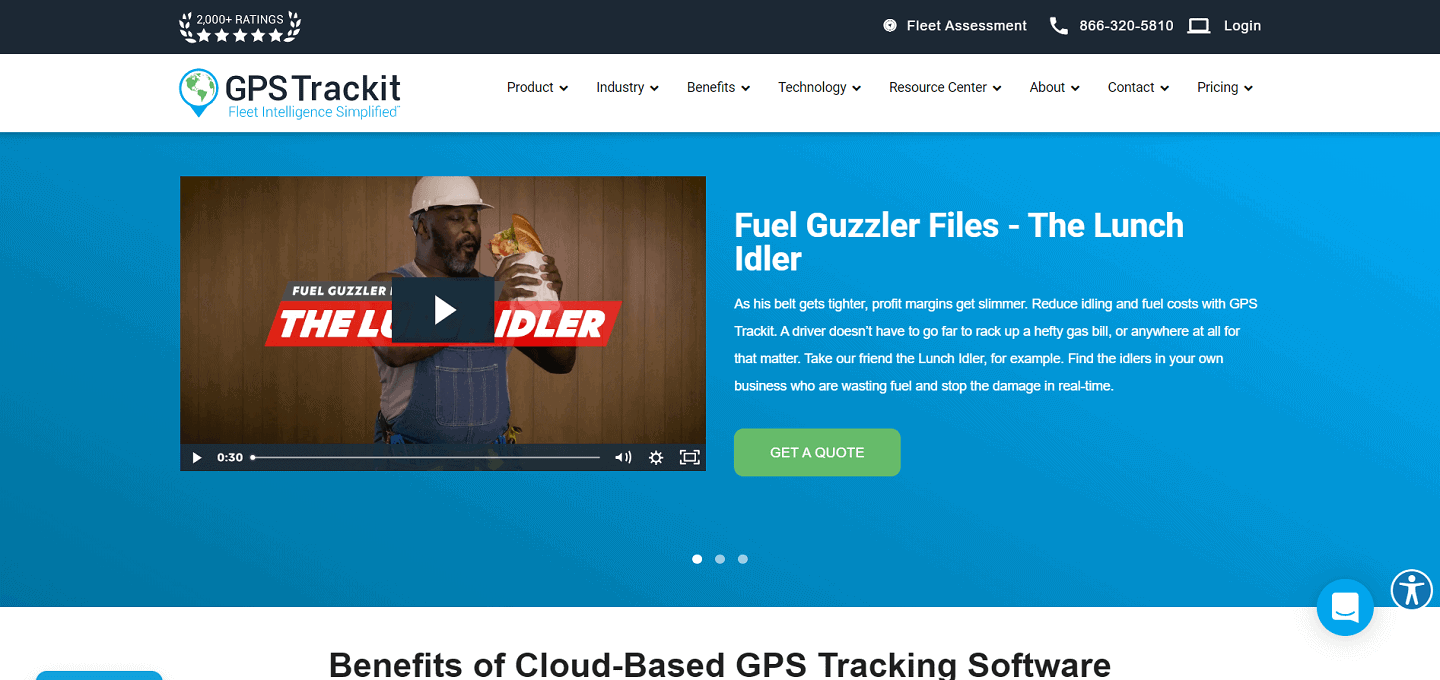 GPS Trackit Features & Services
Fleet management
Video telematics
Field service management
Fleet Management
GPS Trackit provides an end-to-end fleet tracking software with no contract at a low monthly price. Their software allows you to track your vehicles in real-time which provides you with more accurate data about your fleet to help you make more informed decisions. Updates on vehicle locations are available every minute.
You can manage your fleet from anywhere on any device using their mobile app. The software allows you to manage time and drivers as well to help improve the efficiency of your fleet and make cost savings. It can also assist in the recovery of lost or stolen vehicles and provides asset protection.
The software utilises Google Maps to help you pinpoint vehicle locations in real-time with dynamic interactive maps and you can add geofences to put controls in place. You can also monitor driver behaviour to ensure that they adhere to safety and fuel saving guidelines. This can be managed on the Driver Behaviour Scorecards and you can see who needs support and it can assist you in making savings.
They provide a data-rich reporting tool that offers customisable reports from detailed reports on your whole fleet to individual drivers. They provide live support to assist you in using the software and online collaboration to help you get the most from it.
Video Telematics
GPS Trackit offers video telematics that provides high-resolution streaming over the platform delivering clear pictures and allowing you to capture what matters with AI. Their solution is called VidFleet and it can deliver in-the-moment voice prompt driver coaching which can protect your drivers and your business.
The AI functionality can help in predicting accidents as well as assisting in preventing them. It allows in cabin coaching, can record harsh events, choice of driver AI and road-facing AI, instant alerts, on-demand playback, and enables you to recognise and reward positive behaviour. The video footage can protect both your business and your drivers from liability and false claims by providing the evidence you need to prove what happened.
Through the use of video telematics, you can see an improvement in driver behaviour and productivity through better and safer driving which can also yield cost savings on fuel and maintenance costs.
Electronic Logging Device
GPS Trackit's Electronic Logging Device (ELD) is designed to help businesses stay compliant by tracking and logging all activity. They provide automated solutions that can generate and transmit reports easily.
The units are made to be durable and have an easy-to-use interface and they allow businesses to customise alerts to their drivers. The rich data provided by the device can be used to minimise violations, reduce human errors, streamline processes and remove paper logs, and reduce audit risk.
Asset Tracking
GPS Trackit offers a 5-year battery-powered wireless asset tracker that is durable and powerful and can help you to track equipment. The asset tracker is suitable for heavy equipment, containers, trailers, towables, leave-behinds, power equipment and tools, light equipment, and lawn and landscape equipment. The units are durable, waterproof and have flexible mounting options that are tamper-proof.
The tracking software allows you to have a birds-eye view of all your assets and fleet in real-time so you can quickly locate everything. You can utilise the software to prevent theft and assist recovery as well as set up geofence alerts, so you are alerted when assets are moved from designated areas.
Through increased knowledge about your assets, you can maximise your equipment use and better deploy your assets. You can also immediately share coordinates through the push of a button with location updates.
Field Service Management
GPS Trackit provides field service management which allows you to manage your field staff more effectively and efficiently. It can help you stay in touch with your drivers and allow drivers to share data with the office, this includes two-way messaging, route loading, plan stops and job sites, showing maps of stops, using customisable forms, and allowing drivers to clock time and view history.
The field service management software has been designed to be suitable for use on tablets and smartphones to make it accessible from anywhere. They provide free training and tech support to customers as well as lifetime software updates.
Drivers can be empowered through increased organisation and tools including access to route plans, status updates, review notes and get directions which can increase efficiency and savings. It provides clear notifications, constant contact and the ability to submit notes and forms.
GPS Trackit Reviews and Ratings
GPS Trackit has been reviewed on three different customer review sites and they all give an overall high score. Trustpilot has a relatively small number of reviews with an overall excellent score of 4.6 out of 5. 66% of reviewers scored them as excellent and 14% of reviewers rated them as bad.
G2 only has one review which has a 4 out of 5 score due to the software having a lot of features and allowing you to track drivers and their habits, and finding no issues. Featured Customers has an overall score of 4.8 out of 5 with 392 testimonials, 410 case studies and 139 customer videos.
Positive review comments included knowledgeable and responsive staff in resolving issues, accurate and timely data, great training and easy to understand software, competitively priced, has helped in reducing accidents and speeding, assisted with cost cutting, and great customer service.
Negative review comments included issues with reporting data, updates causing issues with the software, poor communication, and problems cancelling the contract.
Trustpilot – 4.6/5 (based on 56 reviews)
Capterra – no reviews
G2 – 4.0/5 (based on 1 review)
Featured Customers – 4.8/5 (based on 941 reviews)
Facebook – no reviews
Pros
They provide an all-in-one solution to track fleets and assets to aid utilisation and prevent loses
They offer AI video solutions that can prevent incidents, aid the training of drivers and protect against claims
They provide increased interaction between drivers and the office with two-way messaging and tools to reduce the paperwork and improve route planning
Reviewers predominantly refer to the high level of customer service received from them and the knowledge and helpfulness of the staff
Cons
There is some feedback about issues with software updates and reporting problems, but these are a minority of reviews
Support is based in America and only from 8am – 8pm which may be problematic for UK customers
Website: https://gpstrackit.com/
Disclaimer: Fleetlogging.com is a general business information website only. The material and information on this website should not be relied upon for making any business or legal decisions. We cannot recommend any company and/or product, nor assess your suitability for any product and/or company listed here.