J.J. Keller and Associates,  Inc. was established as far back as 1953. This privately held, family-owned company has become one of the largest employers in Northeastern Wisconsin, serving nearly 60,000 customers. Although it puts a firm focus on fleet management and compliance, its expertise spreads across 1,500 topics.
So how do J.J. Keller's fleet management products fare? Are their compliance solutions as effective as they claim to be? What do users say about J.J. Keller's service, and will you benefit from the technology it offers? Let's take a closer look at some key features, services, and user reviews.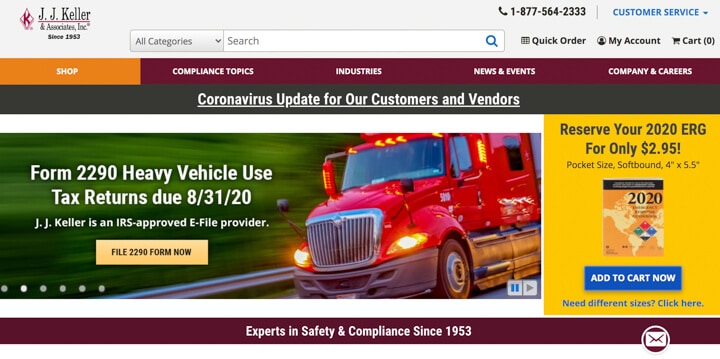 J.J. Keller Features & Services
J. J. Keller® Encompass® Fleet Management System;
Regulatory Compliance Management;
Driver Performance Management;
Log Books and Inspection Reports;
ELDs, ELogs, and Fleet Technology;
GPS Tracking
While J.J. Keller and Associates, Inc. does indeed offer vehicle tracking, it's more a feature of the Encompass® Fleet Management System than a dedicated service in its own right. That being said, GSP tracking is still available 24/7, 365 days a year for your fleet, and even for freight as well.
GPS vehicle tracking is an easy-to-use feature of the Encompass® suite. You'll have real-time visibility of every one of your vehicles, and there's no need for driver interaction. Geotab's powerful GO9 Vehicle Tracker will capture vehicle status, vehicle location, date, time, traffic situations, current weather, and vehicle speed.
This allows you to monitor your vehicle's activities at all times. You'll spot opportunities where you can improve vehicle utilization, and there's an added layer of security as well: constant visibility also assists with recovering stolen vehicles.
Data is transmitted from the GO9 trackers to the Encompass® system, where live data is presented in near real-time. Detailed map overviews, visible on the Encompass® system, show your team everything they need to manage your fleet in the field. Geofencing is also available as part of an upgraded package.
ELDs, ELogs, and Fleet Technology
When it comes to regulatory compliance and fleet management, J.J. Keller and Associates, Inc. has everything you need to stay on top of the law. This was demonstrated with its proactive approach to providing solutions that met the ELD Mandate introduced in late 2019.
FMCSA J.J. Keller's electronic logging solutions provide a simple, intelligent solution for fleets of every size. By focusing on developing a suite of electronic logging solutions, J.J. Keller has become the company to turn to for all of your logging needs.
It's easy to go even beyond the full ELD compliance requirements by incorporating hours-of-service (HOS) technology as well. Complex regulations, such as personal conveyance and unassigned driving events, are also captured within the logging products.
ELDs can be installed in a matter of minutes. A handy app can be linked to the ELD, and is available on the majority of smartphones. Alternatively, the J. J. Keller Compliance Tablet™ provides a smart ELD solution without the need for drivers to use their personal devices and data plans.
Whichever solution your team decides to implement, you can rest assured that you'll be fully covered for every regulation required as a fleet enterprise. It's easy for drivers to log their hours: they'll receive alerts for any logging violations, missed logs, unassigned driver times, and more. Afterwards, office teams can analyze, edit, and store the data captured by ELDs.
Encompass® Fleet Management System
Encompass® ties everything together. The platform already covers your team for DOT recordkeeping and driver tracking. But it also incorporates vehicle legalization, HOS, logging data, DVIR, and more.x
But the powerful platform also goes beyond compliance and fleet regulations. Encompass® also helps you to analyze data, spot trends, manage your team more effectively, and improve productivity. Its flexibility allows you to ask tasks to specific members within your team, and share data only with those who require access to it.
Maintenance schedules make sure that your precious fleets are looked after. Preventative maintenance can be implemented and repairs are all recorded. Avoid unplanned downtime by storing information correctly and Encompass® will take care of the rest.
So on top of displaying vehicle tracking, keeping your team compliant, managing maintenance schedules, and safely recording driver hours, Encompass® also helps your team to become more efficient. It produces intelligent reports (making complicated data easy to digest), automates simple tasks, and even produces driver scorecards. With a driver training program, you can improve the safety of your team on the road and protect your assets.
Dashcams
As an optional (but highly recommended) extra, dash cams will provide your team with another level of safety. Encompass® stores, modifies, and displays dashcam footage. Not only do you get to analyze exactly what happened during an event, you also get to see exactly where it happened. Vehicle tracking maps exactly where an incident took place.
This data is invaluable. It's sure to reduce your insurance premium, but more importantly, it helps you exonerate innocent drivers in potentially costly court cases. J.J. Keller markets both standalone cameras and cameras that are fully integrated within the Encompass® platform.
J.J. Keller Reviews and Ratings
Unfortunately, J.J. Keller is yet to gather user reviews and ratings on unbiased, third-party platforms. Popular websites such as TrustPilot and Featured Customers show no reviews for the American company. Even their Facebook page is yet to open up to customer reviews.
That being said, there are signs that this could soon change. The first (and so far the only) J.J. Keller review appeared on Capterra in September of 2019. This positive review gave the J.J. Keller product a 4/5 rating.
This user praised fleet visibility, excellent customer service, and the organization that J.J. Keller's product offers – particularly with storing documents and forms. They do, however,  mention that registering and editing driver details is not straightforward.
G2 reviews triple the number of unbiased reviews available to us. Both of these reviews praise the Encompass® system and give the product a 5/5 rating. Both users particularly enjoy the simplicity of the system, the 'easy' FMLA process, and the ability to coach and train drivers with excessive training material.
On the company's website, there are many positive user testimonials to choose from. Osvaldo González (Transportation Manager of Northgate Markets) said this:
"With J.J. Keller's Encompass® Fleet Management System, we're saving fuel, we're saving paper, and we're potentially saving lives."
Michele Korwin, a Fleet Professional, left a similar testimonial:
"Having elogs cuts down on a lot of paperwork because of the fuel tax reporting. That would probably be my number one thing that is a timesaver…the return on investment is priceless."
If your team are looking for simple fleet management capabilities together with high levels of regulatory compliance, then J.J. Keller and Associates, Inc. are worth your investment.
We hope to be able to review more unbiased J.J. Keller reviews in the near future.
Capterra – 4/5 (based on 1 review)
G2 – 5/5 (based on 2 reviews)
Pros
An outstanding technical support and customer service team;
A guarantee of full regulatory compliance and technology futureproofed for any potential updates;
The powerful fleet management system Encompass® seamlessly incorporates each fleet management service and solution;
A system designed with the user in mind.
Cons
Lacking many telematics technologies that are included as standard with other companies;
Some of the most powerful features are only available on the most expensive Platinum subscription;
Only front-facing dashcams are offered;
Limited asset tracking capability.
Website: https://www.jjkeller.com/home
Disclaimer: Fleetlogging.com is a general business information website only. The material and information on this website should not be relied upon for making any business or legal decisions. We cannot recommend any company and/or product, nor assess your suitability for any product and/or company listed here.