Konexial is an American based fleet management solution provider that has been operating for six years and supports over 40,000 drivers. They have offices in Tennessee, Georgia, Texas, Argentina, Japan and Spain. They work in partnership with professionals and technology businesses to provide high-quality service and data as well as up to the minute information. They provide fleet management, asset tracking, safety management, video, and fuel savings programs.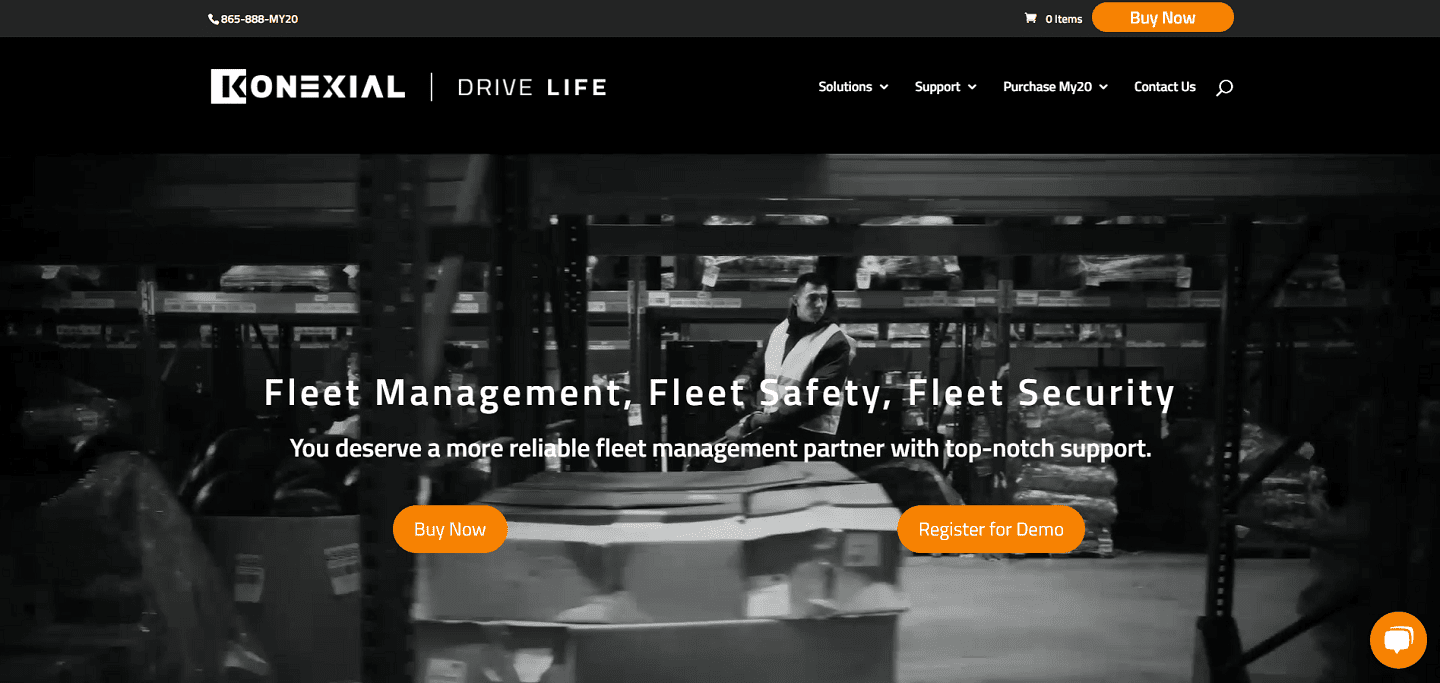 Konexial Features & Services
Fleet Management Systems and Electronic Logging Devices
Konexial offers fleet management systems that include electronic logging devices that are secure, reliable and safe. They have been designed to keep fleets compliant with American standards. My20 ELD is an all-in-one tool that helps streamline operations. It provides fleet managers with transparent information on an easy-to-use dashboard.
My20 ELD captures all HOS data accurately and stores it securely on the device and it allows you to add exemptions. The device provides voice-over turn-by-turn directions for routes to assist drivers without distracting them and to improve their efficiency.  It can also track assets and drivers' RODS as well as provide full reports on the data it collects.
The My20 ELD app is available on iOS and Android. The hardware is easy to install in the diagnostic port (ECM) and then you can link to the app via Bluetooth, then start logging and transmitting data.
Dash Cam
Konexial offers My20 LogiCam AI fleet dash cam that helps to detect distraction events through AI technology day or night and it alerts the driver. The dash cams are designed to prevent accidents and reduce damage to vehicles, so they soon pay for themselves.
My20 LogiCam AI can also capture events on the road in HD quality footage which can be accessed any time through the My20 Fleet app.
Secure Digital Locks
Konexial also offers a range of secure, durable and tamper-resistant digital locks. These locks are digitally encrypted and can be managed with real-time visibility to authorised users through the My20 app.
Trailer Tracking
Konexial offers a trailer tracking solution called GoFind that allows businesses to track assets. It provides complete visibility of your assets and their utilisation, driver productivity and protects your cargo.
GoFind provides solar-powered GPS trailer tracking devices that are easy to install as they have no wires or cables and they utilise LTE plus optional satellite back-up for continual coverage. It offers a customisable app with dynamic dashboards, analytics and reports accessed through My20 Fleet.
Dynamic Load Matching
Konexial offers GoLoad which is a dynamic load matching solution which helps to reduce the number of miles with empty or low loads and aims to increase your profitability. It can enable you to send load opportunities directly to drivers' phones based on their HOS.
It provides a matching service between carriers and shippers to help streamline the process of finding new work to fill your fleets.
Konexial Reviews and Ratings
There are only reviews available for Konexial on Facebook and not on any of the other customer review sites suitable for fleet management. Facebook has only a small number of reviews that are not a sizable enough sample and these are several years old, but these overall rated them as 5 out of 5. Comments on the reviews included good customer service.
Trustpilot – no reviews
Capterra – no reviews
G2 – no reviews
Featured Customers – no reviews
Facebook – 5/5 (based on 11 reviews)
Pros
Offers a comprehensive range of tools that operate under one system
Provides dash cams that can prevent driver distraction and monitor road incidents
Can offer secure solutions to protect and monitor assets which include tracking devices and secure digital locks
Cons
American based business with the nearest offices in Spain
Some products are only available in America
Only a small number of customer reviews that are dated
Website: https://konexial.com/
Disclaimer: Fleetlogging.com is a general business information website only. The material and information on this website should not be relied upon for making any business or legal decisions. We cannot recommend any company and/or product, nor assess your suitability for any product and/or company listed here.