Linxup provides GPS tracking "for all". Regardless of whether you want to track a single vehicle or an entire fleet of heavy-duty trucks, Linxup promises to provide an "extremely easy, remarkably affordable solution." Providing tracking solutions since 2004, U.S.-based Linxup has amassed nearly 50,000 customers and is a big name in the industry.
So is its GPS tracking package worth your time? What other fleet management services does Linxup offer? Is its tracking solution as accurate as it claims? And what do the customer reviews say? Keep on reading to discover whether or not Linxup makes the grade.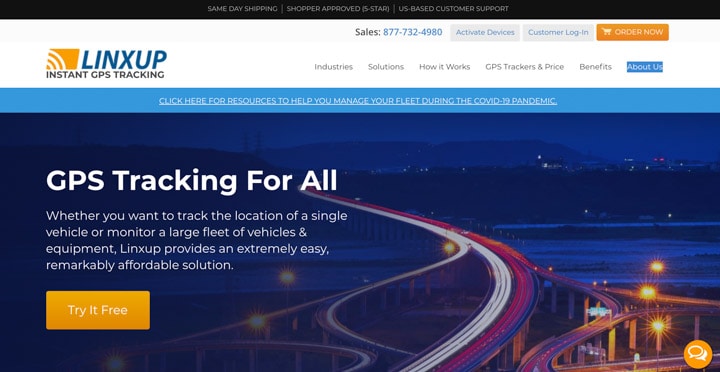 Linxup Features & Services
Interactive Route Replay;
ELD Solutions;
Alerts & Detailed Reporting;
Driver Monitoring;
Maintenance Tracking;
Tax Reporting.
Fleet Tracking
Linxup offers an overwhelming number of GPS tracking solutions: few are more significant than its Fleet Tracking solution. If you own anything of value, then Linxup claims that it can track it, and your fleet is certainly likely to be something you'd like to protect.
With Linxup's GPS Fleet Tracking, you'll know where each asset is, where it's going, and how it's getting there. Not only does Linxup offer its clients a comprehensive fleet tracking solution, but it also offers an easy solution that is one of the most affordable ones on the market.
The complete fleet tracking solution allows fleet managers to track live locations, record driver behavior, and keep a tight schedule of vehicle maintenance all in one place. Every aspect of Linxup's GPS fleet tracking is designed to save your fleet cash and improve operational efficiency.
It begins with the installation – trackers can be installed and transmitting in as little as 30 seconds. From then on, every movement will be tracked and displayed either on the Linxup fleet tracking dashboard or the mobile app.
The technology is a lifesaver for fleet managers – literally. You can monitor driver habits, coach better and safer driving, protect your assets against theft, improve fuel efficiency, make dispatching run more smoothly, and even plan better routes. All from one powerful solution.
The impressive GPS fleet tracking technology offers so much more than a live location on a screen. Assign strict job boundaries with advanced geofencing. You can even review a vehicle's history through an interactive route replay that details each segment of the journey. This is an invaluable feature that helps you better understand your driver and the ways that you can boost efficiency.
ELD Solutions
Linxup keeps it simple with other popular features as well, such as its patented ELD device. This super convenient device has been designed with drivers in mind and makes it easier than ever before to comply with federal mandates.
Just like the GPS trackers, it's quick and easy to install. And yet, for such a simple device, it goes far beyond the basic electronic logging requirement. Linxup's FMCSA-certified ELD solution removes any need for handwritten logs, allows drivers to quickly change driver status, and anticipates critical violations with timely warnings.
It's a vital part of a driver's ensemble and helps drivers efficiently manage their duties on the road. Office teams will enjoy the full visibility of a driver's activity too: log edits are recorded; driver history can be edited with annotations; auto-recorded events don't permit changes.
Alerts & Detailed Reporting
Driver and vehicle data is a powerful tool – but only if it reaches the right people. Linxup has taken care of that as well. Highly sophisticated alerts and an intelligent reporting system convert the data captured by your vehicles and assets into valuable insights that your team can use to improve the performance of your fleet.
You can create custom alerts, specified alerts for certain vehicles, or you can even select to switch off alerts altogether. Once you've received the information, filter it by date range, group, vehicle, and driver.
Outwith your personalized custom reports, you can receive alerts for the following fleet events: speeding; harsh braking; device tampering; lost GPS signal; geofence alerts; unauthorized vehicle usage; first ignition of the day. If it all seems overwhelming, then the alert summaries will make all of the information easy to digest.
Driver Monitoring
Monitoring your drivers is one thing – using the captured data to improve fleet operations is another. Linxup's powerful reports provide you with the data you need to manage your fleet and drivers and encourage better performance.
You'll receive an overview of key driving events, a daily performance score for each driver, and an overall safety grade for your entire fleet. When you're presented with both the best-performing and worst-performing driver and vehicle for each day in a simple way, you'll immediately know where your priorities lay.
With every aspect of a driver's day recorded, you can then review every segment of every journey together, and identify areas for improvement. You can boost driver safety, reduce idle time, and ensure better fuel efficiency too.
Linxup Reviews and Ratings
Linxup has certainly committed to showcasing its reviews on impartial and honest platforms. Surprisingly, there are no reviews on either TrustPilot or G2, two of the more dependable review platforms. That being said, there are plenty of reviews on other sites that generally paint a picture of content customers, though there are still one or two complaints that will require attention.
Capterra reviews are generally positive. From a solid 55 reviews, Linxup averages a user rating of 4.2/5. Users praise a simple login procedure, powerful software, fantastic vehicle tracking, and an intuitive interface that is easy to scale depending on the size of your fleet. There are few complaints, but for those that do appear, users point out a slow mobile app, inconsistent quality of customer service, and devices that aren't reliable.
The reviews on SiteJabber are even better. From nearly 6,000 reviews, Linxup scores an average of 4.7/5. Users praise an 'easy to understand package and pricing', and tracking that stores an extensive amount of route history. There are even fewer complaints and negative reviews on SiteJabber (only around 20 1* and 2* reviews!), but again, users highlight a glitchy iPhone app and patchy customer service.
Amazon reviews, however, paint a less promising picture. This is the only reviewal platform where Linxup's score slightly slips, dropping to an average of 3.9/5. The majority of customers still recommend the GPS Vehicle Tracker and take time to praise its easy installation and user-friendly tracking, claiming that it is a 'must-have product.' But it's noteworthy that some users lament a lack of subscription options, faulty online registration procedures, inaccurate logs, and spotty tracking data.
Linxup's Facebook reviews are powered by Shopper Approved. From more than 100 reviews, Linxup scores an impressive 4.7/5. Users love the software, find it easy to use, and appreciate the very helpful telephone assistance. There are few complaints to address here.
Linxup is a highly-regarded provider of GPS tracking solutions that puts a focus on affordability and the user experience. The positive reviews – and there are plenty of them – back up the fleet management company's big name within the industry.
Capterra – 4.2/5 (based on 55 reviews)
SiteJabber – 4.7/5 (based on 5,952 reviews)
Amazon – 3.9/5 (based on 342 reviews)
Shopper Approved – 4.7/5 (based on 102 reviews)
EXPERT MARKET and EXPERT SURE are both competitors
Pros
Reliable tracking for a number of vehicles, products, and assets, that can be scaled up or down to suit fleets of any size;
A value-for-money fleet tracking solution that allows you to cut your subscription down to the bare bones;
Detailed reporting that gives you the opportunity to coach safer drivers and streamline business procedures;
A smart ELD solution that ensures your fleet will always be compliant.
Cons
Inconsistent levels of customer service, with some users complaining about advisors that push sales instead of providing valuable assistance;
A slow smartphone app;
Some complaints of inaccurate logs and missing GPS tracker data;
Fewer fleet management services and features than other fleet management companies, which is reflected in the value-for-money product fees.
Website: https://www.linxup.com/
Disclaimer: Fleetlogging.com is a general business information website only. The material and information on this website should not be relied upon for making any business or legal decisions. We cannot recommend any company and/or product, nor assess your suitability for any product and/or company listed here.