LionEight is an American based fleet management solution provider that offers all its solutions on a single platform. They provide an advanced electronic logging device solution suitable for companies of all sizes as well as GPS tracking, maintenance, dispatch and reporting. They provide customisable solutions that are easy to use and will assist you in making your fleet safer and more efficient.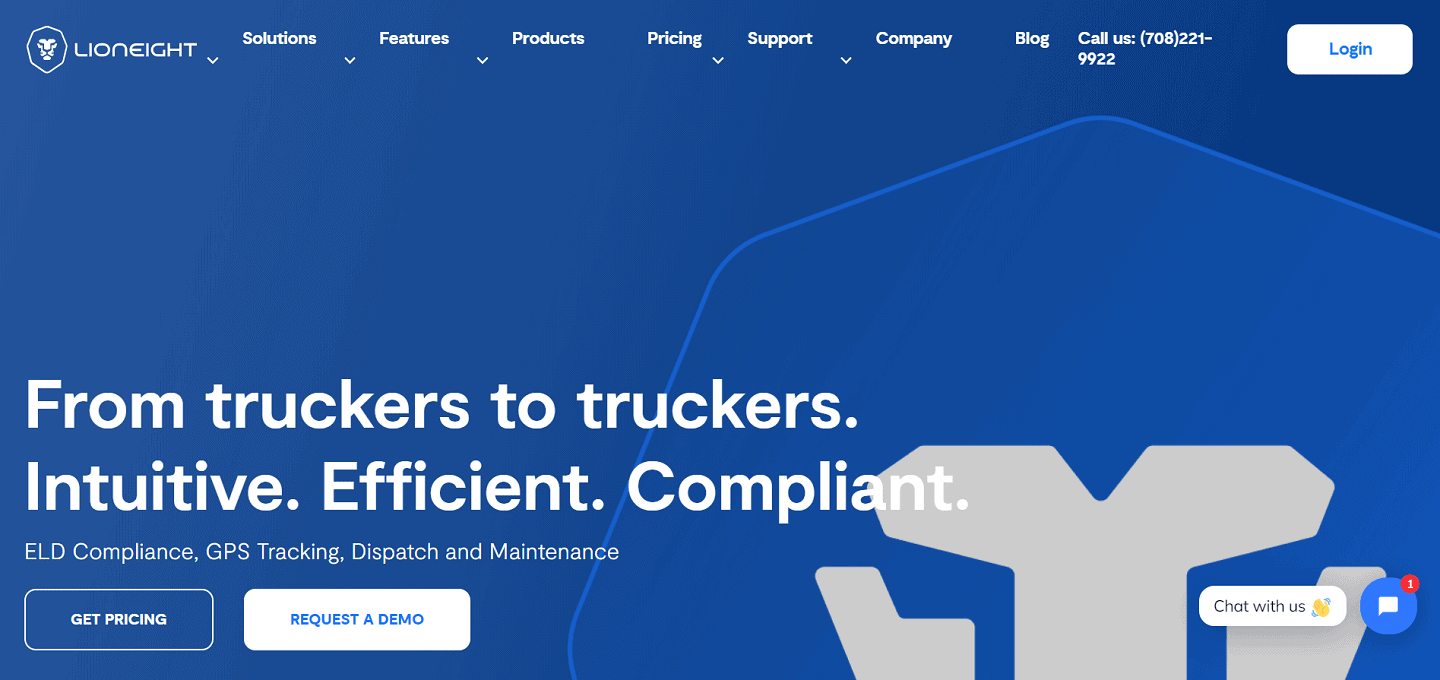 LionEight Features & Services
ELD compliance
Maintenance
IFTA reporting
Dispatch
GPS tracking
ELD Compliance
LionEight offers an electronic logging device (ELD) solution that helps businesses to meet compliance standards. The software comes with a user-friendly app that drivers can use to submit their daily logs and managers can have oversight of and run reports.
The software also allows you to access information and logs through the app to support roadside inspections and send information to inspectors via email or the web. Drivers can also complete daily vehicle inspection reports (DVIRs) through the app which can reduce administration and paper.
Their ELD solution also enables you to monitor hours of service (HOS) and get alerts for any drivers getting near to violating it.
Maintenance
LionEight offers a maintenance solution that can help you reduce the downtime of your vehicles and complete preventative maintenance to stop breakdowns. Through better management of maintenance, you will also increase the safety of your fleet.
Their mobile app enables drivers to complete driver vehicle inspection reports (DVIR) which can be sent instantly back to the office for fleet managers to see any detects and prioritise repairs on the vehicles. The software will assist by highlighting the most urgent maintenance and help with scheduling and sending out alerts about maintenance.
The Smart Dashboard Map provides a display of Diagnostic Trouble Codes (DTC) that are detected in real-time with a full description. Instant alerts can also be set up for these if necessary.
Fuel Tax Reports
LionEight provides fuel tax reporting solutions that enable you to automate the calculation process that removes human error to ensure accuracy and can save time on administration. You can run reports by selecting a date range and the vehicles and the report will be automatically generated in seconds.
The data is collected through onboard ELD devices that are cellular connected to send data. If the device is unplugged the software with the help of AI calculation will add the miles for that period.
Dispatch
LionEight offers a dispatch solution that can help reduce paperwork and assist with productivity. Their system incorporates smart calculations to track vehicles to work out potentially delayed deliveries.
The tracking software can also monitor your load status so that you can optimise your load capacity and routes. It also sends instant notifications and improves communication with drivers. This can include notifications of pickups and delivery completions which can assist with validating drivers' work. Drivers can get notifications sent straight to their mobile and upload documents through the app.
They provide a Dispatch Board that allows businesses to create and monitor their loads and update route information, vehicle status and real-time locations. This can give those dispatching a complete overview of deliveries and the vehicles on a single board.
GPS Tracking
LionEight offers GPS devices that can track almost any vehicle including trucks, trailers or heavy equipment. They also provide a range of different GPS accessories to enhance the devices. The GPS devices can track location, speed and sudden stops as well as theft prevention.
The devices can also assist with battery and fuel percentage as well as idling conditions to help you to monitor vehicle and driver safety. With increased control and reduction of incidents, you can lower your insurance premiums.
You can also set up geofences and get alerts via the app, email or SMS when vehicles enter or exit geofenced areas. The solution allows you to report on a variety of factors that can help you to reduce operational costs such as mileage reports and idling utilisation.
LionEight Reviews and Ratings
There are virtual no reviews for LionEight available on the leading customer review sites for covering fleet management solutions. Facebook has the only review which recommends LionEight and states that the device is "Simple, easy to work and 24/7 support".
Trustpilot – no reviews
Capterra – no reviews
G2 – no reviews
Featured Customers – no reviews
Facebook – 5/5 (based on 1 review)
Pros
Offers a broad range of fleet management solutions on a single platform
Their solutions increase fleet safety and compliance with regulations
Provides a maintenance solution that can decrease the downtime of your fleet and assist in scheduling maintenance
The solutions can improve communication and information flows with drivers
Cons
They don't offer dash cam products as part of their solution or driver behaviour monitoring
American based with no local support
A very low number of customer reviews to gauge independent information on their products and service
Website: https://www.lioneight.com/
Disclaimer: Fleetlogging.com is a general business information website only. The material and information on this website should not be relied upon for making any business or legal decisions. We cannot recommend any company and/or product, nor assess your suitability for any product and/or company listed here.