Lytx, founded more than 20 years ago (then DriveCam, Inc), aims to harness the power of video and data telematics to improve fleet 'safety, efficiency, and productivity.' Its mission is to empower 'optimal fleet visibility and operations' with its powerful suite of fleet management tools and technologies, with a particular focus on video telematics.
Currently, Lytx technology protects more than one million drivers around the world. What makes its video telematics so special? Does it still put the due focus on crucial GPS tracking technology? Does its package improve safety on our roadways? And how will your fleet benefit? Keep on reading to find out what we make of Lytx fleet management.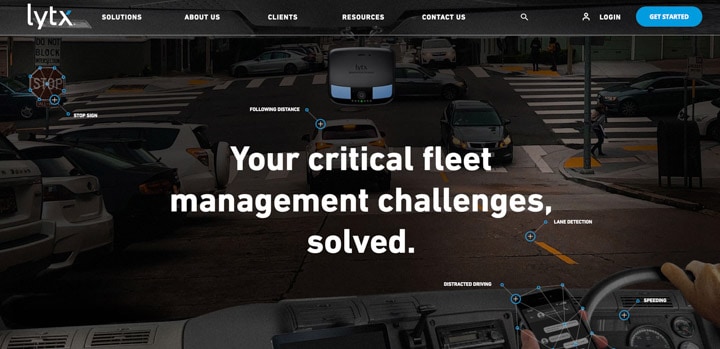 Lytx Features & Services
Comprehensive Fleet Management Solutions;
Fleet Dashcams;
Fleet Safety Solutions;
GPS Fleet Tracking;
DOT Compliance & ELD;
Video Telematics.
Dashcams & Video Telematics
Lytx's tools and technologies provide you with the insights your team needs to help protect drivers and take care of your bottom line. Its innovative fleet management solutions provide you with the eyes you need on the road and the data-driven information you need to streamline operations across the board. Lytx's system combines intelligent software, cloud-connected cameras, sensors, and, importantly, video.
Unlike many other fleet management system providers, Lytx put a strong focus on dashcams and video telematics. You can protect your drivers – and your business – with crucial video evidence, exactly when you need it. The cloud-connected fleet dashcam system (combined with the Lytx Video Platform) delivers "reliable, continual video clips to a searchable online dashboard." From there, you can filter videos based on time, date, location, driver, and more.
Within minutes of capture, you can locate and view the exact video you need online. Should something ever go wrong, you'll quickly know about it and be able to react to it.
The dashcams themselves are both forward-facing and rear-facing cameras that are capable of providing a top-quality 360° view of life on the road, including night-view. You can customize your cameras for road view, cabin view, or both.
The video evidence you capture will provide your team with indisputable video truth. Importantly, you'll be able to exonerate innocent drivers in court. You'll reduce insurance premiums, save money on insurance claims, and increase profits considerably. And it's a reliable system as well – the system continues to record up to 100 hours of video from everywhere with a connection.
Lytx has patented its own highly advanced Lytx DriveCam device. This intelligent machine also uses artificial intelligence to capture and categorize risky driving behaviors and provide real-time alerts – but more on that later.
GPS Fleet Tracking
But it's not all video – and like many other fleet management companies, Lytx has also developed a trademark GPS fleet tracking solution. With Lytx's products, you'll be able to watch your fleet in near real-time, access fleet status, manage driver efficiency, and keep your vehicles in the best possible condition.
Locate, manage, and track your vehicles and drivers from wherever they may be. You'll be able to provide your customers with a seamless, efficient service while you optimize the workflow of your assets in the field. And when you combine the fleet tracking service with video telematics, you'll be able to use the map and find the videos you need from just about anywhere.
The GPS fleet tracking software shows complete fleet visibility. You can quickly identify active drivers, vehicle locations, detailed pinpoints along a driver's route, and you can even review full trip replays from the location-tagged videos.
Additionally, you can track arrival and departure times, make sure that your drivers stick to the most efficient routes, set geofencing alerts, track idle time, reduce fuel consumption, manage engine data, and even keep on top of maintenance insights. All of the GPS fleet tracking solutions will boost your fleet's efficiency and maximize productivity.
Fleet Safety Solutions
The fleet safety programs offered by Lytx helps to protect your drivers, keep your fleet operational, and save lives. Lytx's Driver Safety Program is a comprehensive fleet safety management system within itself, combining the best of video telematics with an enhanced safety of culture throughout your fleet.
The safety technologies prevent collisions before they even occur, pinpoint risk, improve risky driver behavior, offer video-based coaching, and track overall fleet risk. You can specify exactly which drivers need more attention, and which ones should be rewarded for super-safe driving.
The coaching workflow includes comprehensive reports that your team can review and analyze. But before that, the driver dash cams can be combined with risk-detection technology to improve behavior, create instant alerts, and identify more than 60 different types of unnecessarily risky driver habits.
DOT Compliance & ELD
So as well as using video telematics to streamline your operational efficiency, keep your vehicles in the best possible condition, and keep your team safe, Lytx is also committed to keeping your fleet legal and fully regulated. That begins with DOT compliance and HOS logging.
Lytx's DOT compliance software and solutions help to improve management and training, while also meeting local requirements. Its services make it simple for drivers to input logging data, and for your team to review crucial ELD reports that help you keep in line with modern mandates.
Everything has been designed to take the guesswork (and therefore the risk) out of fleet compliance. Manage HOS files, audit DQ files, manage DVIRs, and satisfy ELD requirements all within one powerful, paperless platform.
Lytx Reviews and Ratings
Matching its advanced array of professional tools and technologies, Lytx generally scores well with independent customer reviews. Surprisingly, the majority of the average reviews come from TrustPilot, where Lytx scores 3.6/5 from nearly 100 reviews. Some users complain of poor customer service, faulty products, and a contract that's difficult to escape. Worryingly, complaints of dashcams that don't operate as promised come up more than once. Other reviews praise reporting systems, great technology, and easy installation, but rarely take the time to compliment customer service.
Capterra reviews fare much better, with an average score of 4.7/5 across 21 reviews. There are few complaints: instead, users praise the effectiveness of the system, the effect the safety tools have on driver behavior, and a general decline in accidents and insurance costs.
G2 reviews again paint a positive picture, but there are only two reviews to choose from. Nonetheless, this leaves Lytx with an average score of 4/5 and only a couple of complaints about sensitive AI software.
Facebook reviews, surprisingly, take quite a dip down to 2.2/5, from nearly 20 reviews. The complaints are similar to the ones that appear in TrustPilot reviews. Dashcams subscriptions are organized before they're installed and proven to be functional, and there are again issues with iPhone and Mac compatibility. Some consider the dashcams to be 'invasive', from a team with 'terrible customer service' that some users even call 'dishonorable.' That being said, there are some positive reviews from a few loyal customers.
Rob Watts, of PC Mag, gives Lytx fleet management a 4/5 review, and only laments a lack of features that are regularly offered by competitors:
"Lytx DriveCam Enterprise excels at helping fleets become safer. This fleet management software lacks some of the other features you'll find in the competition, however."
Jitendra Soni, from TechRadar, also leaves a favorable review for Lytx:
"Lytx offers a comprehensive solution that helps in weeding out vehicles that may turn out to be costly in terms of maintenance and operation. This established service leverages AI and machine learning to predict collisions and alert drivers as well as operators."
Lytx has developed a range of customizable solutions for effective fleet management, with a firm emphasis on fleet safety. Those products can be used to show you what's happening with any vehicle in your fleet, improve driver safety, increase productivity, and streamline compliance management.
But, all things considered, Lytx should consider expanding its product suite and applying the same tact and technology to additional fleet management services. There are also a few niggling complaints that they should seek to address, namely, faulty products, poor customer service, and system compatibility with Apple products.
TrustPilot – 3.6/5 (based on 84 reviews)
Capterra – 4.7/5 (based on 21 reviews)
G2 – 4/5 (based on 2 reviews)
Facebook – 2.2/5 (based on 17 reviews)
Pros
Outstanding commitment to fleet, driver, and vehicle safety;
Advanced AI that predicts collisions, alerts risky behavior, and coaches less risky driving habits;
Up to 100 hours of dashcam footage that is searchable and viewable almost instantly;
Reliable GPS tracking that can be combined with video telematics for a full picture of driver activity.
Cons
Scathing reviews of poor customer service and experience;
Outwith the safety management system, there are fairly limited fleet management features;
Incompatibility with some iOS products and software;
Contracts that are tied up before users have the opportunity to install and test dashcams.
Website: https://www.lytx.com/en-us/
Disclaimer: Fleetlogging.com is a general business information website only. The material and information on this website should not be relied upon for making any business or legal decisions. We cannot recommend any company and/or product, nor assess your suitability for any product and/or company listed here.