When managing your fleet's expenses and other logistics, you need a reliable and efficient system, which is why most business owners turn to fleet cards.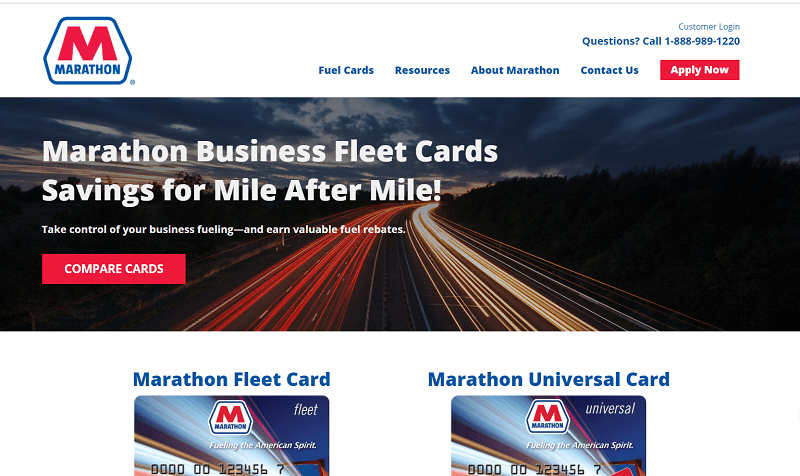 Marathon Fuel and Fleet cards are a popular option among many businesses. They offer custom plans based on business size, advanced but easy-to-use card controls, and many other features. Overall, Marathon has a lot to like, but is it the right choice for your fleet's specific needs?
Here's the good, the bad, and everything else you need to know:
What are Marathon Fuel and Fleet Cards?
Although they offer several plan types, all Marathon fleet cards provide two core services:
They allow your team members to fuel, repair, and otherwise service fleet vehicles
They allow you to easily track fuel consumption and other economics related to fleet movement
Their fleets cards are accepted at over 5,800 Marathon service stations. Plus, an additional option allows you to use the card at approximately 95% of all gas stations nationwide. Other key features include a rebate of up to $.07 per gallon and detailed reports.
Who is the Marathon Fleet Card for?
Their fleet cards are ideal for a wide range of businesses. They offer custom plans tailored to small, medium, and large-sized fleets. So, whether you're looking to purchase your company's first fleet card system, or want to manage an existing nationwide fleet, Marathon has a plan for you.
They're also an excellent option for anyone who hates paperwork – and isn't that everyone? Every purchase made on any card is recorded, and Marathon turns that data into a variety of useful reports. Say goodbye to collecting receipts from drivers. All aspects of fleet services used are trackable through the free SmartHub app.
Types of Marathon Fleet Cards
Marathon offers two types of fleet cards. One's more of a traditional option, while the other offers a relatively unique feature.
The Marathon Fleet Card is their traditional offering. It includes:
Detailed data capture
Extensive reporting options
Easy permission adjustability down to the individual level
Accepted at over 5,400 Marathon stations nationwide
Qualifies you for savings of up to $.07 a gallon
If you're familiar with some of the other big names in fleet cards, you've probably noticed their 5,400 available stations aren't on the high-end compared to other options. Marathon's solution is the Universal card.
The Marathon Universal Card offers all the features available in the Fleet, plus significantly more service locations options. Your fleet can now refuel and service vehicles at 95% of all gas stations plus 45,000 service stations within the US.   
However, it's important to note that the Universal Card does include setup and maintenance costs, while the Fleet card has no extra fees. If your fleet doesn't operate near Marathon service stations, make sure upgrading to the Universal Card is worth the extra costs.
What Marathon Customers Say
As part of presenting a thorough and impartial look at Marathon, it's important to consider the opinions of real people who have actually used the fleet card service.
Unfortunately, there's a lack of significant reviews found online. Trustpilot only has one user review, and it's from someone who said it took two years to resolve a complaint about disputed charges. Of course, a single bad review isn't reason enough to avoid the company, but a total TrustScore of 1/5 is nonetheless concerning.
Additionally, Marathon doesn't have an official Facebook page. While you can find pages for individual gas stations owned by the company, they don't have anything dedicated specifically to their fleet cards.
The Bottom Line
If you've been looking into other types of fuel cards for your fleet, you've probably noticed that many features available from Marathon seem familiar. That's because Marathon Petroleum owns Speedway Fuel. The fleet card options offered by each brand are the same.
While Marathon's cards do provide an easy way to track and maintain your company's vehicles, you might not want to rush into any long-term commitment to the company. They were recently purchased by 7-Eleven, so the company is about to experience major structural changes.
In theory, this is a benefit for customers. 7-Eleven offers a much larger network of gas stations than Marathon, giving you more refueling options across the country.
The biggest strike against Marathon right now is that their Fleet card only works at 5,400 gas stations. However, after the merger with 7-11 goes into effect early next year, that number could increase significantly.
Overall, Marathon's fuel and fleet card options give you tons of control, and their reporting options are second-to-none, but their relatively low number of gas stations does pose some concerns. We recommend waiting until after the first of the year to see if station availability improves.