Merchants Fleet is an American based fleet support business that has been operating for over 60 years. They provide customised fleet management and fleet leasing solutions to businesses and organisations of all sizes. They provide partnership services, consultation services, outsourced services and software products to help you manage your own fleet.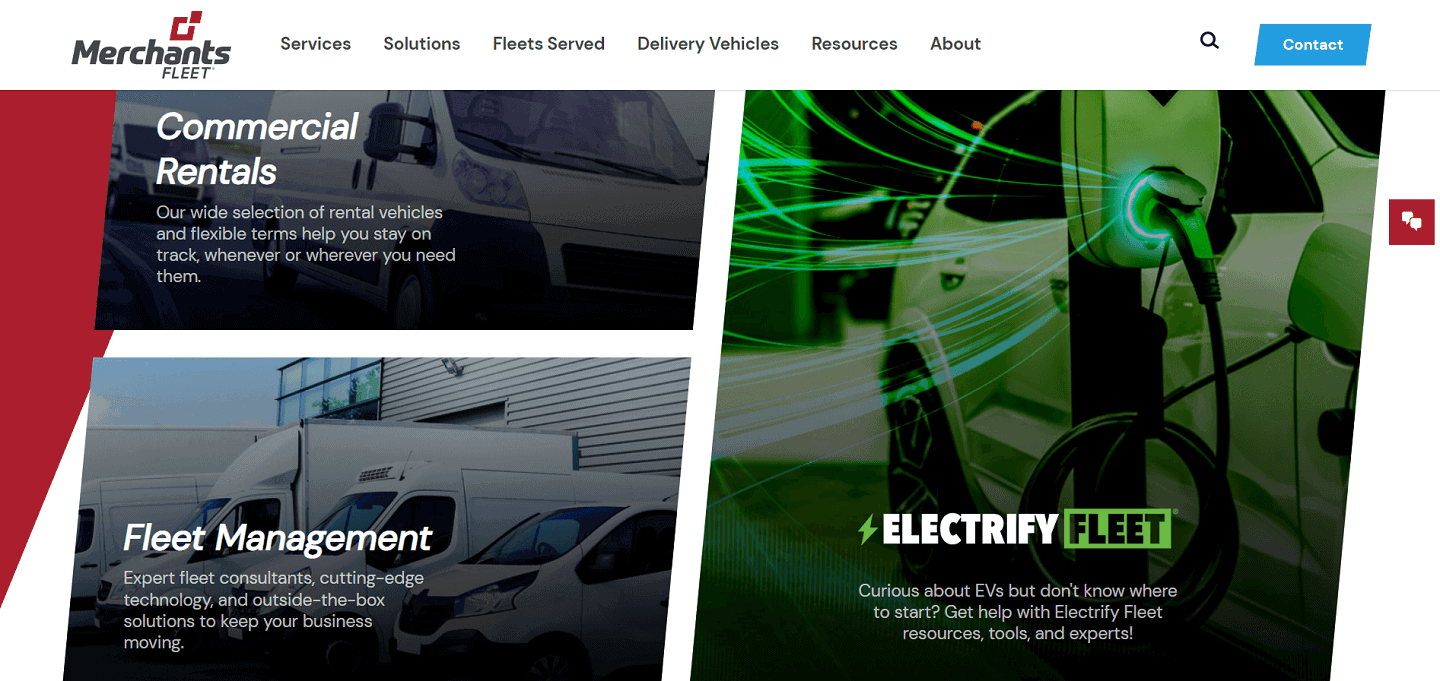 Merchants Fleet Features & Services
Fleet telematics and GPS tracking
Fleet account management
Safety management tools
Fuel management
Vehicle maintenance services
Driver productivity
Fleet Telematics and GPS Tracking
Merchants Fleet offers telematics and connected vehicle solutions to businesses that are scalable and customisable. Their system called TotalConnect allows you to streamline your fleet management processes and give you greater insight into your fleets through better visibility.
They combine connected vehicle data, GPS technology and integrated telecommunications to provide real-time data on your fleets and historical information. The information provided can help you to manage expenses, productivity, vehicle utilisation, compliance and safety.
Their system can send and receive information as well as store information about the vehicle and its activity including monitoring its speed, idling times, monitoring emissions and system diagnostics. It can also be used to monitor driver behaviour including speed, braking, acceleration and after-hours use to help improve behaviours and reduce wear and tear on vehicles.
Premier Fleet Account Management
Merchants Fleet offers FleetAssist which is their premier fleet account management solution and it is used to support their expert consultants to work as an extension of your team to manage your fleet. It is a strategic consulting solution that helps manage fleet data and analytics, inventory and order management, and driver support centre. This solution is only available as part of their consultancy services and not as a standalone product.
Safety Management Tools
Merchants Fleet offers tools that can assist you in measuring the potential of accidents before they occur so you can make adjustments and train your drivers to reduce the risk. They offer a comprehensive program or individually customised tools to help you manage safety and potentially reduce insurance premiums.
Having access to historic data can allow you to profile your drivers' behaviour and separate them into risk levels to highlight needs. Merchants Fleet can also provide online training courses.
Their system also allows you to collect and store driver information and documents in one place that is accessible.
Fuel Management
Merchants Fleet's TotalView software allows you to track your fleet performance including accessing invoicing, maintenance records, fuel spend and driver documentation. They also offer fuel credit cards in partnership with Mastercard so that it can integrate with their fuel management programs.
With TotalView, you can track fuel spend, streamline expenses, manage user profiles, set up overspending and fraud alerts to help you control your fuel costs. Through the collection of this data, you can monitor spending more effectively by allowing you to direct buying, prevent fraud, spot exceptions and set up alerts.
They also provide electric vehicle support solutions which include charging options.
Vehicle Maintenance Services
Through Merchants Fleet's TotalView system you can manage your vehicle maintenance services which can simplify your maintenance and reduce your administration. Their system can manage all vehicle types including trucks from class 1 to 8 and non-vehicle equipment. The software can help you to establish benchmarks, allow you to monitor trends and costs, and you can set up reminders for vehicle maintenance.
They also provide maintenance programs with a vendor network and a Roadside Assistance program.
Driver Productivity
Through Merchants Fleet's technology, you can use their software to manage all aspects of your fleet including your drivers. The software can help you to boost driver productivity and streamline your processes. This can include reporting on vehicle use, violation management, and policy management.
Merchants Fleet Reviews and Ratings
There are only reviews for Merchants Fleet on Facebook and not any of the other customer review sites for fleet management. There is only a small number of reviews available on Facebook which gives them an average score of 3.5 out of 5 but this is not a significant enough sample as there are only 8 reviews. These reviews are not representative of fleet logging and management products as it covers all their services and products such as vehicle leasing.
The feedback on the reviews is even less with the only tangible comments being about good customer service and issues with a vehicle lease.
Trustpilot – no reviews
Capterra – no reviews
G2 – no reviews
Featured Customers – no reviews
Facebook – 3.5/5 (based on 8 reviews)
Pros
Provides fleet management solutions that allow you to ensure fleet safety and compliance
Offers a broad range of fleet solutions beyond fleet logging applications
Provides vehicle maintenance solutions that are suitable for all vehicle and non-vehicle equipment to help streamline your administration
Cons
Their product range doesn't include dash cams
They are based in America and some services may be geographically restricted
There is only a very small number of reviews which are mixed and not very representative of their fleet management products
Website: https://www.merchantsfleet.com/
Disclaimer: Fleetlogging.com is a general business information website only. The material and information on this website should not be relied upon for making any business or legal decisions. We cannot recommend any company and/or product, nor assess your suitability for any product and/or company listed here.