MiX Telematics is a leading software solution provider that offers fleet and mobile asset management solutions to enterprise fleets, small fleets and consumers. They were founded in 1996 and have since grown into an international business with offices in the UK, South Africa, Uganda, Brazil, Australia, Mexico and UAE. They have over 800,000 subscribers in over 120 countries across the world that have seen an average of 14% fuel savings and 70% reduction in incident rates. They offer software that can increase efficiency, improve safety, assist with compliance and aid with fleet management.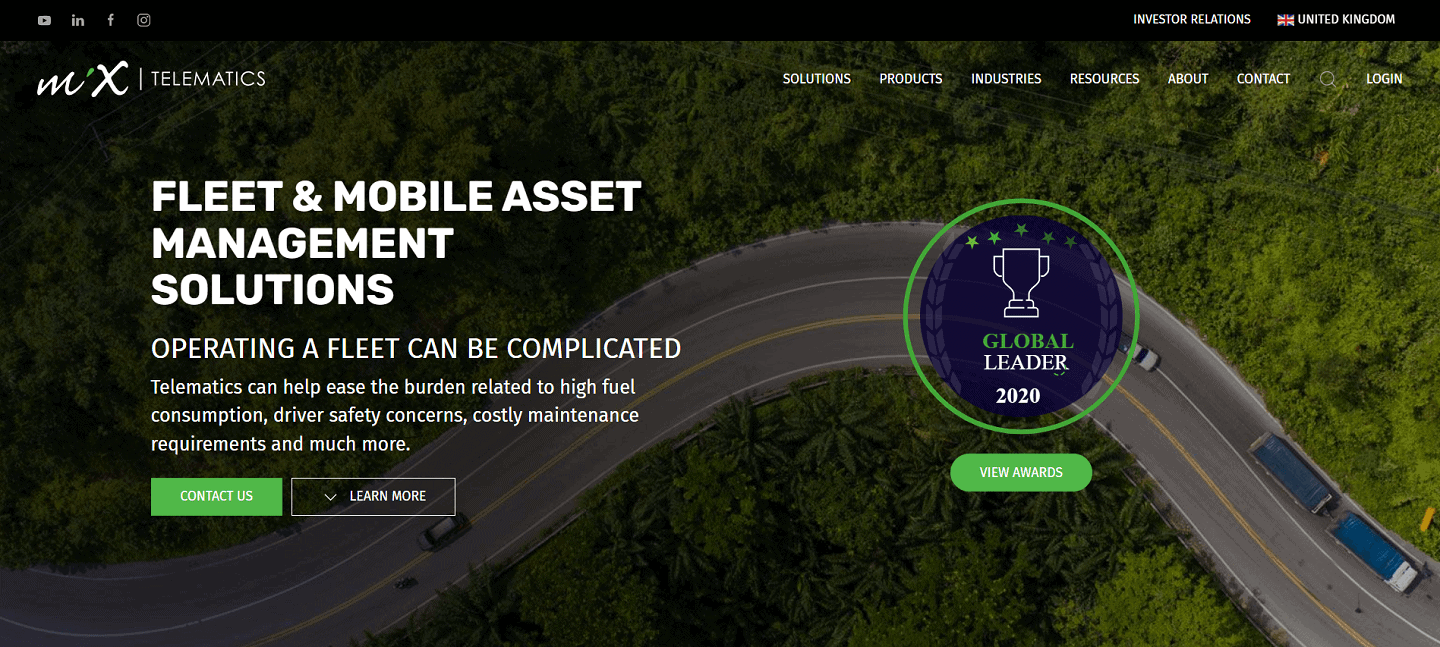 MiX Telematics Features & Services
Fleet management
Asset manager
Driver tracking
Fleet Management
MiX Telematics offers fleet and driver management solutions that allow businesses to collect data that can aid decision making, direct driver training, provide safeguards against risks and improve efficiencies. The software includes live tracking giving you visibility of your fleet and driver activities at all times as well as receiving instant notifications about alerts you have set up.
Driver safety analysis allows you to monitor risky behaviour and inefficient driving such as speeding, excessive idling, harsh braking and acceleration. This allows you to assess whether drivers need training. Direct and safe communication with drivers such as visual and audible alerts about their behaviour to prevent accidents.
Route planning and management to enable the most efficient routes to be taken and to improve customer service by reducing on-road delays. Route analysis can allow you to optimise journeys, and group jobs by location to minimise drive time and avoid traffic congestion or road works.
Monitoring fuel usage through monitoring behaviours and learning how to reduce wastage. It also allows you to quantify your fleet emissions and put plans in place to reduce your environmental impact.
Asset Manager
The Asset Manager solution is designed to maximise the visibility of all your non-vehicle assets both mobile and fixed. You can create an automatic, electronic registry of your assets, their status and whereabouts so you can track them on a map, manage service intervals, and bill more accurately if you rent them out.
The software provides live tracking, asset data including reminders for certification, fuel data, historical data, and reporting functionality. The software is designed to reduce the risk of losing an asset, decrease downtime, streamline processes and maximise revenue through increased asset utilisation.
GPS Tracking
MiX Telematics offers plug 'n play or self-install options for their GPS tracking software which allows you to monitor your fleet in real-time and view historic data. The data is stored on their easy to navigate online platform which can be accessed on any device from anywhere.
The GPS tracking software allows businesses to discover over or under utilisation of vehicles and equipment, track stolen vehicles or equipment, track vehicle location to keep customers informed, and can result in lower operational and insurance costs.
Dashcams
MiX Telematics offers a range of dashcams including road-facing cameras, driver-facing cameras and in-cab cameras. Alerts can be sent as risky driving events occur so that drivers can self-correct their driving and prevent any incidents. Fleet managers can see where drivers may need additional training.
Road-facing cameras can detect any impending forward collisions, unsignalled lane departure and when they are following too closely. Driver-facing cameras can allow you to detect seat belt usage, fatigue, distraction, use of phone or smoking when driving. In-cab cameras record real-time visuals and audio footage of the cab, it doesn't record AI events.
Driver Tracking
MyMiX Tracking is a driving tracker app that allows you to record, measure and real-time correct risky driving behaviour such as speeding, harsh acceleration or braking, distraction or mobile phone use while driving. It is an extension of the MyMiX app and is a good solution for short-term vehicles or those not owned by the company as there is no need to install hardware.
It works by the driver logging into the app at the start of a journey and mounting the phone to the dashboard. The app then runs in the background monitoring the journey, collecting GPS positions, distance, duration, max speed and driver events. All the data collected can be reviewed afterwards.
MiX Telematics Reviews and Ratings
There are only customer reviews available on two of the leading fleet management customer review sites for MiX Telematics and most of these are found on Featured Customers. Trustpilot only has two reviews for MiX Telematics and they rate them as average at 2.9 out of 5, although both reviewers gave them very poor reviews.
Featured Customers gave MiX Telematics an overall score of 4.7 out of 5 and they have 941 testimonials and 1,274 case studies.
Positive review comments include quality of monitoring is excellent, improved efficiency of fleets, manage individual performance as well as the fleet and assist them in improving driver behaviour.
Negative review comments include being unable to contact them to resolve issues and being unable to cancel a contract.
Trustpilot – 2.9/5 (based on 2 reviews)
Capterra – no reviews
G2 – no reviews
Featured Customers – 4.7/5 (based ohttps://www.trustpilot.com/review/mixtelematics.comn 2,215 reviews)
Facebook – no reviews
Pros
Offers fleet and asset management solutions that allow you to track them in real-time and analyse their data
Provides driver behaviour monitoring solutions that aid with instant rectification notifications and highlighting training needs
Includes alerts and notifications to allow fleet managers to see what is happening in real-time and act on it
Offers a range of dash cams including AI technology to detect possible issues and alerts the driver to them
A large number of positive reviews and case studies are available
Cons
A few customers had issues contacting the company and cancelling their contracts
The software doesn't incorporate a fleet maintenance solution or tracking
Website: https://www.mixtelematics.com/eu/
Disclaimer: Fleetlogging.com is a general business information website only. The material and information on this website should not be relied upon for making any business or legal decisions. We cannot recommend any company and/or product, nor assess your suitability for any product and/or company listed here.