National Fleet Tracking is an American based fleet tracking provider that offers a web-based platform that allows businesses to track their vehicles from anywhere on any device. They engineer solutions that fit your business model to allow you to save time and money. The software can help you to reduce unauthorised use, off-route mileage and unnecessary idling. They can help you to track a range of vehicles including trucks, heavy equipment, pickups and other vehicles.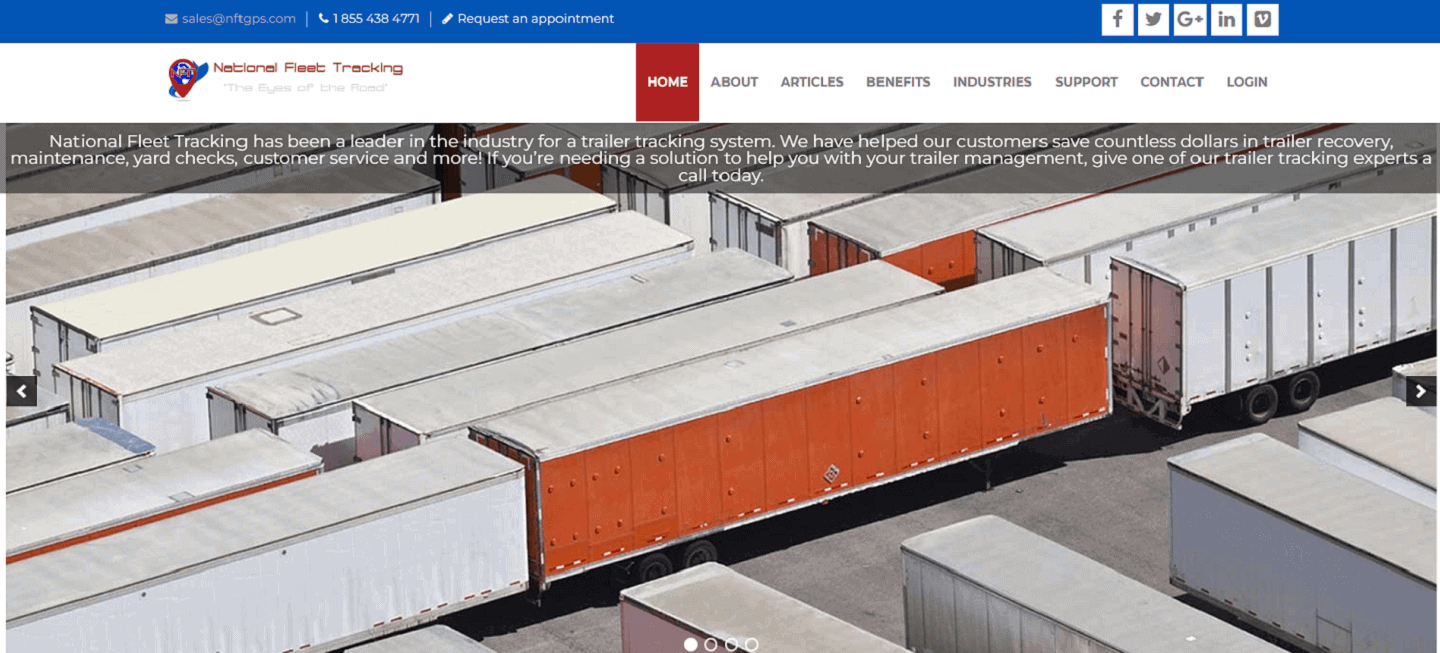 National Fleet Tracking Features & Services
Fleet tracking
Trailer tracking
BusView
Fleet Tracking
National Fleet Tracking offers GPS tracking solutions suitable for a range of vehicles including trucks, pickups and heavy equipment. The tracking solutions allow you to monitor your fleet movements in real time and review the history.
This software can help you to improve fleet safety which can reduce insurance costs, it can also increase productivity by having the data available, and improve customer relationships through increased knowledge of vehicle locations. They provide customised solutions to help meet the differing needs of their clients with a wide range of data solutions.
Trailer Tracking
National Fleet Tracking also provides trailer tracking solutions that allow businesses to track trailers at a glance on a map and run utilisation reports to increase their productivity. It can assist with scheduling trailers and track sanitisation.
Trailer tracking can also monitor temperature and you can set up alerts to let you know when it is outside the perimeters. It can also store a year's worth of historical records.
BusView
National Fleet Tracking's BusView product is designed for school buses and allows both the business and parents to track the bus. This software gives parents the knowledge they need to get their children onboard on time and know where they are once they are onboard.
BusView provides many features for businesses which include the ability to store bus maintenance records and automate record keeping and reminders. The increased information can help reduce idling which can improve fuel efficiency and save time. It can also be used to monitor driver behaviour by tracking bad habits like harsh braking, speeding, sharp turns and unnecessary idling.
National Fleet Tracking Reviews and Ratings
There are very few customer reviews available on the leading review sites suitable for fleet management businesses. Capterra only has one review that is seven years old which scored them 5 out of 5 for ease of use and customer service.
Facebook has three reviews where two reviewers recommended them and one didn't which gave them an overall score of 3.7 out of 5. These were old reviews from over seven years ago and there were no comments left with the reviews.
Trustpilot – no reviews
Capterra – 5.0/5 (based on 1 review)
G2 – no reviews
Featured Customers – no reviews
Facebook – 3.7/5 (based on 3 reviews)
Pros
Offers vehicle tracking solutions suitable for a wide range of vehicles
Provides a specialist solution for school buses to support fleet managers and parents to improve the service and its efficiency
Offers trailer tracking solutions that can also monitor temperature
Cons
Product features are more limited than some of their competitors as they don't offer a complete fleet management solution
They don't provide dash cam products
Only a very small number of customer reviews are available and these are all from seven or more years ago
Website: https://nationalfleettracking.com/
Disclaimer: Fleetlogging.com is a general business information website only. The material and information on this website should not be relied upon for making any business or legal decisions. We cannot recommend any company and/or product, nor assess your suitability for any product and/or company listed here.