NexTraq is a part of Michelin's Global Services and Solutions business line, and a key part of Michelin's international telematics offerings. It serves thousands of customers and hundreds of thousands of vehicles and assets throughout North America, providing fleet visibility and productivity, ELD compliance, and other essential tools needed for complete driver safety on the road.
NexTraq has a proud history of innovation that aligns with Michelin's vision. So how reliable are NexTraq's fleet management solutions? Is their product suite worth your investment? And how exactly will the various tools, technologies, and products benefit both your office team and your drivers? We take a closer look at what NexTraq offers and how the reviews fare.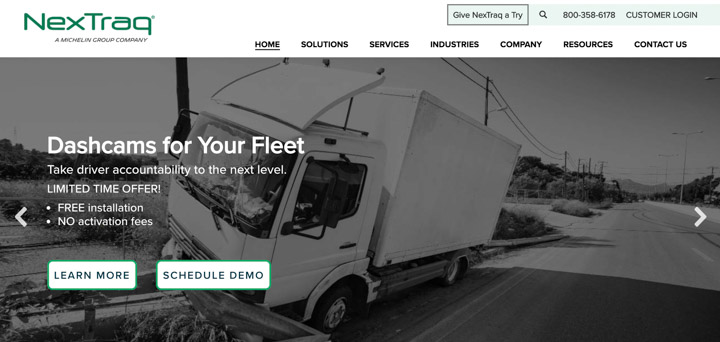 NexTraq Features & Services
Vehicle and Asset Tracking;
Fuel Management;
Real-time Alerts;
Geofencing and Mapping;
Driver Safety Technology;
ELD Compliance;
Routing and Dispatching;
Reporting and Metrics.
Vehicle and Asset Tracking
NexTraq has put a significant effort into developing NexTraq® View™, the innovative fleet management dashboard for office-based teams. It's a one-stop-shop for complete fleet visibility and productivity, providing users with a bird's-eye view of mobile assets, drivers, and vehicles. In fact, NexTraq thinks the tool is so beneficial that you'll quickly become addicted to opening tabs and checking on your drivers throughout the working day.
It's a user-friendly software, powered by Google Maps, that covers all of the essential fleet management requirements: live customer delivery updates; real-time driver alerts; routing; instant driver communication; live GPS locations of each of your assets.
The majority of this is available through the on-board telematics technology, and reliable GPS tracking. The cloud-based fleet tracking solution shows you the information you need to reduce overtime and maximize revenue. Assign jobs with a simple dispatching system, view any metric or diagnostic report you need on the dashboard, and locate every vehicle you own on a map in real-time. You'll be able to see if they're idling, traveling, or parked.
NexTraq® View™ truly does have everything you need in one place. A perfect example of this is the dispatch system – you can quickly check the maps, locate the best-located driver, and dispatch a particular job to them in seconds. Available in the office, on smartphones, and even on tablets in remote locations, everything you need for effective fleet management is available on one intelligent platform.
The trackers themselves are easy to install. The patented VT-3030 is a compact and versatile tracking device, ideal for light-duty vehicles. The VT-2630 takes the telematics technology a step further by measuring driver behavior and vehicle performance, while the VT-3640 comes with a built-in ECU (Engine Control Unit) for additional interface technologies on heavy-duty vehicles. NexTraq's asset trackers are more reliable and longer-lasting GPS trackers.
Routing, geofencing, mapping, live driver locations, real-time alerts, and dispatching are all available with this streamlined tracking solution. Your team won't miss a single fleet detail with a constant, dependable, and highly accurate aerial view of your team on the road.
Driver Safety Technology
That being said, NexTraq also put a firm focus on driver safety. Its products provide you with everything you need to keep drivers safe and quickly interrupt dangerous behaviors. When your drivers are safe, your business is safe, and you'll be able to protect both driver's well-being and valuable fleet assets.
It begins with the GPS tracking, where you can quickly see who's speeding, cutting corners, and braking too harshly. You'll get instant alerts, while drivers will be notified with an in-cab buzzer. NexTraq®  MobileBlock™ prevents drivers from using their phones, or any other distractions. But NexTraq®  Driver Training™, Driver Awareness™, and Driver Safety Scorecards will all help you make drivers more aware of their risky behaviors.
And if you want to be 100% covered, then consider investing in NexTraq®  Dashcams as well. These HD-quality cameras capture evidence of crucial driver incidents and ping alerts to your office team for any unsafe maneuver (with a GPS location included as well).
By promoting a culture of safety you'll have more protected drivers, longer-lasting vehicles, and a much-reduced risk of any liability or accident claim.
Routing and Dispatching
Everything we've looked at so far has been related to tracking and driver safety. So how do NexTraq make your day-to-day dispatch easier? That's where NexTraq® Dispatch™ comes in. This powerful tool makes it easy to schedule jobs, dispatch them to the right vehicles, and communicate with drivers in the field.
NexTraq® Verify™ – the natural Dispatch™ upgrade – even allows your team to capture and store photos and signature. The drag-and-drop job schedule board streamlines productivity provides drivers with daily itineraries and leads to increased revenue.
When paired with the truck routing software, the package significantly simplifies the dispatch process. The majority of routing tasks can even be achieved with one click. Optimize driver routes, respond to customer inquiries, complete more jobs in less time, and cut down on fuel costs with this intelligent software.
ELD Compliance
Despite all of this impressive technology, NexTraq hasn't lost focus on keeping your company fully regulated and up-to-date with the latest regulations. NexTraq® Connect™, specifically designed for drivers and crews, makes everyday ELD compliance as simple as it could possibly be.
The intuitive options screen shows drivers where to go for HOS, DVIR, and RODS. The ELDs are FMCSA-certified and will end up being a crucial tool for driver job information, attendance, and even vehicle information.
With a live display, both your drivers and office team will be able to see how close they are to a HOS violation, and whether or not they're missing crucial details for their DVIR. They can change status instantly, and record hours with minimal effort.
NexTraq® Elogs, on the other hand, are rugged, hard-wired ELD devices designed for optimum performance. These too are simple to use, but since they're ever-present in the cab, their data is even more reliable.
NexTraq Reviews and Ratings
We've painted a pretty detailed picture of what NexTraq can provide. But crucially, are their solutions dependable? Are they worth your investment? And do the promises match up with customer feedback?
Regrettably, there are surprisingly few unbiased, independent reviews of NexTraq's fleet management solutions available. There are no NexTraq reviews on the reliable TrustPilot platform.
Thankfully, Capterra provides the bulk of the customer reviews, where customers give NexTraq a surprisingly low score of 3.7/5 based on 41 reviews. On the whole, customers find the tools easy to use, but they're less-than-impressed with the levels of customer service they received.
Users point out that the reports are very useful and that the tracking and dispatching softwares are versatile and reliable. Some users praised a noticeable increase in driver safety and enjoyed the bird's-eye view of fleet activity.
Unfortunately, a common theme seems to be signal 'outages' and software glitches. Reviews mention a loss of signal concerningly frequently, and many users had to instead finish tasks manually. There are also scathing reviews of NexTraq's absent customer service, with some users calling it "absolutely awful" and labeling the company as "completely unresponsive", especially when they were tied down with lengthy contracts.
G2 reviews indicate a happy customer experience, but this comes from a lowly four reviews. Nonetheless, there are three 5* reviews and a single 4* review. Customers praise the wide range of features, reliable tracking, routing capabilities, and the all-in-one platform design.
TechRadar settled on a score of 3.5/5 for NexTraq, praising many features of the telematics platform but pointing out a lack of pricing transparency:
"Its intuitive software not only lets users track vehicles, but also comes with a host of features that help a business stay informed. Options like geofencing, two-way communication and so on, along with the numerous reports that can be generated using the system, keeps administrator's on top of the drivers' performance."
Business.com also enjoyed NexTraq's platform, and delivered a positive review:
"In addition to its solid services, free hardware installation and lifetime warranty, NexTraq offers above-average safety tools, making it our pick for the GPS fleet tracking service with the best safety features."
NexTraq certainly offers one of the best fleet management suites with GPS tracking, ELD compliance, and driver safety key priorities. That being said, there are one or two issues that they'll need to address, and we look forward to fully reviewing their service once more impartial reviews are available.
Capterra – 3.7/5 (based on 41 reviews)
G2 – 5/5 (based on 4 reviews)
Pros
An extensive all-in-one platform that's designed to make your job easier;
A commitment to driver safety with some of the best driver safety features on the market;
Full ELD compliance that's easy to use either with a smartphone app or a hard-wired device;
Rugged, reliable, and weatherproofed GPS trackers.
Cons
Regular complaints of 'lost signal' and telematics interruptions;
Poorly reviewed customer service experience;
Some complaints of pricing that is not transparent or easy to negotiate.
Website: https://www.nextraq.com/
Disclaimer: Fleetlogging.com is a general business information website only. The material and information on this website should not be relied upon for making any business or legal decisions. We cannot recommend any company and/or product, nor assess your suitability for any product and/or company listed here.