Omnitracs promises to "connect drivers, back-office teams, and customers through innovative solutions" that drive your team forward. Using more than 35 years of industry experience, Omnitracs has paved the way for fleets to improve productivity, safety, and compliance across the board. Today, it manages more than one million assets in more than 70 countries.
So what makes Omnitracs products so advanced? Do the user reviews meet expectations? Does Omnitracs One really bring unprecedented levels of solution flexibility and adaptability to your fleet? Let's take a look at the reviews and find out.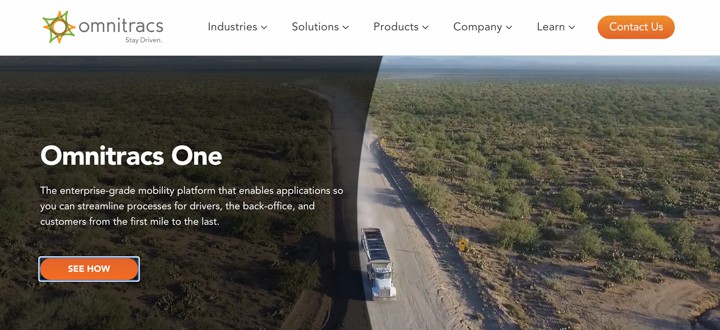 Omnitracs Features & Services
Omnitracs One;
Omnitracs Drive;
GPS Monitoring;
Driver Workflow;
Driver Management Solutions;
ELDs & Hours of Service (HOS);
Navigation;
Compliance Management;
Route Optimization;
Load Board;
Vehicle and Asset Management Solutions;
Fleet Efficiency Solutions.
Omnitracs One
Omnitracs One is a powerful, integrated fleet management platform. Marketed as a 'revolution in fleet management', this flexible fleet management solution creates the optimum experience for drivers, back-office teams, and customers all at once. When used correctly, it helps your business grow and transform.
Omnitracs' patented fleet management solution puts a firm emphasis on optimizing every process in your business chain. Full visibility of your fleet allows you to spot opportunities, identify trends, and implement change with minimal interruption to business operations.
You can improve safety by monitoring drivers, coaching them, and recording every moment on the road. Increase compliance by automatically keeping up-to-date with the latest regulations and digitally storing hours of service.
Omnitracs One also helps your team to manage vehicles and assets more effectively, minimizing any unnecessary downtime and protecting the assets in the field. When you're on top of your maintenance schedules, it's easier to plan your fleet's movements and meet customer demands.
The intelligent software makes it easy to synchronize the movements of every team member and offer an even quicker turnaround. A flexible, future-proofed design also ensures that third-party applications can be seamlessly integrated into the platform.
GPS Monitoring
Omnitracs One ties all of your fleet management technologies together in one easy-to-use product. But in their own right, those fleet management technologies are highly capable; few are more capable than Omnitracs' Fleet Telematics Solution.
Omnitrac's Fleet Telematics goes beyond your everyday GPS tracking solution. It combines location monitoring, engine diagnostics, easy-to-use mapping, and reporting software. See where and how your fleet is performing, record real-time location data, and quickly view the location of any asset on a web-based application from anywhere in the world.
Monitoring your daily operations and processing objective feedback, you'll be able to instantly establish whether or not things are going ahead as planned. That gives you the opportunity to fine-tune operations and react to situations before they deteriorate past the point of recovery.
GPS Monitoring also helps to improve customer service, prevent unnecessary fuel usage (idle time is greatly reduced), and take control of driver behavior. Every second of fleet-related activity is recorded and the data can be used to greatly improve your fleet performance.
Fleet Efficiency Solutions
Once you begin monitoring your fleet and processing the activities on Omnitracs One, you'll be able to use a suite of extended fleet efficiency solutions to improve the speed and accuracy of all of your fleet activities.
Each of these solutions has been designed with the user in mind. Simply put, these fleet efficiency solutions make fleet operations teams more effective in very simple ways.
Flexible integration options, process automation (reducing manual administrative tasks), and data-rich reporting tools reduce everyday frustrations so that your business can focus on improving productivity and driving profits. Reports reveal every kind of fleet variable to help you reduce overheads and improve workflows.
However, one Omnitracs' most impressive efficiency solutions is its intelligent Routing. Omnitracs Routing allows users to store customized, pre-planned routes within the application, creating the most efficient dispatch routes.
You'll be able to simplify operations and easily co-ordinate activities across the board, while of course protecting your assets and keeping drivers safe.
Driver Workflow
When your drivers and office teams are synchronized, your customers get the best possible fleet experience. Omnitracs' Driver Workflow makes that happen. It integrates with dispatch systems to create streamlined, automated driver-dispatcher communication.
Driver Workflow simplifies procedures and better coordinates both drivers in the field, and staff in the office. Important driver information like status updates and actionable forms are transmitted between dispatch and drivers with a two-way messaging system. Drivers will particularly enjoy Omnitracs Proof of Delivery (OPD) which allows them to conveniently manage all of their work documents from a mobile device.
With these solutions, your team will remain updated at all times. The super-efficient two-way communication improves customer satisfaction, reduces error, keeps your drivers focused, and simplifies complex workloads. The technology protects the safety and security of your drivers while simultaneously boosting productivity.
Load board
The Sylectus load board is a transportation management system that includes the load board alliance. Their load board has over 26,000 vehicles backed by a management system that can help you track your fleet and handle the financials. Through the load board, you can search for loads either full truckloads or partial loads to keep your vehicles full and on the road as well as maximising revenue.
When combined with the Sylectus TMS it can enable fleet owners to manage their fleets remotely from anywhere through the cloud-based platform that provides an integrated single picture. The information provided by this combination can assist businesses to grow. It is also capable of integrating with carriers, brokers and third-party systems.
They offer thousands of loads across the US and Canada in an easily searchable platform as well as offering personalised notifications of suitable loads. The load board offers equipment types including expedited, partial loads, dry van, refrigerated and flatbed freight.
Omnitracs Reviews and Ratings
Omnitracs is held with high regard within the fleet industry, and the user reviews and ratings back that up.
One surprise omission on unbiased, impartial sites is TrustPilot. Where the majority of other big-name fleet management providers have hundreds of reviews on the trusted review platform, Omnitracs is yet to feature on the site.
On Capterra, however, the reviews are well underway. Omnitracs score impressive reviews with an average rating of 4.4/5. The sample size, a lowly 22, is likely to grow in the near future and it will be interesting to see if the reviews remain as positive. Users are keen to point out excellent routing solutions, effective dispatch, and driver tracking.
That being said, the 6 reviews on G2 make for a different picture. These reviews focus on Omnitracs XRS – the 'compliance powerhouse in the palm of the driver's hand.' With a lowly score of 2.5/5, some reviews even take time to label Omnitracs the #worstcompanyever. They accuse the company of false information, a product that fails to deliver what it was required to do, inconsistent performance, and a slow technical support team.
249 reviews on Facebook again suggest that the solutions offered by Omnitracs are far from perfect. Users are quick to complain about 'terrible customer service', a lack of inter-departmental communication, software that violates HOS regulations, and flawed products that often freeze during operation. Contrarily, there are still some reviews, though none of them go into any significant detail.
TechRadar recently took time to review Omnitracs, praising the veteran SaaS provider's solutions:
"Omnitracs offers an easy to use and intuitive web interface that is OS independent and can be used on any connected device. It further boasts a wide array of services that can be customized based on your business requirements."
Omonitracs is one of the big names within the fleeting industry, and it has certainly developed an extensive suite of high-quality, innovative fleet management solutions. While some users seem to be satisfied with a game-changing fleet management system, it seems there are still some fundamental issues to address with specific products and customer service in particular.
Capterra – 4.4/5 (based on 22 reviews)
G2– 2.1/5 (based on 6 reviews)
Facebook  – 3/5 (based on 249 reviews)
Pros
Excellent, intelligent routing that helps to optimize workflow;
Easy-to-use and efficient fleet compliance;
Records powerful data that helps users to project future deliveries;
Insightful driver data that shows every instance of harsh cornering, speeding, and other risky maneuvres.
Cons
Dated customer services portal;
Slow technical support team;
Inconsistent performance and software glitches;
Poor organization and layout, making the products difficult to use.
Website: https://www.omnitracs.com/
Disclaimer: Fleetlogging.com is a general business information website only. The material and information on this website should not be relied upon for making any business or legal decisions. We cannot recommend any company and/or product, nor assess your suitability for any product and/or company listed here.